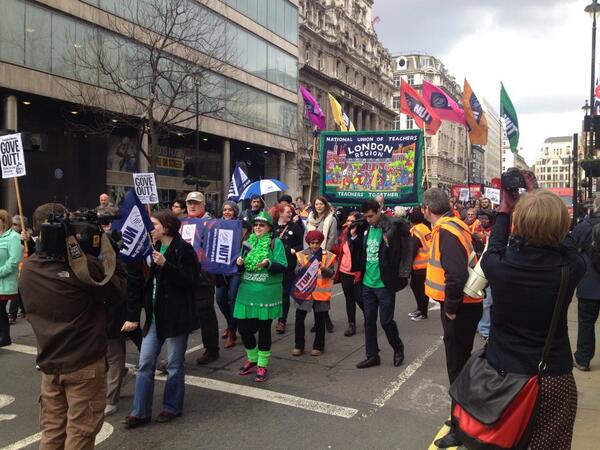 Traffic ground to a halt as thousands of members of the NUT set off along Regent Street.
Read the full story ›
Advertisement
@itvlondon Education is being destroyed by Government. Look at all the recent changes, teachers' workload survey & teachers leaving.
Pupils across London are facing disruption to lessons today as teachers strike over pensions and pay. Do you back their action? Have you had to take the day off to look after your children? Tweet us @itvlondon or go to our Facebook page.
Claire Earney Up the game. One day here and there won't help, you need two/three days in a row. Perhaps Gove will listen!
@itvlondon i think they should open the school on a saturday and disrupt the teachers on a day off. See how they like it.
There are "no winners" in the teachers' strike with schools running as if it was "a snow day", head teacher Vic Goddard told Daybreak.
Mr Goddard, the principal on Channel 4's hit documentary series "Educating Essex" described his love for teaching but admitted there was no pleasing everyone with today's strike.
"I am sure I haven't pleased the union today by not having a partial closure. Heads have to make that decision - can I keep all children safe in my school?"
Schools across the capital are set to close on Wednesday when teachers strike over pay and conditions.
Read the full story ›
Advertisement
The National Union of Teachers claims a "significant" number of schools will stay closed in London tomorrow as teachers strike over pay and pensions. London NUT secretary Bob Stapley says the "vast majority" of its 55,000 members in the capital are expected to walk out, adding:
The messages we are getting indicate the action will be very effective. Almost every state primary and secondary school in the capital will be affected and there will be some significant closures.
It means thousands of parents will either have to take a day off work or arrange childcare. Are you affected by the strike action? Happy to be interviewed? Get in touch with us at planning@itvlondon.com
There are not enough school places in the capital according to a report by the Local Government Association.
It found that in one of the worst affected boroughs, Richmond, another 2,000 secondary school places will need to be created over the next 5 years to meet demand.
Honeywell Junior School in Battersea has made it into Tatler's guide to state schools.
The high society mag features 10 primaries and 20 secondaries which it claims are "the creme de la creme of the British state system".
The introduction to the guide reads:
"The state sector has some spanking-new buildings, strong discipline, sporting rigour and academic ambition.

"Plus, your child gets a better preparation for the real world, the one where not everything is handed to them on a sterling-silver platter, where there is a cosmopolitan mix, where you will have to fight to get to the top.

"And best of all, when you do finally get into the Cabinet, everyone will love you because you didn't go to Eton."
– Tatler's guide to Britain's state schools
The proportion of young people saying that they have received private tuition has remained high over the last year. Londoners are most likely to have had extra teaching, according to a new Sutton Trust survey.
Nearly one in four 11-16 year olds at state schools in England and Wales indicated that their parents had paid for them to have extra help with their lessons.
Polling by Ipsos MORI for the Sutton Trust shows that 24% of all young people in 2013 said they had received private or home tuition at some stage in their school career, compared with 18% in 2005 and 23% in 2012.
Load more updates