The women were originally living at a nearby hostel but forced to move out when funding was cut.
Read the full story ›
Supermarket price wars are fiercely competitive, with price-savvy consumers shopping around like never before. So it's pretty surprising to see a poster in a shop window urging customers to increase their shopping bills.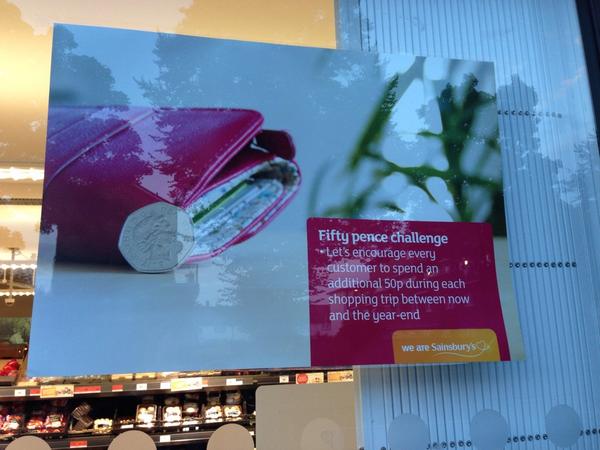 @mynameischrisd Yeah, I don't think so either. Which store was this? I'll give them a call. Ross.
Sainsbury's were pretty surprised too when they were alerted to the poster at a branch of the supermarket in Stratford, east London. It was only meant to be seen by staff and kept out of sight of shoppers. But the motivational poster found its way into a very public place. It read:
Let's encourage every customer to spend an additional 50p during each shopping trip between now and the year end.
– Sainsbury's poster
@mynameischrisd This is clearly a poster meant for staff areas. I'd really like to make sure it gets to where it should be. Ross.
In a statement, Sainsbury's said:
We often use posters to make store targets fun and achievable for our colleagues. They are intended for colleague areas in the store, but this one was mistakenly put on public display.
– Sainsbury's
Not surprisingly, some customers were less than impressed.
Speaking to ITV News Chris Dodd, who found the poster, added:
I was stunned to see the poster in the window of my local store. I can understand why there has been such a backlash against it, the wording is awful.

It's obviously no surprise that supermarkets are trying to encourage more spending, I think the negative reaction to the poster is down to how bluntly Sainsbury's are communicating this message to their staff.

I think the real mistake Sainsbury's have made it to present this to staff as a challenge. As a customer I don't want to feel like I'm being forced or tricked into spending extra by staff who have been challenged to make me do so. Had the poster encouraged better customer service, or more effective promotions I doubt there would have been this kind of reaction.
– Chris Dodd
Advertisement
Hundreds of shoppers have been evacuated from Westfield Stratford City after a suspect package was found.
Westfield Stratford evacuated after bomb scare, scary after UK terrorist threat level raised to 'severe' recently. http://t.co/LQStV1TciD
We are currently dealing with a suspicious package at Westfield Stratford shopping centre.

Police were called at 12.10 to reports and officers remain on the scene. The shopping centre was fully evacuated at 13.45.
– Metropolitan Police
Tube, train and DLR commuters using stations in Stratford are to get a fares cut in a bid to boost the Olympic Park, writes Simon Harris...
Read the full story ›
Stratford, Stratford International and Stratford High Street stations will all become part of Zone 2 from January 2016.
Transport for London will re-zone Stratford as part of the Mayor's plans to create a new cultural hub in the Queen Elizabeth Park called "Olympicopolis".
The move into Zone 2/3 will cost Transport for London about £7m annually, but it's hoped Stratford will become more accessible as part of the Olympic legacy.
The Mayor's team is searching for designers to create the so-called 'Olympicopolis' - a new cultural and educational quarter which will feature installments from Sadler's Wells and The Victoria and Albert Museum.
The idea for the new quarter on the Olympic park site is inspired by the achievements of Prince Albert, who used the proceeds of the 1851 Great Exhibition to create 'Albertopolis' – the 86 acre site around Exhibition Road in South Kensington.
"Our goal is to create thousands of new jobs whilst driving up the life chances and opportunities of local people to match those enjoyed across the capital. Huge progress is being made with Queen Elizabeth Olympic Park now re-opened and the planned move of the Financial Conduct Authority and Transport for London bringing 5,500 jobs to new offices into area. The launch today of a global hunt for top design talent to create a world class cultural and higher educational quarter on Queen Elizabeth Olympic Park will stimulate even further growth."
– The Mayor of London, Boris Johnson
Advertisement
Police are trying to track down four passengers seen on CCTV on the Number 25 bus in Stratford.
Read the full story ›
A murder investigation has been launched after a man was stabbed in Stratford on Monday.
The 22 year-old was stabbed in the neck in the Broadway area just after 8pm.
He was taken to an east London hospital where he died later that evening.
No arrests have been made.
Cyclists will be able to use the Velodrome and BMX track that saw some of Team GB's most exciting moments.
Read the full story ›
Speaking to ITV News, double Olympic champion Laura Trott says the Velodrome is unique because it's the only place in the world where all cycling disciplines are in one place.
Load more updates