Assistant Commissioner Mark Rowley, the national lead for Counter Terrorism Policing, said the Met has mobilised additional officers
Read the full story ›
Counter terrorism police have searched an east London property whilst investigating stabbings at a London tube station.
Read the full story ›
Advertisement
Leyton and Wanstead MP John Cryer said the stabbing of three people at Leytonstone tube station was an "appalling attack" but urged local people to continue as normal.
"It is very frightening for local people. I have been talking to some of the local businesses and obviously they are all very worried about it," he told BBC1's Sunday Politics.
"I think the message is that we carry on as normal, we don't allow this sort of barbaric behaviour to change our lives."
The Labour MP voted against air strikes on Syria, but has warned against linking the stabbing with the decision to start bombing.
Mr Cryer said: "I think it would be dangerous to say this is a direct consequence of air strikes on Syria, however I feel about the air strikes on Syria."
In an interview with ITV News, the Mayor said his 'sympathies were with the PKK' - a proscribed Kurdish terror group
Read the full story ›
A major counter-terrorism exercise is being carried out in London for a second day to ensure emergency services are prepared.
A mock terrorist firearms attack is being staged in the capital to test the response to a Tunisian-style mass shooting.
Officers, emergency services, soldiers and intelligence officials are taking part in the operation.
Armed gunmen stalked the streets of central London today firing blank bullets as part of a police training exercise.
More than 1,000 police took place in the exercise - where gunmen simulated attacking commuters in the London Underground - and more than 12 other agencies and emergency workers.
Rags Martel reports.
Advertisement
Armed gunmen were seen stalking through the streets of central London today as part of the biggest ever police training exercise for a terrorist attack.
The masked men were seen firing guns in the air and throwing what appeared to be grenade-like devices inside the disused Aldwych station.
Preparations for the exercise began around six months ago and events such as the Charlie Hebdo attack in Paris and the hostage siege in Sydney influenced the test, police said, stressing it was not connected to the Tunisia attacks.
The two-day exercise will see a test of the emergency service response to an attack at the disused Tube station at Aldwych. The vast majority of police officers involved have no idea about the venues or what is planned.
Only around 12 people knew specific details of what was going to happen in advance.
Among those taking part are all of London's emergency services, Greater London Authority, Transport for London, Home Office, Cabinet Office, Ministry of Defence, the Department of Health and NHS England.
Rapid gunfire has been reported around the Strand, where police are in the midst of a major training exercise.
Sitting outside at Ibm southbank - can hear sounds like rapid gun fire across the river near aldwych direction !!
Earlier police said the exercise is to test the response by emergency services to the threat of a "marauding terrorist firearms attack in London."
Met Police chief Sir Bernard Hogan-Howe said that one of the objectives of today's terror training exercise in London is to "learn from the mistakes we're bound to make."
"Best we make them today in an environment which we don't have terrorists that make them when we do," he said.
Emergency services from over 14 London agencies are taking part in a major training exercise across the city.
There have been reports of rapid gun fire in the simulated terror attack from passers by in the Aldwych area.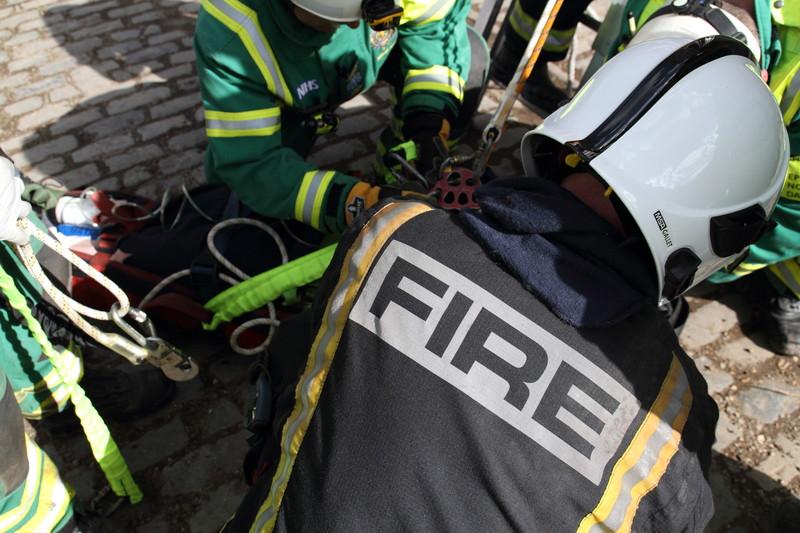 Load more updates