Londoners are expected to spend around £150 million this weekend beginning on 'panic Saturday' as shopping days before Christmas dwindle.
The New West End Company predicted the retail takings, and said that footfall in the West End this morning was up 7.1% year on year.
Andrew Lloyd Webber's 'Cats' returns to the West End today for a limited run at the Palladium.
US singer and former 'X Factor' judge Nicole Scherzinger will make her West End stage debut in the role of Grizabella.
Based on TS Eliot's 'Old Possum's Book of Practical Cats', the musical first opened at the New London Theatre in 1981, where it played for 21 years.
The revamped version has been given a hip-hop flavour with the character of Rum Tum Tugger becoming a rapping street cat.
Advertisement
Ticket holders for tonight's cancelled Back To The Future event have been offered free seats at tonight's performance of Dirty Rotten Scoundrels at the Savoy Theatre in the West End. Rufus Hound, one of the stars of the show, made the announcement on his blog.
You don't have to do anything other than turn up with your Secret Cinema ticket. If you've got a big gang of pals all in London, all excited about going out and now you have nowt to do, well, now you do.
– RUFUS HOUND
A show in London's West End came to a halt after a member of the audience was accused of filming the actors while they were naked on stage.
Read the full story ›
A huge statue of Freddie Mercury which has towered over Tottenham Court Road for more than a decade has been torn down.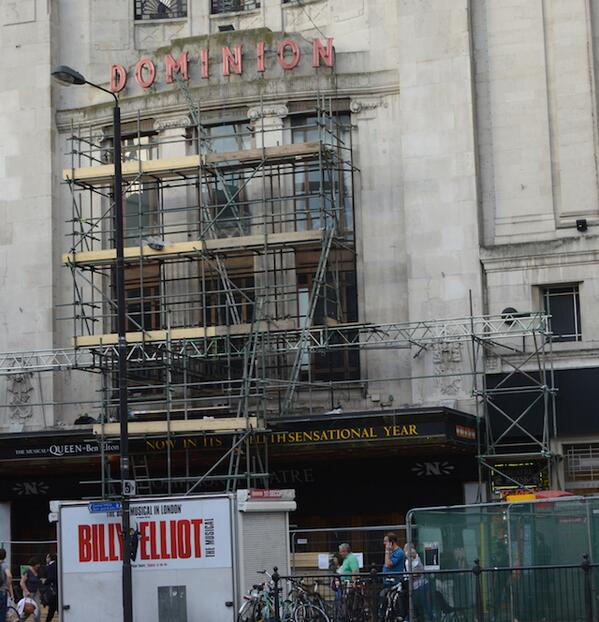 The cast of 'We Will Rock You' performed their final show in May after a 12 year run at the Dominicon Theatre. General Manager David Pearson said it had been a privilege to have hosted the show for the past 12 years, adding:
"To have the show rocking the Dominion and seeing a standing ovation night after night has been quite amazing."
The location of the famous statue is a mystery.
A bus stop made of Lego will appear in London's Regent Street on Sunday. @itvlondon
The bus stop is part of a celebration of almost 200 years of London buses which will see Regent St closed to normal traffic. @itvlondon
Advertisement
The Easter weekend is expected to provide a boost to the capital's economy, seeing shoppers flocking to the West End and spending £140 million in stores.
The figures, from the New West End company, predict that cooler weather won't put shoppers off. Saturday and Sunday are expected to be drizzly and cool with a little more sunshine due on Easter Monday.
The Apollo Theatre will officially re-open tomorrow night after a ceiling collapse shut it down for 3 months.
Heavy ornate plasterwork fell onto audience members during a performance of The Curious Incident Of The Dog In The Night-Time in December injuring nearly 80 people.
Opening night will launch with a production of "Let the Right One In" adapted from
the Swedish novel and cult film by John Ajvide Lindqvist.
A sneak preview of Robert Lindsay performing in new musical Dirty Rotten Scoundrels has been released ahead of tonight's opening performance at the Savoy Theatre.
Lindsay, who starred in hit sitcom My Family, appears alongside Rufus Hound in the stage adaptation of the hit film.
Load more updates