As families celebrate the long Easter weekend, local businesses have been taking stock of what the first major holiday of the year has meant for them.
The number of Easter Holiday makers planning a trip in the UK is rising and local businesses are doing what they can to get the tourist season started as early as possible.
Sarah Saunders spoke to Ann Duffy of Morelli's Gelato, Malcolm Cox director of the Broadstairs Spring Kentish Food Fair and Broadstairs Chamber of Commerce, and local baker One in the Oven.
Advertisement
Nearly six hundred thousand passengers are due to pass through Gatwick this Bank Holiday, making it a record breaker for the airport.
Meanwhile drivers expect to get stuck in delays this weekend - According to new research, August is the busiest month on the roads, with a fifth of the British public planning to travel during the Bank Holiday.
"Our record-breaking Bank Holiday figures show that competition is a great thing for passengers. In the short space of time since becoming independent, we have become an airport of choice offering more destinations than any other UK airport.

"Our long-haul destinations are growing fastest of the routes we serve and, with routes to Costa Rica and Peru - which will be the UK's only direct flights to Lima - and new services to Canada starting next year, Gatwick continues to show that it is well placed to meet the needs of travellers."
– Gatwick Chief Financial Officer Nick Dunn
More than four hundred miles of roadworks are being removed this weekend to help bank holiday drivers.
It will also see the completion of schemes including the M27 near Eastleigh and near Southampton.
Although work on the M3 near Basingstoke will remain.
For a full list of potential traffic hotspots click here
The roads have been busy today as families continue their Easter getaway. Congestion on the motorways and traffic delays of more than two hours meant that ferries from Dover were delayed. There's also been disruption at the Channel Tunnel.
Eurostar trains are now returning to normal following a fatality yesterday near Lille, in Northern France.
Edmund King, AA's President, explains that the roads may be busy this weekend as more people are choosing to stay in the UK but travel by road to spend the Easter bank holiday away from home.
Advertisement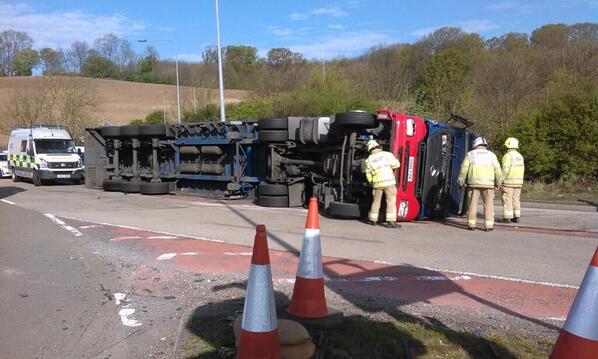 It could be busier on the region's roads this Easter weekend than it was over last year's bank holiday weekend.
That's the prediction from the AA which thinks that 55% of drivers are planning to take to the roads.
Over half a million people are also expected to fly from Gatwick and Heathrow, heading to popular destinations such as Spain and Turkey to catch some Spring sunshine.
We spoke to Edmund King, AA President.
The weekend so far has been a washout - but today the sun is set to return. Here is Aidan McGivern with your weather forecast.
Philippa Drew has your forecast for the weekend. A very wet Saturday but improving on Sunday.
Load more updates