£4million slashed from adult social care. Just one of the measures approved by Southampton City Council as it to sign off it's budget.
Read the full story ›
Chief Constable, James Vaughan, said the force may only be able to provide "the most basic services to the most vulnerable".
Read the full story ›
Advertisement
Philip Hammond delivered his Autumn Budget - a speech described by the political commentators as make-or break for the Chancellor. Fred and Sangeeta link to our comprehensive coverage.
Stamp duty for all first-time buyer purchases up to £300,000 is to be abolished immediately, Philip Hammond has announced in his Budget.
Read the full story ›
The Chancellor said he will use the Budget to "invest to secure a bright future", in a signal he is ready to usher in the end of austerity.
Read the full story ›
Watch Sally Simmonds' full report below
A crucial meeting will be held later to decide where £140 million worth of cuts will be made in Hampshire.
Residents will find out today if vital services such as school crossing patrols, household waste recycling plants and transport will be affected.
It's thought millions will be lost from the social care budget.
Hampshire County Council needs to make the savings by April 2019.
Sally spoke to Janet Chierchia, carer and volunteer and Cllr Roy Perry Leader, Hampshire County Council, Con.
Advertisement
Councillors in Reading have tonight voted to build its own local temporary accommodation for the homeless.
The so-called 'homeless hub', its argued, will save money instead of putting people in expensive BNB's, sometimes as far away as Slough.
The council is looking to save a further £11 million over the next three years.
The Executive Member for Education at Hampshire County Council says he is horrified at plans to take schools out of council control, and turn them into academies.
As a former teacher with 34 years experience and now Executive Member for Education at Hampshire County Council, I am horrified to think that the HCC role in education is going to be destroyed by George Osborne in his budget. We have worked with HMG to deliver the reforms and have been congratulated by Ofsted as being one of two authorities in the country who have interpreted the reforms in the right way by giving the support, intervention, and challenge to our family of schools. In Hampshire of our 534 schools we have only three designated as inadequate and have 84% good or outstanding schools. So what on earth are we doing so wrong that we need to be abolished?

We have even been congratulated by the Prime Minister for our work with the Isle of Wight neighbouring authority for our work there instigated by HMG. I am a lifelong Conservative but this statement of policy could lead to the country's education system imploding. I do not understand it, particularly as there is no evidence whatsoever that the academy conversion of schools is improving standards. Now with academy chains paying salaries to their chief executives more than the Prime Minister, the whole thing needs to be put on hold.
– Councillor Peter Edgar
A key Portsmouth City Council meeting on budget cuts had to be temporarily stopped because of protests.
Demonstrators against proposed council cuts to domestic violence services in Portsmouth let off confetti in the chamber and chanted until they were removed.
The council has to find £11m of savings this year - and had proposed cutting funding to domestic abuse services by £130k. Today councillors announced that funding would be found to continue the service for this year at least.
A local tax rise of the maximum 3.99% for the next four years is also being proposed, as are cuts to the fire service.
Watch Sam Holder explain in a live report from outside Portsmouth Guildhall:
Women fearing budget cuts protest on city hall steps head of crunch meeting.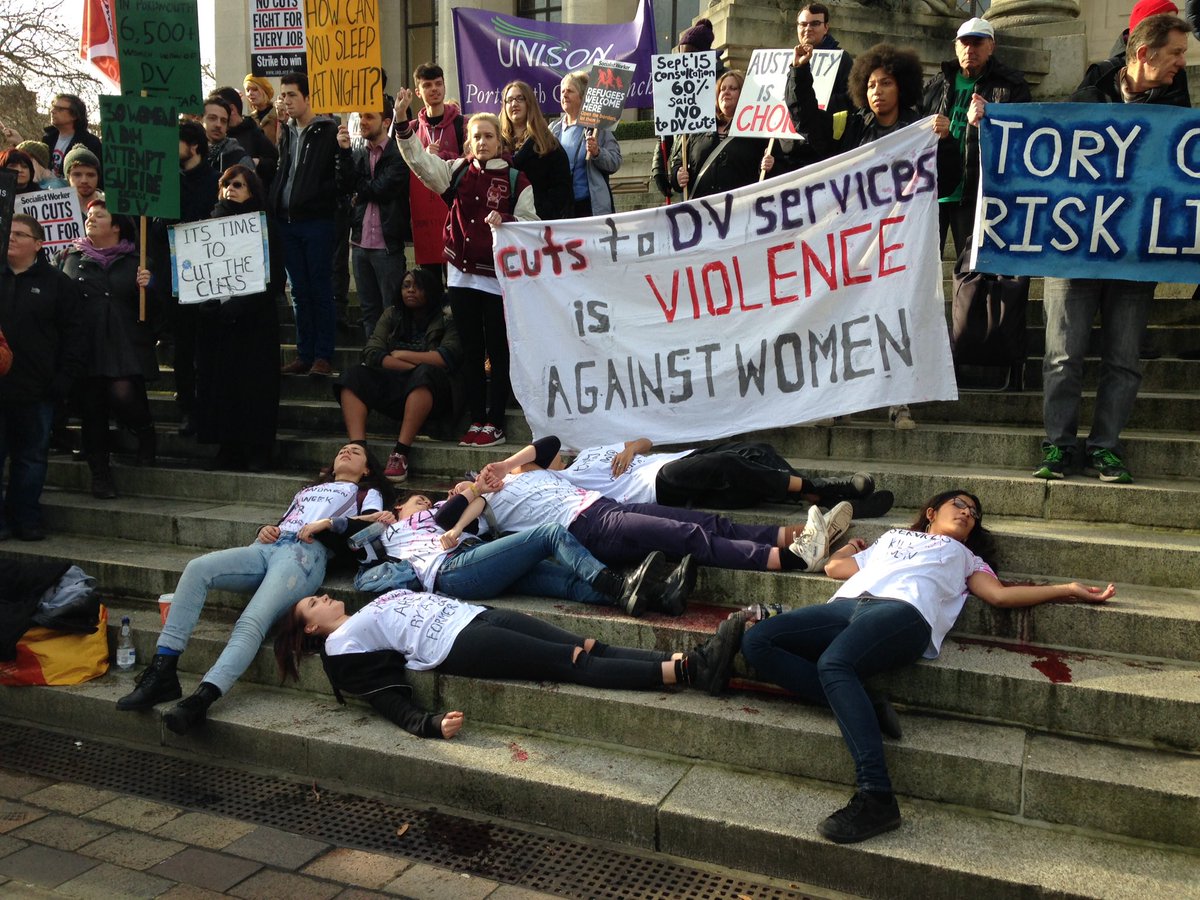 The city council has already made £74.4m of savings over the last five years. But city hall bosses needs to save at least another £31m over the three financial years from April 2016.
The £31m will have to come out of the £207m of spending under the council's control. Almost half of the £207m is spent on looking after vulnerable adults and children.
Load more updates