RNLI lifeguards are on duty for the first time at Camber Sands in East Sussex this weekend following the tragedy that claimed the lives of five young men. They were on a day out from London when it's believed they were caught out by the rapidly rising tide.
ITV News Meridian spoke to lifeguard Will Stephens.
Lifeguards from the RNLI have started beach patrols at Camber Sands after five men died earlier in the week.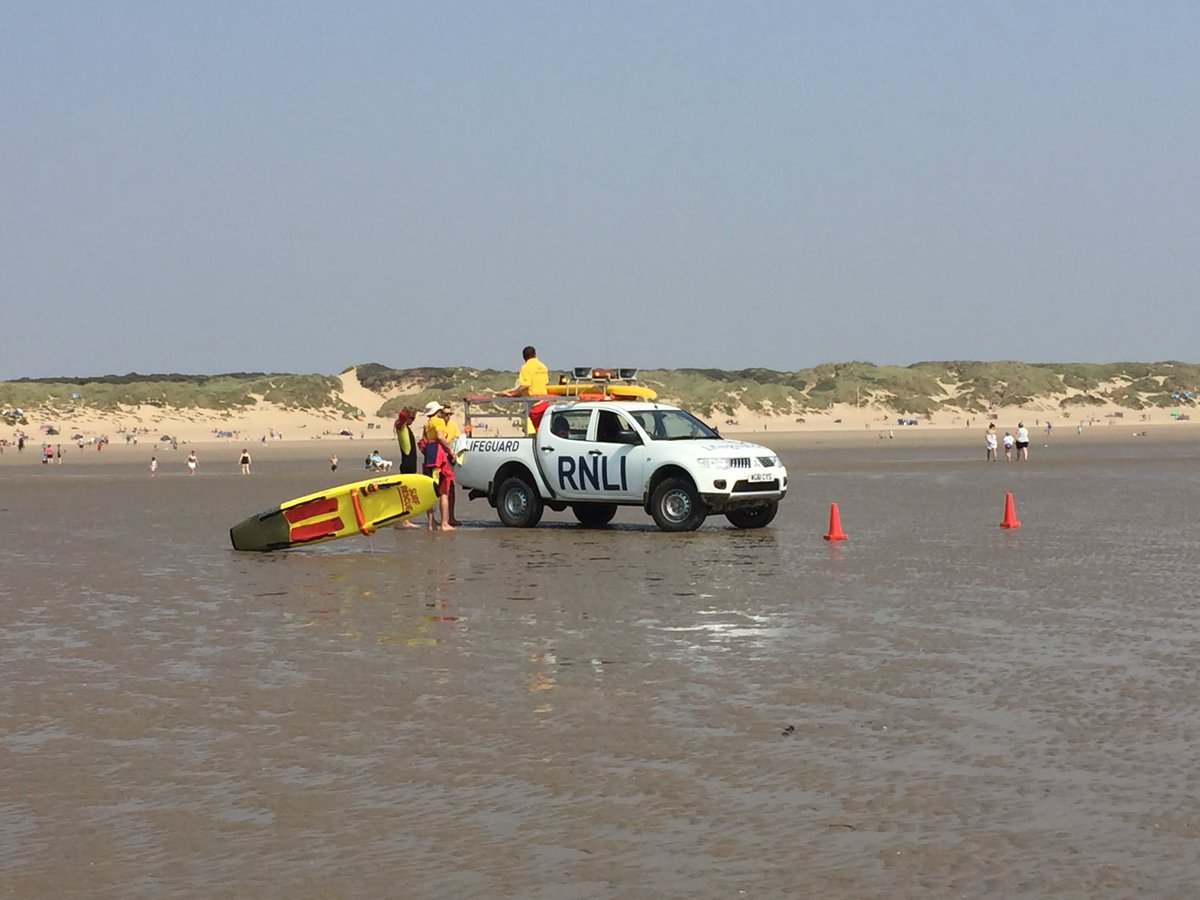 Advertisement
It's taken six deaths in four weeks - but this weekend Camber Sands WILL be patrolled by lifeguards.
The RNLI has announced that up to six people will be on duty - along the seven miles of beach over the next three days. It is, however, only a temporary measure.
The announcement was made as Sussex Police confirmed the identities of five men who died in the sea off Camber on Wednesday - all friends on a day trip to the beach on the hottest day of the summer.
The father of two brothers who were killed said he's convinced they'd still be alive if a lifeguard had been on patrol.
John Ryall reports.
The precise circumstances surrounding the deaths of the five men in Camber are still uncertain. But one thing is for sure - rip currents around our coastal resorts are a serious danger.
They account for 60 per cent of all RNLI incidents - and are a major cause of drowning. So with the hot weather drawing thousands of us to our beaches, how do you stay safe in the water?
We sent Richard Slee to West Wittering in Sussex to see how lifeguards there are keeping swimmers safe.
The five men who died at Camber Sands have now been named.
They were Kenugen Saththiyanathan, 18, and his brother Kobikanthan Saththiyanathan, 22 both of Normandy Way, Erith; and their friends Nitharsan Ravi, 22 of Admaston Road, Plumstead, Inthushan Sriskantharasa, 23 of Chadwell Road, Grays and Gurushanth Srithavarajah, 27 of Elsa Road, Welling.
The men all travelled together to Camber for the day on Wednesday where they sadly died.
Their deaths have now been passed to the corone
The families of the five men who drowned at Camber Sands on Wednesday (24 August) have criticised the lack of safety measures at the Sussex beach.
The victims, 22-year-old Nitharsan Ravi, 19 year-old Kobi Nathan and his brother 22 year-old Kenigan Nathan, 27 year-old Kurushanth Anna and 23 year-old Inthushan Sri, had all travelled together from their homes in Greater London.
Satthiyanathan Arumukam, 51, the father of brothers Ken, 19, and Kobi, 21 says his sons - who can't swim - would have had a better chance of survival if there had been lifeguards at the beach.
Meanwhile, relatives of Nitharsan Ravi say there should have been better protection at the beach, considering a Brazilian man had drowned at the same stretch last month. His sister has questioned why the beach has only been blocked off now rather than after the fatal incident last month.
Mr Ravi's brother Ajirthan, 19, said that two of the men had initially become trapped under the water after getting stuck in 'slippery mud' and sand. The three other men entered the water to try and save their friends but the attempts. According to Ajirthan Ravi, Nitharsan and Kobi still had heartbeats after being pulled from the water but died while first aid was being administered.
Advertisement
Four of the five men who drowned at Camber Sands beach have been identified.
The victims have been named as Nitharsan Ravi, Inthushan Sri, and Kobi and Ken Nathan. Their identities were confirmed by the brother of Nitharsan Ravi.
The group of men in their late teens and early twenties were of Sri Lankan origin, living in Greater London and came to the Sussex beach together.
It is still unclear what caused the men to get into difficulty in the sea at Camber Sands yesterday afternoon, which was packed with other beachgoers.
Last month a 19 year-old from Brazil, Gustavo Silva Da Cruz, died at the same stretch of beach.
The area is known to have occasional rip currents - a narrow stream of water moving swiftly away from the shore and into the sea. Rip currents are powerful, fast flowing bodies of water that can drag even experienced swimmers into deep water and account for 60% of RNLI call-outs across the country.
Below is a video explaining how rip currents work:
Six people have drowned in the past six days at beaches on the South Coast.
That includes five men at Camber Sands beach in Sussex yesterday - a beach which doesn't have a lifeguard.
Below is a list of all the beaches in the South with lifeguards on duty:
Alum Chine Beach
Avon Beach
Bognor Regis Beach
Boscombe East Beach
Boscombe West Beach
Bournemouth East Beach
Bournemouth West Beach
Branksome Chine Beach
Canford Cliffs Beach
Durley Chine Beach
East Cliff Beach
Fisherman's Walk Beach
Friars Cliff Beach
Greenhill Beach
Highcliffe Beach
Littlehampton East Beach
Lyme Regis Beach
Manor Steps Beach
Sandbanks Beach
Sandown Beach
Shore Road Beach
Southbourne Beach
Southsea Central
Southsea East
Southsea West
Swanage Beach
West Bay Beach
Weymouth Beach
The Sussex Police and Crime Commissioner says she is 'seeking assurances' that forces are fully prepared to ensure safety at beaches ahead of the bank holiday weekend.
Katy Bourne has also promised an investigation into whether any safety improvements can be made at Camber Sands, where five people drowned on Wednesday (24th August).
This is a tragedy and my thoughts and prayers are with the friends and families of the deceased.

With the bank holiday fast approaching, I am seeking assurances from local partners that all agencies are fully prepared and the public can continue to enjoy our beaches throughout the county.

I have already spoken to council leaders and we will be investigating the possibility of what, if any, safety improvements can be made at Camber Sands.

In the meantime I want people to continue to enjoy themselves during this holiday period and be safe.
– Katy Bourne, Sussex Police and Crime Commissioner
Sussex Police believe the victims were five men in their teens and early twenties from Greater London.
Police believe they have identified the five people who drowned at Camber Sands beach in Sussex.
The men died at the scene after being pulled from the water on Wednesday (24th August) afternoon.
Sussex Police say they believe the men all came to the beach together for the day and that the men, thought to be in their late teens and early twenties, came from Greater London.
These men were not fully clothed when they were pulled from the sea but wearing clothed appropriate for being at the beach for the day
– Chief Superintendent Di Roskilly, Sussex Police
Emergency services were called to the beach at 2.10pm to reports of a person in the sea. While they were on scene another person was seen in difficulty at 2.20pm and 15 minutes later a third person was rescued. The bodies of a further two men were found in the water between 8.15pm and 8.45pm.
Police say that there no further reports of anyone else missing from Camber and there are no on-going searches
Load more updates