A security guard has denied killing and maiming 16 cats during a spate of attacks in Brighton.
Read the full story ›
A starving kitten that survived two weeks living in freezing weather has been described as a miracle by an animal charity.
Read the full story ›
Advertisement
Cat's Protection say she was underweight and had an injured nose after her terrifying ordeal.
Read the full story ›
Rachel and Ross are F.R.I.E.N.D.S as well as mother and son so staff at South Godstone Animal Centre in Surrey want them to stay together.
Read the full story ›
The South's first ever cat cafe opens its doors on Friday. It's a concept that's popular in Far Eastern countries - the idea being that the stresses of urban life can be more easily forgotten if you spend some quality time in the company of cats.
Martin Dowse joined some specially invited customers for a sneak peak before the grand opening, to see what they, and the twelve resident rescue cats, would make of it..
The South's first ever cat cafe is about to open its doors in Bournemouth. Cat lover, Jaya da Costa, wants customers to share their eating and drinking space with a room full of rescue cats. She told us it would be a relaxing experience for both the humans and the animals.
Advertisement
Turbo the cat is lucky to be alive after he became wedged in a tiny gap in freezing conditions.
Firefighters were called to Middle Walk in Tunbridge Wells last night and found the moggy jammed between two garages.
They had to use power tools to gently cut into the brickwork around him before lifting him to safety.
He may not look very happy in the picture he had a lucky escape!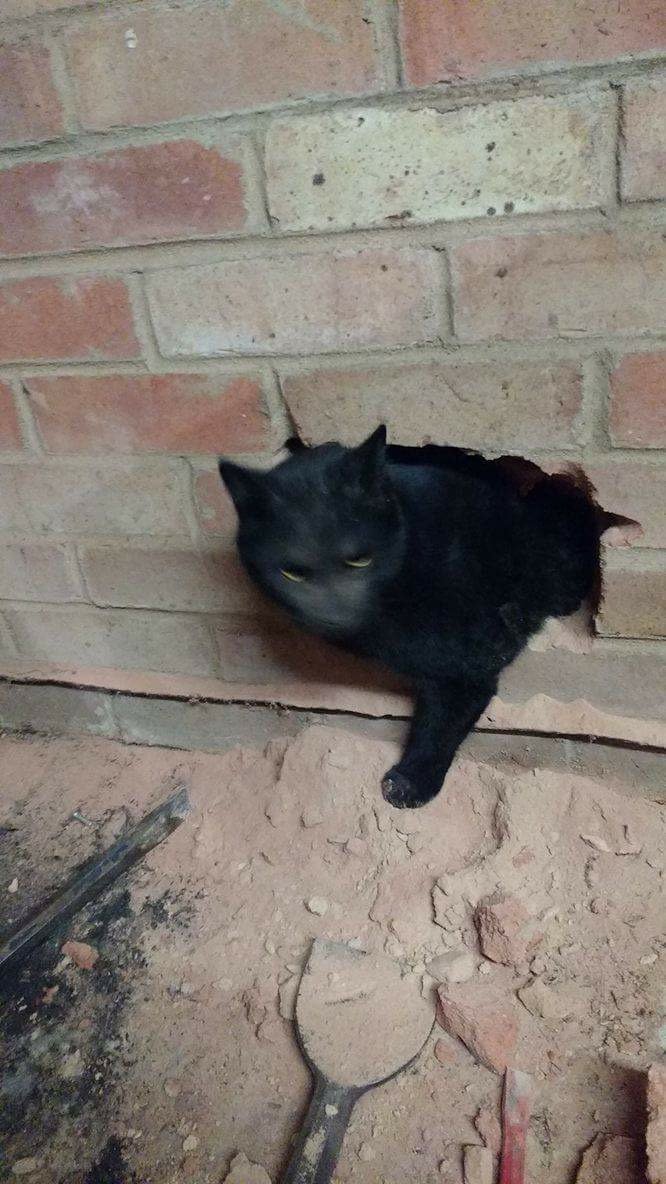 A cat which survived a sixty-mile journey trapped in the engine compartment of a van has been reunited with his family.
Sparky travelled from Tottenham in north London to Reading in Berkshire before being rescued, and has made a full recovery from his ordeal. Richard Jones has our report.
The interviewees are Helena Peace from the RSPCA; and Gemma Davis, Sparky's owner.
The RSPCA wants to reunite a cat with his owner. The animal was found trapped behind the engine of a removal van.
The ginger tabby cat, nicknamed 'Sparky', was coaxed out of the engine of a van in Reading, Berks, after he is thought to have travelled 60 miles inside the vehicle.
The cat, nicknamed Sparky, was miraculously unscathed by his ordeal and the RSPCA ishoping to reunite him with his owners - who could come from around White Hart Lane area in Tottenham, where the van started the journey.
Passer-by Darren Sumner managed to coax Sparky out of the van after he spotted the vehicle broken down in London Road, Reading on Sunday.
He said: "I was shocked when I saw the cat. He was sitting behind the heater matrix, I felt his paws and they were boiling hot. He was warm and scared so I sat and stroked him for about 30 minutes until I coaxed him out.'
Darren took the cat home, gave him some food and water and kept him overnight, until an RSPCA officer arrived to collect him.
Darren said: "He's a lovely cat. He used a litter tray so I think he's probably someone's pet. He woke me up at about 3am in the morning for a play. I hope his owners can be found."
A member of the public called the animal welfare charity after spotting the tabby and white cat, trapped in a tree - with a crisp packet stuck on his head.
RSPCA animal welfare officer (AWO) Marie Stevens attended Thicket Lane, in Halnaker, near Chichester and, with the help of two colleagues, managed to climb around 12ft up the tree to the cat.
The member of the public was concerned that the cat would not be able to get down from the tree as he couldn't see.
"I reached out to the cat and just managed to quickly whip the crisp packet off of his head before he panicked and disappeared further up the tree," AWO Stevens said. "As soon as I pulled the packet off, the cat jumped from the branch to freedom and ran off."
Load more updates