Canterbury Hockey's Grace Balsdon and Susannah Townsend helped England Women to victory in their opening Commonwealth Games match.
Read the full story ›
Commonwealth Games Discuss Bronze medalist Jade Lally talks about her training regime- in a field of llamas near her home in Horsham.
The 27-year-old threw a season's best of 60.48 m to take the medal in Glasgow
Advertisement
Commonwealth Games athlete Isobel Pooley from Fleet in Hampshire set a personal best to win silver in the high jump with a leap of 1'92". Not expected to win, she talks about her joy and coming in under the radar.
England's Jack Laugher and Chris Mears have won Commonwealth gold in the men's synchronised 3m diving final.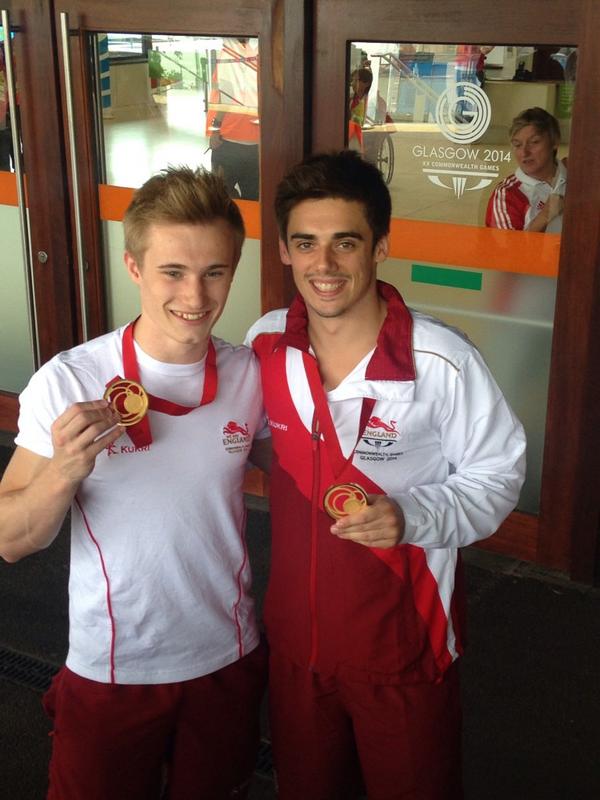 The pair led from the second round to last, claiming victory ahead of Australian duo Grant Nel and Matthew Mitcham.
England's Nick Robinson-Baker and Freddie Woodward claimed bronze.
This is the second Commonwealth gold for 19-year-old Jack Laugher, who won his first in the 1m springboard diving on Wednesday.
Adam Gemili has told ITV News he hopes to use his Commonwealth silver medal as a springboard to challenge the Jamaican and American sprinters at the 2016 Olympics in Rio.
"The Jamaicans and the Americans have always been levels ahead of everyone and I think they still are.... but we are getting there eventually," the 100m silver-medallist said.
The 20-year-old admitted he was "overwhelmed by emotion" at winning his first major senior medal of his career in front of a raucous crowd at Hampden Park.
Adam Gemili has Usain Bolt and the Jamaicans in his sights after the English sprinter won 100 metres silver at the Commonwealth Games.
Read the full story ›
Advertisement
Dartford's Adam Gemili has won silver in the one hundred metres final at the Commonwealth Games.
The 20-year-old crossed the finish line in ten point zero eight seconds, welcomed by a huge roard from the crowd at Hampden Park. Jamaican Kemar Bailey-Cole won gold.
England and Dartford's Adam Gemili threw down a challenge to his rivals by blasting into the100 metres final at the Commonwealth Games.
The 20-year-old was sluggish out of the blocks, but he was quickly into his running and came through powerfully to clock 10.07 seconds.
Welcomed by a huge roar from the packed crowd on a warm evening at Hampden Park, the former footballer was the second fastest qualifier behind the impressive Jamaican Kemar Bailey-Cole.
I made it a bit harder for myself with the start I had, but I came through."
– Adam Gemili
Steve Way, the fastest Englishman in the Commonwealth marathon, told ITV News competing in the Games was "quite a surreal" experience.
Read the full story ›
A man from Newbury is cheering on his son as he competes in the Commonwealth Games in Glasgow.
Jack Alexander will be taking after his dad Gary as he takes part in shooting for the England squad.
Gary Alexander has represented Northern Ireland in previous years and many of the international shooting competitors are patients of his.
I'm so proud of Jack for having the opportunity to represent Northern Ireland this year – he's a natural shot.

"Although I might prefer to be shooting in the competition, I'll be supporting Jack as the team manager and will be at hand to help him and other competitors with their eye care. I always carry around an eye kit just in case there's a problem. It's vital that shooters in particular take care of their eyes as a lot of the final shot targets are 1,000 yards away."
– Gary Alexander, Alex's dad
Load more updates