With warnings to keep out of the sun and temperatures set to rise even further this week, the south faces its hottest spell of the summer.
Read the full story ›
It's been the hottest day of the year so far - and the hottest June day since 1976 - with temperatures here in the South reaching 34.5ºC. But with this heatwave comes hazards.
South Central Ambulance Service is dealing with more than 2,700 calls a day in this weather - that's 900 more than usual.
In Chichester a man has been arrested and released after leaving his pet in a van for more than four hours.
One school in Andover sent children home because it was getting too hot.
And Hampshire County Council has been repairing melting roads by sending out gritters.
Sally Simmonds looks at how we're coping with the conditions.
Advertisement
The South East has basked in the hottest day of the year so far and the scorching sun is set to keep temperatures some 10 degrees above the average for this time of year.
There are concerns about the elderly - and other vulnerable people in the heat and UV levels are reaching as high as Cyprus and Gibraltar.
But this heatwave is great news for the Kent and Sussex tourist trade.
Abigail Bracken visited Margate earlier today.
Hotter than Greece or Turkey - the South East roasted today in record temperatures for September.
So hot, in fact, that health officials issued safety warnings for the young, the old and the unwell.
At Gravesend in Kent the mercury reached 34.4 degrees - the hottest September day since 1911 and the hottest day of the year in 2016.
And those who could, flocked to beaches and parks to savour the Indian Summer, as Malcolm Shaw now reports.
The NHS in the south east is issuing guidance on protecting yourself from this week's high temperatures.
The move comes after the Met Office predicted a 60% chance of a heatwave until Friday. Forecasters say temperatures could reach as high as 30C.
Crawley, Horsham and Mid Sussex is warning people to take extra care during prolonged periods of hot weather and have offered the following tips.
You can reduce your risk of sunburn by following the advice below:
Avoid exposure to sunlight when the sun is strongest 11am-3pm – stay in the shade as much as possible, cover up with loose clothing and a hat, and use sunscreen.
Apply a generous amount of sunscreen 15-30 minutes before going out in the sun, choose one that has a high sun protection factor (SPF) – sunscreen with an SPF of 50 offers the best level of protection.
Babies less than six months old should be kept out of direct sunlight
The symptoms of heatstroke can develop over several days in vulnerable people, such as the elderly and those with long-term health problems. Symptoms can develop more quickly when associated with physical activity; this type of heatstroke usually affects young, active people.
Symptoms of heatstroke include:
high temperature – a temperature of 40°C (104°F) or above is one of the main signs of heatstroke (although it can be diagnosed at lower temperatures)
heavy sweating that suddenly stops – if the body can't produce any more sweat, the skin will become dry which is a major warning sign that the body has become over-heated and dehydrated
a rapid heartbeat, rapid breathing
muscle cramps.
Heatstroke is a medical emergency. Dial 999 immediately to request an ambulance if you think that you or someone you know has heatstroke.
Tips for coping in hot weather:
Shut windows and pull down the shades when it is hotter outside. If it's safe, open them for ventilation when it is cooler.
Keep rooms cool by using shades or reflective material outside the windows. If this isn't possible, use light-coloured curtains and keep them closed (metallic blinds and dark curtains can make the room hotter).
Have cool baths or showers.
Drink cold drinks regularly, such as water and diluted fruit juice. Avoid excess alcohol, caffeine (tea, coffee and cola) or drinks high in sugar
Poor air quality that can trigger breathing problems is heading our way - just as we look forward to the expected heatwave.
Read the full story ›
Advertisement
With temperatures expected to reach the high 20s over the weekend, bookmakers have slashed their odds on this August being the hottest on record in the UK.
Coral has cut its odds from 3-1 to 2-1, and the firm has seen a flurry of money being bet on this month beating previous highs.
The bookmaker also has odds of 8-1 for the UK to have the hottest year on record.
John Hill, from the firm, said: "Before the month got under way, August was well backed to be the hottest on record as punters were banking on a heatwave.
"Following another flurry of bets, we are now starting to sweat over this gamble being landed, as temperatures are set to rise once again over the weekend."
Temperatures soared in the South today. Heathrow recorded one of the highest temperatures, at 36.7 degrees celsius (98.6 degrees fahrenheit).
But the warmth came with warnings for the most vulnerable people and calls for people to use sunscreen.
Emma Wilkinson reports:
Police in Kent have rescued a dog after its owner left it in a car during the heatwave.
The RSPCA said the dog was rescued in Canterbury.
Meanwhile officers were called to another address in Canterbury to rescue a dog locked in a conservatory.
The charity is warning that dogs can be killed if left cars and has issued the following advice.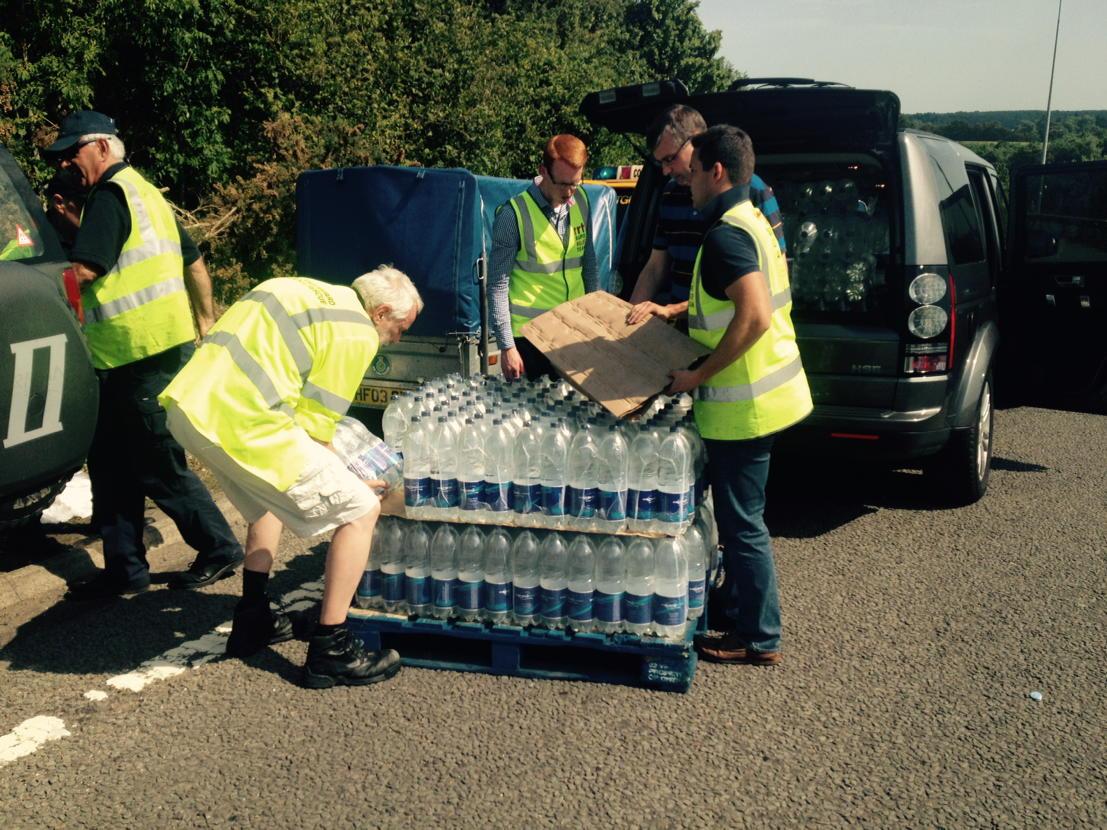 Load more updates