Crowds have gathered at Carterton in Oxfordshire to mark the awarding of the Freedom of the Town to the Royal Air Force.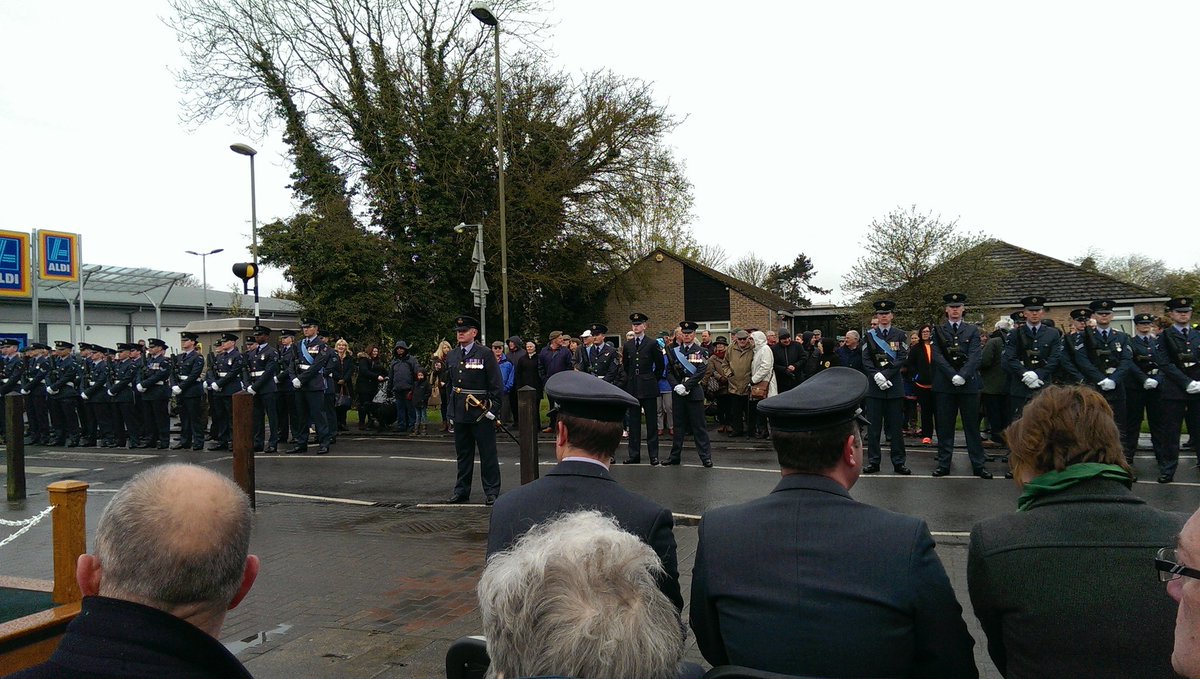 Advertisement
They were described as two of the most capable and dedicated members of the air force. Today two flight lieutenants based at RAF Benson in Oxfordshire, killed in a helicopter crash in Afghanistan, were flown home.
Hundreds of people lined the streets as the bodies of Alan Scott of 33 Squadron Royal Air Force and Geraint Roberts of 230 Squadron Royal Air Force were brought through Brize Norton. Our reporter Chris Maughan was there.
The interviewees are Councillor Lynn Little, the Mayor of Carterton and Steve Blundell of the Royal British Legion Riders Branch.
A military aircraft is carrying the bodies of Flight Lieutenant Alan Scott of 33 Squadron Royal Air Force and Flight Lieutenant Geraint Roberts of 23 Squadron Royal Air Force back to RAF Brize Norton in Oxfordshire.
The two men from the base were killed in a helicopter crash in Afghanistan last week.
Three others also died when the Puma Mark Two attempted to land in Kabul.
This morning saw the first UK reserves and 100 of their regular counterparts depart for Sierra Leone where they will help to tackle the Ebola outbreak.
The regular and reserve personnel from across the three Services departed from RAF Brize Norton alongside members of the Canadian military.
Once in country, personnel will take over from clinicians attached to 22 Field Hospital, who have been deployed since October, manning the 12 bed facility reserved to treat healthcare workers with Ebola.
The first of the UK's A400M Atlas next-generation military transport aircraft has today been officially unveiled by the MOD at its new home at RAF Brize Norton.
The aircraft will replace the existing fleet of C-130 Hercules which have been the tried and trusted workhorse of the RAF's Air Transport Fleet for decades.
Manufactured by Airbus Defence & Space, A400M Atlas will represent major advances on its predecessor, capable of flying almost twice as fast, twice as far and carrying almost twice as much cargo.
With a cargo capacity of 32 tonnes and a hold optimised for carriage of heavy vehicles, helicopters or cargo pallets, the aircraft is capable of supporting a wide range of operational scenarios.
The UK is the third country to operate the aircraft, after France and Turkey and the £2.8bn programme will see a total of 22 aircraft delivered to the RAF in the coming years.
Advertisement
The French President has been in Oxfordshire for a face-to-face summit meeting with the Prime Minister - on the agenda? Talks about Britain's role in Europe, and military cooperation.
The world's media descended on RAF Brize Norton today to witness the arrival of Francois Hollande. It was a day of handshakes and hard talking and lunch at a pub.
Rachel Hepworth reports.
Prime Minister David Cameron said the UK's partnership with France was "as close and important as ever".
Speaking during a news conference with French President Francois Hollande, Mr Cameron said, "We are two leaders determined to keep our citizens safe and to secure a better future for them all."
He described the RAF Brize Norton air base where addressed reporters as "a great example of the close relationship between our two countries".
French President Francois Hollande has arrived at RAF Brize Norton in Oxfordshire. He's in the county for a summit with Prime Minister David Cameron, where discussions on defence co-operation and energy are on the agenda.
A soldier from West Sussex who was killed in Afghanistan is to be repatriated today.
Lance Corporal James Brynin of the Intelligence Corps was killed in Helmand province last week. He was 23 and from Shoreham. He will return via RAF Brize Norton in Oxfordshire.
Load more updates