A minister said he plans to pull the station's broadcasts, revoke the press credentials of journalists and close their Jerusalem bureau.
Read the full story ›
Al-Jazeera journalist Peter Greste was visibly emotional as he learned one of his colleagues was to be freed.
Greste was filming an Australian comedy show when he discovered colleague Mohamed Fahmy had been pardoned in Egypt.
Egyptian authorities released the Canadian journalist and his Egyptian colleague Baher Mohammed on Wednesday after a presidential pardon.
Greste was sentenced in absentia, along with Fahmy and Mohammed, for airing what a court described as "false news" and biased coverage.
Advertisement
The Egyptian president has pardoned two journalists from Al-Jazeera English and dozens of other human rights activists.
Read the full story ›
A court in Egypt has postponed the verdict in the retrial of Al Jazeera television journalists who have been charged with aiding a "terrorist organisation" for the second time.
The verdict hearing has been postponed until 29th August.
Mohamed Fahmy, a naturalised Canadian who has given up his Egyptian citizenship, and Egyptian Baher Mohamed were released on bail in February after spending more than a year in custody.
Both men deny all charges.
A third Al Jazeera journalist, Australian Peter Greste, was deported in February.
A lawyer representing an Al Jazeera journalist on trial in Egypt said the man has filed a lawsuit in a Canadian court accusing his employer of negligence and has demanded $100 million in compensation.
Mohamed Fahmy, who spent more than 400 days in an Egyptian jail on charges of aiding a terrorist organisation, suggested Al Jazeera's actions landed him in jail.
The human rights lawyer has said she was threatened with arrest when trying to publish a report into Egypt's judicial system.
Read the full story ›
Advertisement
Lawyers for Al Jazeera journalist Peter Greste have applied for him to be deported after he was granted a retrial in Egypt.
His brothers Mike and Andrew Greste, who had hoped for his release, called on the Egyptian president Abdul Fattah al-Sisi to use a decree he issued last year that allows him to deport foreigners in prison or on trial.
Australian Greste, along with two other Al Jazeera journalists, was granted a retrial on the grounds of flaws in their trial but denied bail.
Al Jazeera journalist Mohamed Fadel Fahmy has welcomed a decision by an Egyptian court to hold a retrial for him and two other journalists as a 'milestone'.
Canadian-Egyptian Fahmy also said that the three journalists are in high spirits.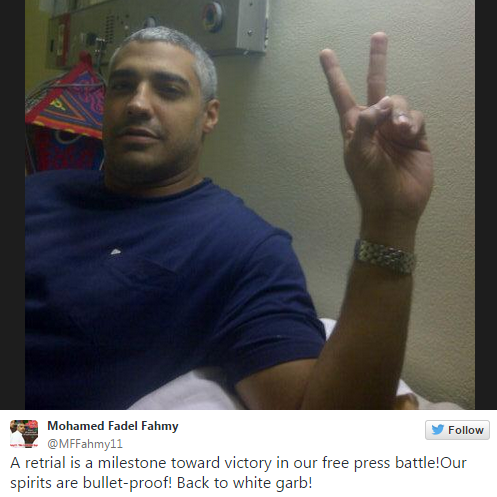 Fahmy, former BBC correspondent Peter Greste and Egyptian Baher Mohamed, were sentenced in June for charges of abetting terrorists, spreading false news and endangering national security.
Al Jazeera has demanded that the journalists are released immediately because the original trial was flawed.
Al Jazeera has reiterated that the trial of its journalists was flawed and has demanded their release.
"The Egyptian authorities have a simple choice - free these men quickly or continue to string this out, all the while continuing this injustice and harming the image of their own country in the eyes of the world," Al Jazeera said in a statement.
"They should choose the former," the TV channel added.
Three journalists working for Al Jazeera are expected to remain in jail until they appear before a new court for a retrial, a defence lawyer said.
"They will not be released until they appear before the new chamber, which will decide whether to release them or not," said defence attorney Mostafa Nagy.
Load more updates