Three Al Jazeera journalists jailed in Egypt have been granted a retrial.
Former BBC correspondent Peter Greste, along with Canadian-Egyptian Mohamed Fahmy and Egyptian Baher Mohamed, have been held since their arrest in December 2013.
They were jailed in June after the state found them guilty of charges of abetting terrorists, spreading false news and endangering national security.
Al Jazeera have always insisted that the men were just doing their job.
Jailed Al Jazeera and former BBC journalist Peter Greste is to appeal against his conviction on terrorism-related charges in Egypt, his brother has said.
Egyptian authorities accuse Al Jazeera of backing the Muslim Brotherhood, which was recently ruled a terrorist organisation.
Mr Greste's sentencing sparked outrage around the world when he was jailed along with fellow journalists Mohammed Fahmy and Baher Mohammed last month.
Today Mr Greste's brother Mike told reporters in the family's hometown of Brisbane that they "have to have faith in the Egyptian system."
He added: "We have to exhaust all legal channels prior to ... taking other strategies," referring to options including appealing to President Abdel-Fattah el-Sissi for clemency.
Advertisement
Journalists across the world have shown their support for the Al Jazeera reporters who have now been imprisoned in Egypt for 200 days.
ITN journalists, including ITV News presenter Mark Austin, wore a #FreeAJStaff gag in protest against the decision by Egyptian authorities to jail Al Jazeera reporters.
The Egyptian president will not interfere in court rulings that sentenced three al Jazeera journalists to seven years in prison amid and international outcry.
Abdel-Fattah el-Sissi speaking in a nationally televised speech during a military graduation ceremony, said Egypt has an independent judiciary and urged people to stop commenting on or criticising rulings by courts.
"We will not interfere in court verdicts," he said.
BBC staff and journalists taped their mouths up during a protest in London today to express their outrage at the imprisonment of Al-Jazeera journalists Peter Greste, Mohamed Fahmy and Baher Mohamed.
Hundreds of supporters stood outside their office with many carrying papers saying "#FreeAJStaff" while hashtags including #journalismisnotacrime have been trending worldwide.
Radio 4 presenter Julian Worricker said the protest was really important because they represented all journalists.
He said: "They were just doing their jobs and they end up jailed for seven years. There by the grace of God go all of us."
Newly elected Egyptian President Abdel Fattah al-Sisi has said he would not interfere with judicial verdicts, following an international outcry over lengthy prison sentences given to three Al-Jazeera journalists this week.
Sisi said Egypt's authorities would respect the independence of the judiciary.
He added: "We will not interfere. We must respect judicial rulings and not criticise them even if others do not understand this."
Advertisement
A minute's silence was held in London today in protest at the sentence of three Al-Jazeera journalists who were each jailed for seven years in Cairo on Monday.
Hundreds of journalists and supporters gathered at BBC's New Broadcasting House this morning.
Katie Prescott, a producer for BBC Radio 4's Today programme tweeted this picture.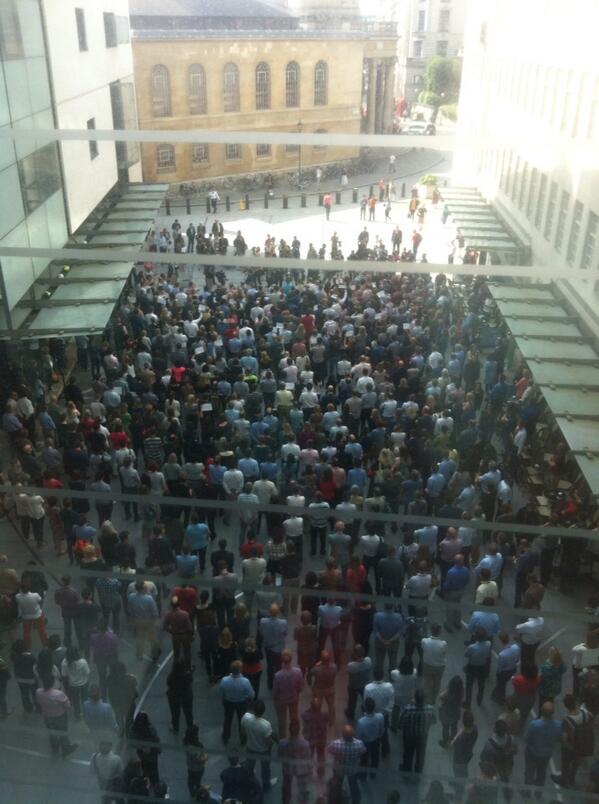 While Sima Kotecha, a BBC reporter on the Today programme, tweeted this.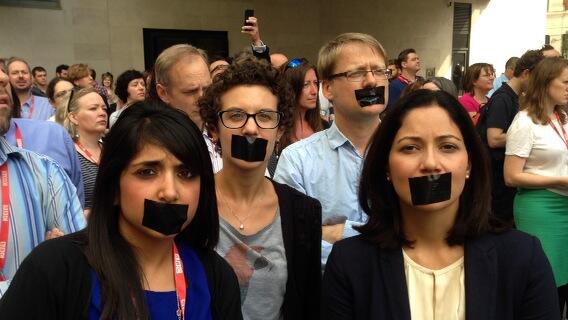 The minutes silence was also observed worldwide. Abdullahi Sheikh, a BBC journalist based in Nairobi, tweeted this calling for the men's release.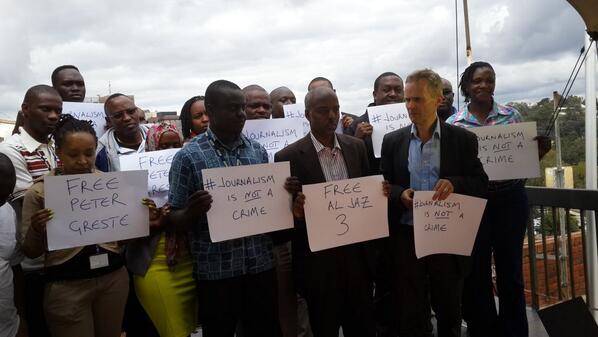 Hundreds of journalists are to protest In London later today over the jailing in Egypt of colleagues from Al Jazeera which has provoked outrage around the world.
Staff from the BBC and other news organisations will hold a one minute silent protest outside New Broadcasting House in London at 9.41am-the time of yesterday's sentencing.
Australian-born Peter Greste, Canadian-Egyptian Mohammed Fahmy, and Egyptian producer Baher Mohammed were each sentenced to seven years in prison over alleged terrorism charges.
The imprisonment of the journalists on charges relating to terrorism provoked Foreign Secretary William Hague to summon the Egyptian ambassador in London for a meeting yesterday.
Australian Prime Minister Tony Abbott says he hopes to ensure Peter Greste's return from Egypt "as soon as possible" after the journalist and two colleagues were jailed in a widely-criticised court ruling on Monday.
"We're obviously shocked, dismayed, really bewildered by the decision of the court in Egypt," he told the Associated Press.
Mr Abbott added that while his country respects the legitimacy of the Egyptian government "it is important that there be due process" and that "decisions be made on a fair and just basis".
He said he had a "very constructive discussion" with Egypt's president Abdel-Fattah el-Sissi on the issue this weekend.
The jailing of three Al-Jazeera journalists in Egypt has prompted an international outcry - with Britain and the US among those calling for a pardon.
Load more updates