Civilians in eastern and government-held western Aleppo are unable to escape the "appalling" daily scenes of violence, ITV News Correspondent Dan Rivers has told News at Ten.
Reporting live from the Syrian city, he said what the West calls "crimes against humanity" are going on with "no sense" that anyone is going to do anything to stop it.
Dan spoke to Tom Bradby on News at Ten:
There is some semblance of ordinary life in government-held western Aleppo, but here too the conflict has taken a terrible toll.
Read the full story ›
Advertisement
At least eight people have died in a weekend of heavy bombardment in eastern Aleppo, health agencies have confirmed.
There has been no let up in the violence and more than 170 have also been injured in the airstrikes.
Unconfirmed reports also suggest a further 25 people have died in an attack this evening.
ITV News Correspondent Dan Rivers has been witnessing the devastation in Aleppo: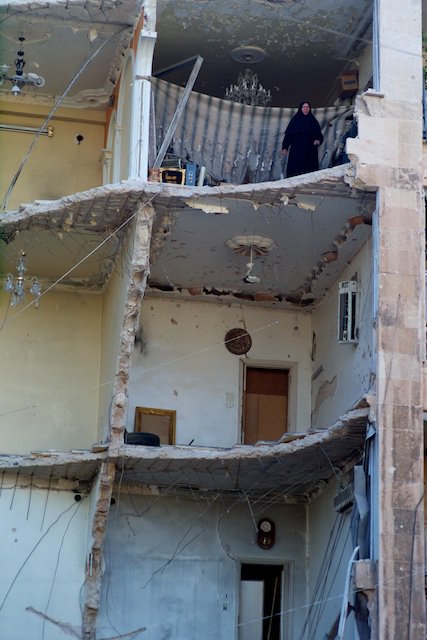 One of the great cities of the middle east has been devastated by five years of vicious civil war.
Read the full story ›
New drone footage has revealed the extent of the destruction inside the blasted rebel-held city of Aleppo.
Trapped citizens still live in the shattered buildings as the once-grand city is reduced to rubble by relentless attacks from the Syrian government and its Russian allies.
Even from the safety of Britain it is hard for Syrians who have fled the five-year conflict to leave the horrors of Aleppo behind.
Read the full story ›
Advertisement
Sedra's brother was killed when they were hit by a barrel bomb on their way to buy bread. She lost an arm and shrapnel scarred her face.
Read the full story ›
Analysts from the IHS Janes Terrorism and Insurgency Centre on the battle for Aleppo and the Russian and Syrian regime airstrike campaign.
Read the full story ›
The only remaining facilities in the eastern part of the city have been damaged by repeated assaults since the siege began, MSF says.
Read the full story ›
Hundreds of thousands of Aleppan refugees live in half-built apartments in Gaziantep where with no work and no status, they live half lives.
Read the full story ›
Load more updates