The documents suggest the Irish singer invested in the Maltese company Nude Estates, which purchased a shopping centre.
Read the full story ›
Advertisement
Rock star Bono had to be rescued from a Nice restaurant by anti-terror police, it has emerged.
The U2 lead singer, 56, was on a restaurant terrace next to the seafront in the French city when the attacker drove the lorry into the crowds.
Dining with Bono on Thursday night was the celebrity chef Alain Ducasse, it has emerged.
After the atrocity U2 tweeted a picture of bandmate The Edge with the caption: "Love is bigger than anything in its way".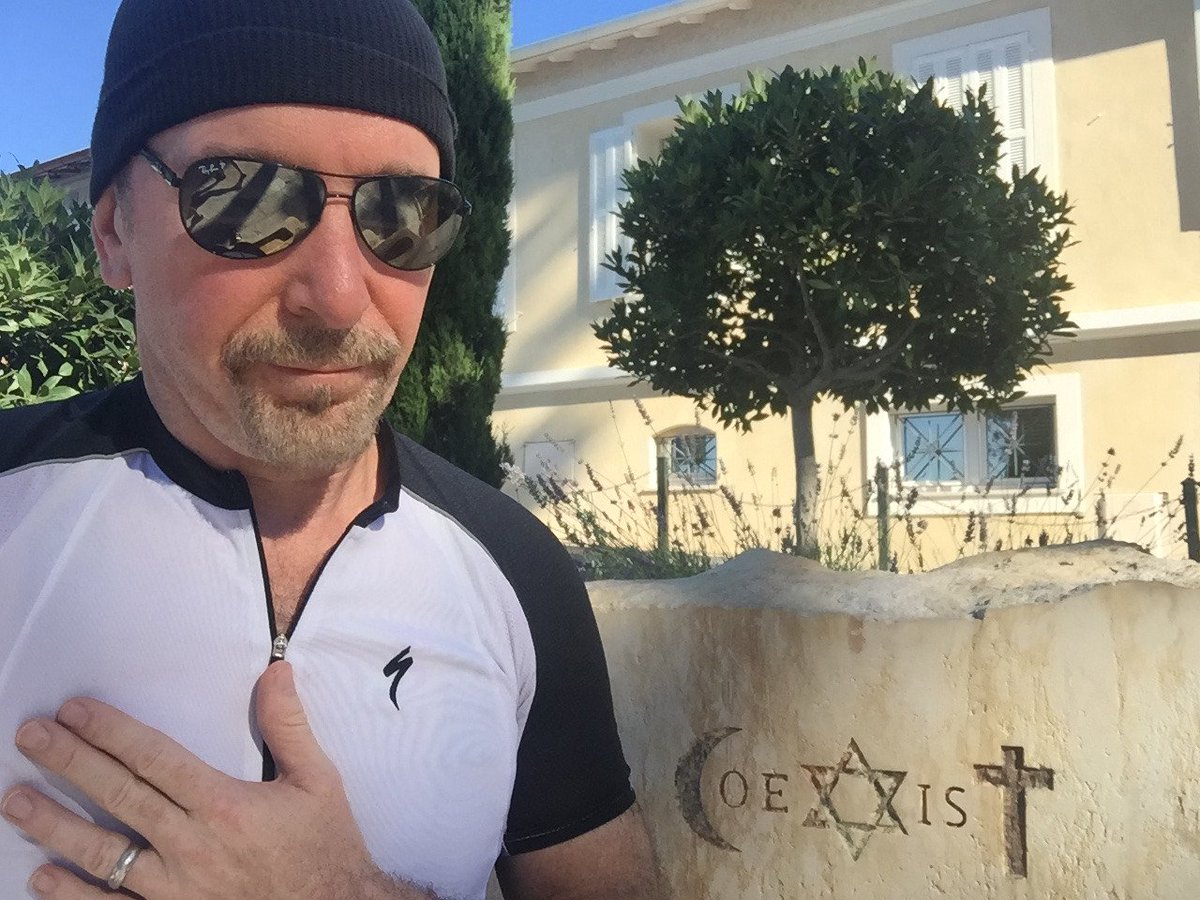 Bono told Paris crowds the band "stands together" with those killed in the recent terror attacks as victims names were projected behind him
Read the full story ›
A statement from the band confirmed that the 69-year-old was found last night in his hotel room in West Hollywood.
Read the full story ›
U2 singer Bono says he may never play guitar again after the serious injuries he sustained in a bike accident in New York in November.
Read the full story ›
Advertisement
The private plane of U2 front man Bono lost a hatch on its approach to Berlin, authorities at the German airport have said.
There was no risk to the Irish singer in the incident.
Airport spokesman Ralf Kunkel told the DPA news agency that the 32in (80cm) by 40in (100cm) rear hatch landed in the vicinity of Schoenefeld airport, on the south-eastern edge of Berlin.
He said it was not clear why the hatch came off and that German authorities were investigating.
Mr Ralf said the aircraft, which was flying from Dublin, was never in danger of crashing and landed safely.
According to NBC News, the two pilots only found out on the ground that the aircraft had lost its door and two suitcases from the luggage compartment.
They told investigators that they noticed a rumble similar to turbulence during a right-hand turn on approach, but that they felt no major change in how the plane was flying.
Bono is in Berlin for the Bambi awards.
U2 frontman Bono has revealed the mystery behind his trademark sunglasses: glaucoma.
Bono told BBC's Graham Norton he had suffered from the condition for two decades.
"This is a good place to explain to people that I've had glaucoma for the last 20 years. I have good treatments and I am going to be fine," Bono said.
"You're not going to get this out of your head now and you will be saying 'Ah, poor old blind Bono'," the singer joked.
Glaucoma is a disease that damage the optic nerve of the eye, causing deterioration over time. In some cases, it can result in blindness.
Bono, 54, is known for almost always wearing shaded glasses in public, even indoors.
Asked about them in the past, he has said only that his eyes are sensitive to light.
U2 frontman Bono offered an apology of sorts yesterday for their latest album being sent to Apple customers who did not want it.
During a publicity question-and-answer session on Facebook, he said:
Oops. I'm sorry about that. I had this beautiful idea - might have got carried away with ourselves. Artists are prone to that kind of thing.

Drop of megalomania, touch of generosity, dash of self-promotion, and deep fear that these songs that we poured our life into over the last few years mightn't be heard.

There's a lot of noise out there. I guess we got a bit noisy ourselves to get through it.
– Bono
Sorry, this content isn't available on your device.
The album is at number four in the midweek sales, according to the Official Charts Company, one of their worst chart performances.
U2 will allow fans to download their new single for free in a move that the band hopes will raise more than £1 million to help provide life-saving treatment for people fighting Aids, tuberculosis and malaria.
The rock giants will unveil the track, called Invisible, on a US TV ad for fundraising partnership (RED) to be aired during the Super Bowl on February 2.
Invisible will be made available on iTunes for 24 hours, with the Bank Of America donating 60p for each download, to a maximum of £1.2 million, to the Global Fund To Fight AIDs,Tuberculosis And Malaria.
Bono helped to found the organisation (RED) in 2006, which has gone on to generate more than £145 million for the Global Fund.
Load more updates