Bradley Wiggins' return to competition has been confirmed, with the 5-time Olympic cycling champion swapping his bike for a rowing machine.
Read the full story ›
The no-charges ruling follows an investigation into allegations of wrongdoing at British Cycling and Team Sky.
Read the full story ›
Advertisement
Sir Bradley Wiggins has dismissed the marginal gains process at the centre of British Cycling's success under Sir Dave Brailsford as "a load of rubbish".
Wiggins was also critical of fellow Olympic gold-medallist Victoria Pendleton and sports psychologist Dr Steve Peters, who worked with Brailsford at British Cycling and Team Sky and created the "chimp paradox" model for dealing with pressure.
Former Olympic champion Chris Boardman originally headed up British Cycling's "Secret Squirrel Club", now known as "Room X" under head of technical development Tony Purnell, to find any slight advantage through modifications to bike technology and riders' clothing.
Wiggins won eight Olympic medals, including five golds, as well as the Tour de France for Brailsford's Team Sky.
But he told the Telegraph he didn't believe Brailsford's approach yielded benefits and disagreed with Pendleton, who won sprint gold at Beijing 2008 and the keirin at London 2012 and who has credited Dr Peters as a major part of her success.
A lot of people made a lot of money out of it and David Brailsford used it constantly as his calling card, but I always thought it was a load of rubbish.

It's a bit like the whole chimp thing. At the end of the day, chimp theories and marginal gains and all these buzzwords - a lot of the time, I just think you have got to get the fundamentals right: go ride your bike, put the work in, and you're either good or you're not good.

Sometimes in life or in sport, whatever, you're either good at something or you're not. That's what makes you a better athlete: your physical ability and whether you've trained enough - not whether you've slept on a certain pillow or mattress.

Vicky [Pendleton]'s a bit of a milkshake anyway. You can overanalyse things but at the end of the day, it's about your ability and whether you're a better athlete than the other person or not.

Whether you've come to grips with this other person living inside you, it's all a bit... well, each to his own. That may work with some people, but as Roy Keane would say: it's utter nonsense.
– Sir Bradley Wiggins
The Belgian doctor played no part in the British cyclist's application for a therapeutic use exemption (TUE), Wiggins claims
Read the full story ›
Sir Bradley Wiggins and Chris Froome have had their medical records leaked in a second cyber attack on the World Anti-Doping Agency.
Read the full story ›
Advertisement
Sir Bradley Wiggins will reunite with Mark Cavendish to race at this year's Six Day London event in October.
Wiggins, who had previously suggested he would retire after this summer's Olympics in Rio, but has signed up to compete alongside Cavendish in what he calls "the double act everyone wants to see".
The pair teamed up to win Madison gold at the world track championships in March and will be back at the capital's Lee Valley VeloPark for the first time since that triumph.
Wiggins, who will be aiming for a fifth gold medal and British record eighth podium appearance if selected for Rio, said: "It's going to be great. This has got to be the double act everyone wants to see isn't it?
"Winning the Madison at the Worlds was incredible and this might well be the last chance that people get to see us together.
"I was gutted not to be able to ride it last year, but this year the timing just fits so I'm hoping it will be a great way to celebrate a successful fifth Olympic Games, back in London."
Sprint ace Cavendish added: "One of the first things I said to Brad after we won the Madison on the track in London was 'we have to do London Six Day together'.
"The Six Day experience is something else - the atmosphere will be right up there with the World Championships, the music's loud and the racing is brutal. It'll be great to team up with Brad again and we'll be going for the win.
Bradley Wiggins remains confident of breaking cycling's Hour Record next month despite seeing fellow Briton Alex Dowsett raise the bar
Read the full story ›
Sir Bradley Wiggins' participation in the inaugural Tour de Yorkshire has been confirmed
Read the full story ›
Sir Bradley Wiggins failed to sign off from Team Sky with a win at Paris-Roubaix as Germany's John Degenkolb triumphed in the gruelling 151-mile trek.
The 2012 Tour de France champion, who is quitting both Team Sky and the road in order to return to the track ahead of the Rio Olympics, was in contention for victory but faded near the finish to come home 18th.
Earlier in the race, several riders came close to being hit by a train as they raced over a rail crossing as a TGV approached.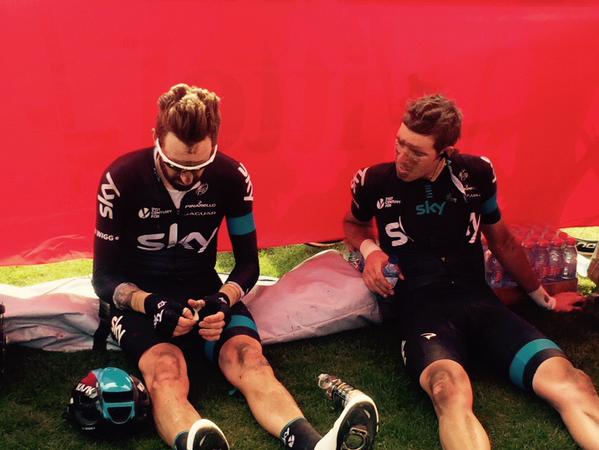 Load more updates