The message "In loving memory of Caroline Aherne" was accompanied by "Half The World Away", which played at the end of The Royle Family.
Read the full story ›
The former Oasis frontman was told The Royle Family star had died moments before he took to the stage in Nashville, Tennessee.
Read the full story ›
Advertisement
Caroline Aherne has been remembered as an "incredibly funny" comedian and a "raw talent" by one of her co-stars on The Fast Show.
John Thomson said that Aherne could be relied upon to make him "roar with laughter" but had become a "virtual recluse" in recent years as she struggled with the demands of fame.
She wasn't political, she never saw herself as a feminist or representing the minority of female comics. She didn't need to, there was no agenda, she was just funny.

She was an incredibly funny woman on and off screen, whose raw talent and 'funny bones' never failed to make me roar with laughter.
– John Thomson
Thomson said he had last seen Aherne while they were working on Sky comedy After Hours in 2014.
He said she was "painfully thin" but on "amazing form".
"This was the last time I saw her. I'm grateful for that fact, as that was how I would want to remember her."
Actor Ricky Tomlinson has paid tribute to Caroline Aherne, saying that she was "a true professional and one of the most generous people I have ever worked with".
Speaking to The Sunday Mirror, he called her "kind, funny, witty" and said he was "so bloody shocked" at her death.
Tomlinson, 76, co-starred in Aherne's televison show The Royle Family.
He told the paper Aherne had been "absolutely wonderful and amazing to work for", and that over the two years she was battling cancer she he could "never, ever remember her complaining".
Actor and comedian, Steve Coogan, has paid tribute to the "incredibly funny" Caroline Aherne who has died aged 52.
The 50-year-old spoke of how he first met the comedian when she was a secretary at the BBC looking to appear on the television.
The actor paid tribute to his friend who he said would leave him crying with laughter.
"She was a grounded, decent person," he said, adding: "I'll miss her terribly".
Advertisement
Debbie McGee, the widow of magician Paul Daniels who was at the receiving end of one of Mrs Merton's most famous lines, said her creator Caroline Aherne was "wonderful".
Aherne's Mrs Merton famously asked McGee in a 1995 episode: "What first attracted you to the millionaire Paul Daniels?"
Just heard the very sad news about Caroline Ahearne she was wonderful especially as Mrs Merton. My interview will be a treasured memory RIP
TV presenter Keith Chegwin, who was also a 'victim' of Mrs Merton said: "Even though she was taking the mickey out of me. I never laughed so much."
Caroline Aherne lit up world with her comedy. Was on Mrs Merton. Even tho she was taking the mickey out of me. I never laughed so much RIP X
Caroline Aherne, who died on Saturday after battling cancer, had paid tribute to her fellow comedian Victoria Wood who died of the disease in April.
She released a statement saying Wood had a "rare gift of making us laugh at the mundanities of life with a humour that was never cruel and only ever warm. A true comic genius".
Aherne is the latest big name in entertainment to have passed away in 2016.
Producers of the Channel 4 television reality show Gogglebox have paid tribute to Caroline Aherne, who was the narrator since the first episode in 2013.
On behalf of the whole #Gogglebox family, we are devastated about the passing of our dearest Caroline, who we all adored.
Desperately sad to hear that Caroline Aherne has died; a brilliant comic, a lovely person and the voice of #Gogglebox.
Other stars of the show have paid their respects to Aherne on social media.
Can't believe what I'm hearing  what a beautiful, inspiring woman we have lost. Gogglebox will never be the same #CarolineAherne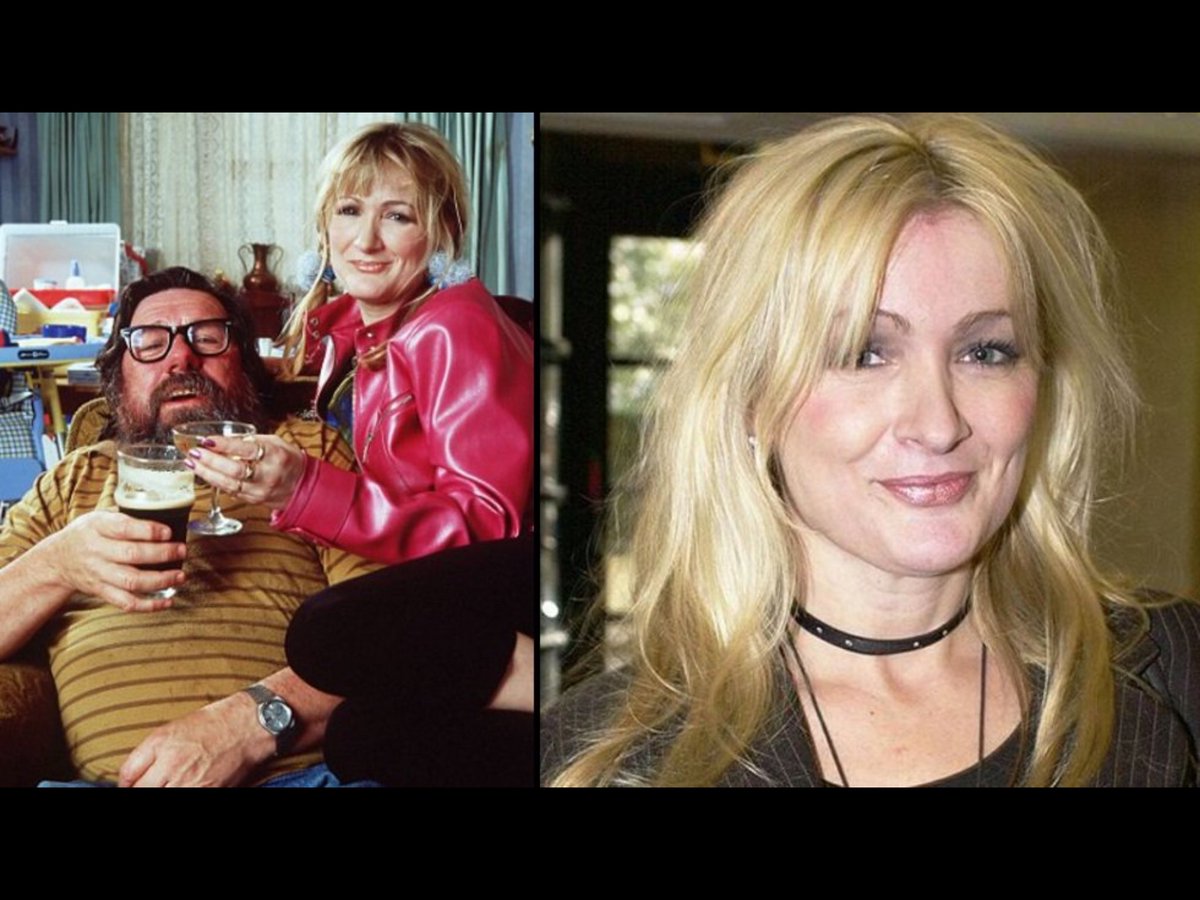 Actress Sue Johnson who played Caroline Aherne's on-screen mother Barbara in The Royle Family said in a statement she was "devastated" and "numb with grief" to learn of her death.
Ralf Little who starred as her brother Antony in the hit sitcom described it as a "sad, sad day" and said she had a "big heart".
Thing is, amidst all sadness Caroline would now say something grounded, incisive, and hilarious. I can't think of anything, but she would.
A character. A legend. A boss. A sister, real and (for me) fake. A boss. A writer. An actor. A genius. A friend. Big, big heart. Goodbye. X
Sorry for silence - I just... don't know what to say. What a sad, sad day. We've lost another one of our best.
Coronation Street's Andrew Whyment, who played Darren in The Royle Family, said she was a "very talented woman".
So sad 2 hear the passing of Caroline Aherne it was a privilege to have worked with her on the Royle Family very talented woman indeed RIP X
Load more updates