Richard Curtis reassembled the Four Weddings And A Funeral cast, while a special Bodyguard clip poked fun at Prime Minister Theresa May.
Read the full story ›
The Labour MP criticised Stacey Dooley on Wednesday over her work with the charity.
Read the full story ›
Advertisement
Comic Relief has raised more than £1bn for charity over 30 years of fundraising, with more than £70.5 million already pledged for this year's event.
Since its launch in 1985 the Red Nose Day event, which has become something of a British institution with a host of celebrities taking part in challenges and performing one-off sketches live on BBC One, had raised £960m.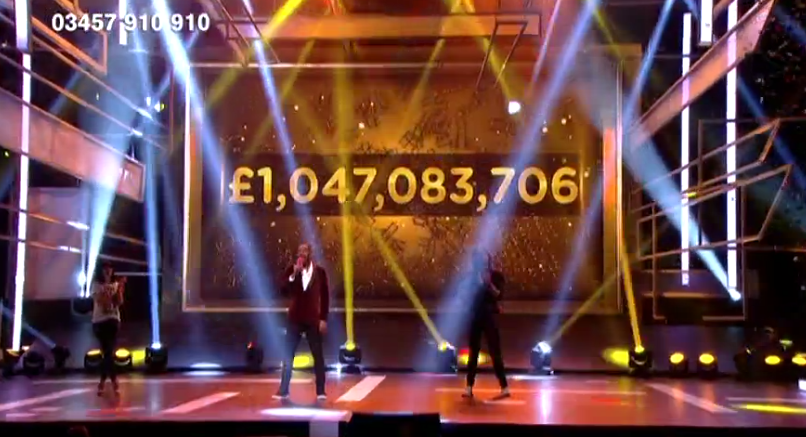 The highlight so far of this year's fundraising, which had secured £70,501,108 by midnight, was a 24-hour danceathon by DJ and TV presenter Dermot O'Leary which raised £643,336 for charity.
Other celebrities, including Simon Cowell, offered their support to Red Nose Day on Twitter.
Now watching @comicrelief.. You have to hand it to these guys. Year after year they deliver.
Comic Peter Kay is resurrecting his TV hit Phoenix Nights in two live stage show for Comic Relief.
Read the full story ›
Comic Relief chief executive Kevin Cahill, speaking on BBC Radio 4's World At One, accepted that Comic Relief had a "small percentage" of cash in areas such as tobacco and arms firms through managed funds.
"There's no more than 5 percent of our funds in those particular areas," he said.
After being told ethical funds had outperformed FTSE 100 companies index over recent periods, he said: "Our trustees were acting in good faith in what they were doing.
"It's very good to hear that, in fact, the potential exists within ethical funds to match the return because Comic Relief would clearly choose to be in those if the return was equal or better to where we currently are so it's a no brainer for us to be in those funds."
Advertisement
BBC Panorama highlighted that Comic Relief had £630,000 in shares in BAE Systems, a leading weapons manufacturer, in 2009 despite having a mission statement which talks of a commitment to help "people affected by conflict".
The charity has also given money to help the fight against tuberculosis but had £3 million of its money wrapped up in tobacco companies in the same year, even though smoking is said to be a contributory factor in many TB cases.
And although it aims to reduce alcohol misuse and its spin-off effects, the charity had £300,000 invested in the drinks industry in 2009. Panorama said Comic Relief refused to reveal its current investments.
Comic Relief is to conduct a "full review" of its investment policy after the charity was criticised for its dealings with the tobacco and arms industries.
A BBC Panorama programme screened last night highlighted the money that the charity has tied up in some areas which appear to run counter to its aims because it does not exercise any sort of ethical screening on its investments.
But chief executive Kevin Cahill said that it will look again at where it puts its funds in order to do "the right thing".
BBC1's documentary claims Comic Relief could have generated more cash from shrewd investments in "ethical" funds.
The charity, which generates huge publicity for its activities with star-studded programmes screened by the BBC, has avoided a policy of ethical screening for its investments because it says it does not want to limit the amount of money it raises.
A politician's "spur of the moment" charity idea left her more than £14,000 down after promising £1 for every retweet she got on Twitter.
Read the full story ›
Once again the extraordinary generosity of the British public has put Comic Relief in a position to be able to serve thousands upon thousands of people with very hard lives in Africa and the UK.

It's almost impossible to thank enough all those who took part in the event, all the members of the public who fund-raised and all those who gave so generously on the night.
– Richard Curtis, Comic Relief co-founder
Load more updates