ITV News report by Juliet Bremner
Three 12-year-old girls are in hospital after taking "Teddy" ecstasy tablets in Salford, Greater Manchester.
Police were called to Salford Precinct on Saturday night after reports that a young girl was overdosing, and found two of her friends afterwards.
All three were taken to hospital and are now in a stable condition.
A man and a woman have been arrested on suspicion of being in possession of drugs and are being held for questioning, Greater Manchester Police said.
Detective Chief Inspector Chris Walker said they would be investigating how the children obtained the drugs.
He said: "It is imperative young people understand the implications and avoid taking drugs, to stop any more young people ending up in hospital.
"We will continue to repeat our warnings in the hope that young people will think twice before taking drugs, after seeing the damage they cause to lives."
Police made an urgent appeal on Monday in the wake of a teenage girl's death after she took a "MasterCard" ecstasy pill.
The youngster's death is being investigated after officers were called at around 5am on Monday to the Victoria Warehouse on Trafford Wharf Road in Trafford, Greater Manchester.
Now police are urging anyone else who took the pill to seek urgent medial attention.
"We are appealing to anyone who may have taken this form of ecstasy, known as 'MasterCard' to get checked out urgently", a police spokesperson said.
"Even if you took it some hours ago, this pill will still be in your system and could be seriously harming your health".
Advertisement
Several people have been hospitalised after taking the pills, which feature the logo of the US parcel service.
Read the full story ›
A bereaved mother whose 15-year-old daughter died after taking ecstasy has called for drugs to be legalised.
Read the full story ›
A 16-year-old boy is said to be in a serious condition in intensive care after taking what may have been a 'Mortal Kombat' ecstasy pill, police said.
Tests are also being carried out on a 17-year-old boy after both teens became ill following a house party in Coatbridge, North Lanarkshire, yesterday.
The pair were taken Monklands District General Hospital in Airdrie at about 11.30pm having apparently taken illegal drugs.
A NHS Lanarkshire spokeswoman said: "Anyone who has taken ecstasy - particularly the one described as 'Mortal Kombat', and who is feeling unwell, or who knows someone who has taken this type of drug in the past few hours, should attend or contact their local hospital for treatment and advice."
Advertisement
Police Scotland has issued posters warning festival goers of the recent deaths linked to fake ecstasy pills: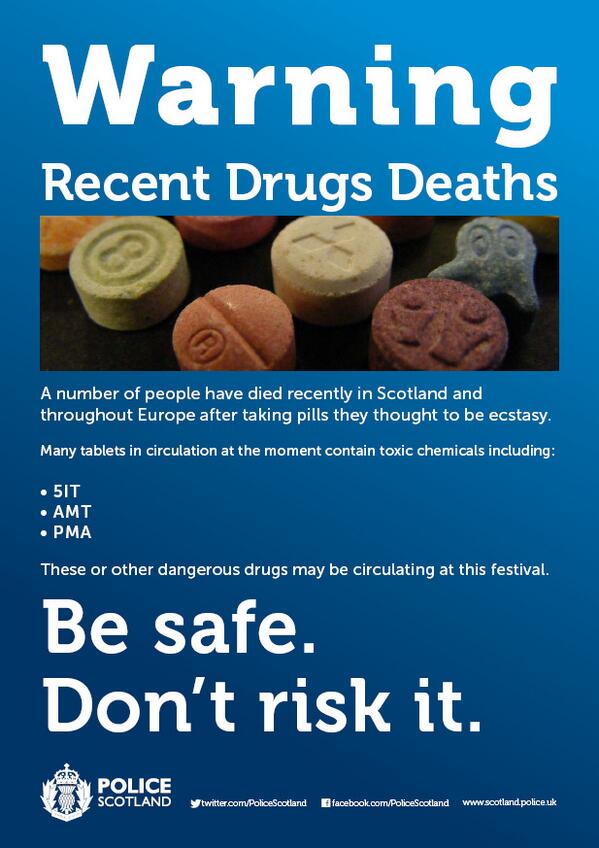 There are pills of different colours & designs being sold as ecstasy in Scotland that are toxic. People have died. Don't Risk It! #titpinfo
The poster warns, "These or other dangerous drugs may be circulating at this festival".
"Be Safe. Don't risk it", it adds.
It had been feared that 8 unexplained deaths of people in their 20s and 30s over the past month in Northern Ireland had been caused by the same batch of drugs, however police said no single drug was responsible.
PSNI officers told UTV they were liasing with officers across the UK, and in the republic of Ireland.
Police in Scotland were keen to send out a warning on ecstasy ahead of this weekend's T in the Park music festival.
Drug "amnesty bins" will be available at the entrance to the campsites in Balado, Perth and Kinross where illegal substances can be disposed of without risk of prosecution, police said.
Chief Inspector George MacDonald said: "We want to encourage people to enjoy themselves but our priority is keeping people safe and we want to make them aware of the direct dangers of becoming involved with drugs."
Police Scotland's Superintendent Grahame Clarke said the fake ecstasy tablets that have been linked to the deaths of seven people are a "real concern" and "could contain a cocktail of toxic ingredients".
An investigation is under way and our inquiries have so far revealed that the woman, along with three friends, had taken what they thought were ecstasy tablets. The tablets were described as green with a Rolex crown logo stamped on them.

Public warnings have been issued recently in relation to the dangers of taking ecstasy, or indeed tablets being passed off as ecstasy. They are illegal and could contain a cocktail of toxic ingredients.
We have yet to establish if this particular pill is to blame for the death of this young woman, but the fact that she and her friends took pills described as green and with a Rolex stamp on it causes us real concern.

The exact contents of the pills are unknown but they could contain dangerous chemicals and users need to be aware of the dangers and understand the devastating effect they can have.
– Superintendent Grahame Clarke, from Police Scotland's western division
Load more updates