US Secretary of State John Kerry invited Snowden to "man up and come back to the United States."
"The bottom line is this is a man who has betrayed his country, who is sitting in Russia, an authoritarian country where he has taken refuge," Kerry told the CBS network.
"If he has a complaint about what's the matter with American surveillance, come back here and stand in our system of justice and make his case," Kerry said.
"There have been times throughout American history where what is right is not the same as what is legal," Edward Snowden told NBC News.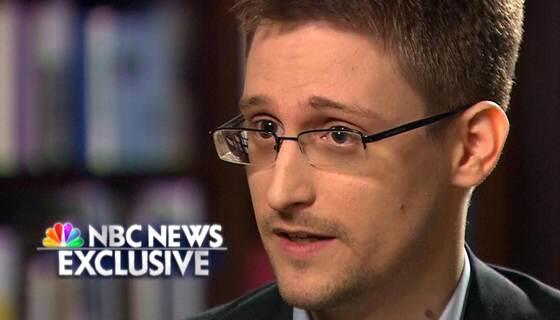 Advertisement
Former US spy agency contractor Edward Snowden has told a US television interviewer he would like to go home from asylum in Moscow, but that if necessary he would seek to extend his stay in Russia.
US officials said he was welcome to return to the United States if he wanted to face justice for leaking details of massive US intelligence-gathering programmes.
"If I could go anywhere in the world, that place would be home," Snowden told NBC Nightly News anchor Brian Williams in an excerpt from the interview that aired on Wednesday.
Former CIA operative Edward Snowden appeared on Russian television today to ask Vladimir Putin whether his government is engaged in the sort of mass surveillance he claims the US government is involved in.
Mr Putin tells Snowden, who appears via video link, that there is no "indiscriminate" mass surveillance in Russia and that "in accordance with the law, there cannot be".
Edward Snowden has issued a statement after the Guardian and Washington Post were awarded the Pulitzer Prize for public service in honour of their coverage of the NSA revelations.
"Today's decision is a vindication for everyone who believes that the public has a role in government," the whistleblower said.
"We owe it to the efforts of the brave reporters and their colleagues who kept working in the face of extraordinary intimidation," he added.
"This decision reminds us that what no individual conscience can change, a free press can. My efforts would have been meaningless without the dedication, passion, and skill of these newspapers, and they have my gratitude and respect for their extraordinary service to our society.
"Their work has given us a better future and a more accountable democracy," Mr Snowden said.
The Guardian US and the Washington Post have shared the Pulitzer Prize for Public Service in honour of their revelations of secret surveillance by the National Security Agency.
The award recognised journalists Glenn Greenwald, Barton Gellman, Laura Poitras and Ewan MacAskill for their reporting on the information leaked by whistleblower Edward Snowden.
The Boston Globe also won the Pulitzer Prize for Breaking News Reporting for their coverage of the Boston Marathon bombing.
Advertisement
Whistleblower Edward Snowden has said that the US National Security Agency deliberately listened in on the activities and staff of prominent human rights organisations.
Addressing members of the Council of Europe in Strasbourg via video link from Moscow, Snowden said that the NSA had deliberately monitored bodies like Amnesty International and Human Rights Watch.
He told MEPs: "The NSA has targeted leaders and staff members of these sorts of organisations, including domestically within the borders of the United States." Snowden did not reveal which groups the NSA had bugged.
The Council of Europe invited the White House to give evidence but it declined.
Labour wants new powers for police and security services to crackdown on cyber-crimes such as child pornography and terrorism, but only with extra checks on how crime agencies are using sensitive data, the shadow home secretary is set to say.
Technological developments have sparked a wave of new types of crime and a 30% hike in recorded online fraud is just the "tip of the iceberg", Yvette Cooper will warn.
But fears about abuse of information in the wake of leaks by ex-US National Security Agency contractor Edward Snowden, which revealed widespread spying by Government listening post GCHQ, means new safeguards are needed to protect privacy.
Much stricter controls over access to private data must be introduced to give the public confidence amid fears about the way information can currently be accessed and used, she is expected to say.
Whistleblower Edward Snowden has been elected as rector of Glasgow University following a student vote.
The role of the Rector is to represent students to the senior management of the University and raise issues which concern them.
US intelligence leaker Snowden is currently in Russia after being granted a year's asylum.
Responding to reports that UK and US intelligence agencies have been developing capabilities to take advantage of smartphone applications to gather users' private information, a spokesman for British intelligence agency GCHQ told the Guardian:
It is a longstanding policy that we do not comment on intelligence matters.

Furthermore, all of GCHQ's work is carried out in accordance with a strict legal and policy framework which ensures that our activities are authorised, necessary and proportionate, and that there is rigorous oversight, including from the Secretary of State, the Interception and Intelligence Services Commissioners and the Parliamentary Intelligence and Security Committee. All our operational processes rigorously support this position.
– GCHQ spokesman
Load more updates