Greenpeace UK has said world leaders should aim for more than "just another sticking-plaster deal" on climate change.
Executive director John Sauven said: "Never has a generation of world leaders stood a better chance of clinching a global climate deal.
"This time there's enough momentum to aim for something better than just another sticking-plaster deal with a short shelf life.
"David Cameron now has the opportunity to argue for a similar system that can drive a global countdown towards zero emissions - he should seize it with both hands."
Greenpeace International has been forced to apologise to supporters after a a series of leaked emails revealed financial mismanagement and the jet-set commute of a senior manager.
Coming after it emerged that a staff member lost £3 million of public donations in currency tradings, the documents show that Greenpeace International's international programme officer, Pascal Hustings, works in Luxembourg but flies to the group's headquarters in Amsterdam several times a month.
The 250 mile journeys, at approximately 250 euro a trip, are paid for by Greenpeace funds despite its various high-profile campaigns to curb the growth in aviation. Mr Husting defended the arrangements to the Telegraph, saying:
"I spend half my life on skype and video conference calls. But as a senior manager, the people who work in my team sometimes need to meet me in the flesh, that's why I've been going to Amsterdam twice a month while my team was being restructured."
Kumi Naidoo, Greenpeace's top executive director, also defended the flights to the Guardian:
"Pascal has a young family in Luxembourg. When he was offered the new role he couldn't move his family to Amsterdam straight away. He'd be the first to say he hates the commute, hates having to fly, but right now he hasn't got much of an option until he can move."
The emails also revealed major unease about the restructuring of the organisation: over the next few years 75 jobs will be moved from Amsterdam to Brazil, Indonesia, China and other countries on the front line of climate change.
Advertisement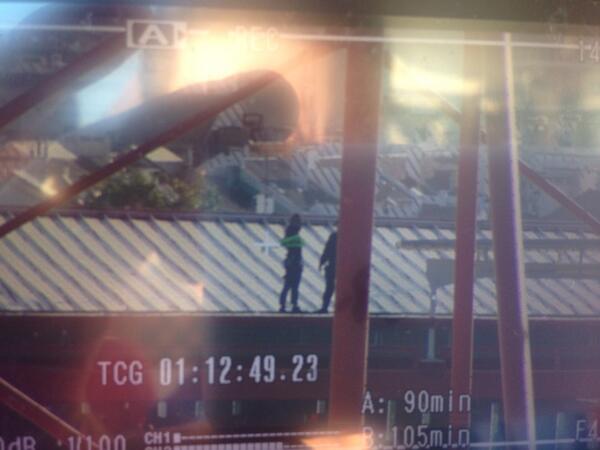 Ten Greenpeace campaigners have been arrested at the Champions League Final in Lisbon before they were able to attach a protest banner to the stadium roof.
CNN sports correspondent Alex Thomas tweeted these pictures from the event where Real Madrid are playing Atletico Madrid.
LATEST: 5 people on roof of Stadium of Light with #UCL Final kick off rapidly approaching. Could be a protest. http://t.co/dGQI0c6sUb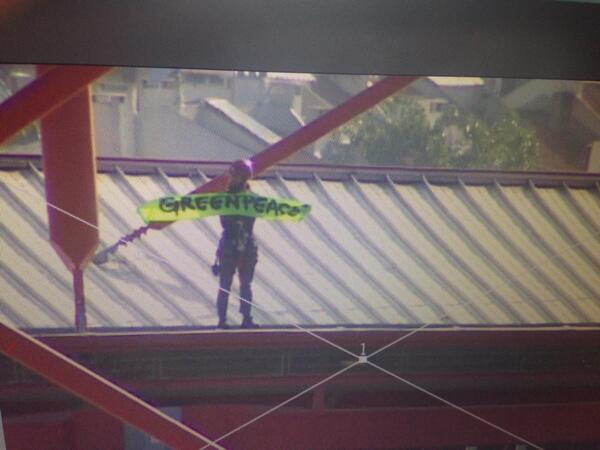 The activists lived inside a concrete tube at Lisbon's Estadio da Luz arena for three days before the stunt against Arctic drilling energy company Gazprom.
Last year Greenpeace campaigners had to be escorted from the pitch during another protest at the 2013 Champions League Final in Switzerland.
The Government has come under fire from environmentalists for trying to "bribe" councils, by allowing them to keep all the tax revenue generated by 'fracking' in their area.
Lawrence Carter of Greenpeace said:
This is a naked attempt by the government to bribe hard pressed councils into accepting fracking in their area.

Cameron is effectively telling councils to ignore the risks and threat of large-scale industrialisation in exchange for cold hard cash.

But the proposal reveals just how worried the government is about planning applications being turned down.

Having had their claims that fracking will bring down energy bills and create jobs thoroughly discredited, the government is now resorting to straight up bribery to sell their deeply unpopular fracking policy.
– Lawrence Carter of Greenpeace
Total, a French company who can't frack in their own country because the French government has stopped the French countryside being ripped up, have now turned their sights on the UK countryside where the UK Government seem happy to allow the industrialisation of our green and pleasant land.
The UK Government seem deaf to the risks fracking poses to our environment and local communities and are pushing ahead with selling off two thirds of Britain for drilling without a public mandate.
– Lawrence Carter, Greenpeace
Greenpeace activist, Colin Russell arrived back into Australia on Thursday after his detention in Russia.
Most of the 30 people arrested, dubbed the "Arctic 30", for a Greenpeace protest against Arctic oil drilling left Russia on Friday under an amnesty initiated by President Vladimir Putin, the environmental group said. Mr Russell said preserving the future was important.
Advertisement
Russia releases all six of the Britons detained during a Greenpeace protest against oil drilling, days after dropping piracy charges.
Read the full story ›
Freed Greenpeace activist Alexandra Harris said her time in Russian prison "was torture", but that she and others jailed after Arctic protests were "treated better than the Russian prisoners, because the world's watching us".
"We spent two months inside a Russian jail cell and a hundred days detained for a crime we didn't commit," Harris said. "It was obscene, a complete overreaction on behalf of Russia and we should never have been there."
Freelance journalist and film maker Kieron Bryan received hugs from his brother and loved ones as he arrived in London after spending four months in Russian jail.
Freelance journalist and film maker Kieron Bryan received a welcome home hug from his brother, Russell Bryan, as he arrived in London after spending four months in Russian jail.
Bryan travelled back to Britain with four Greenpeace activists who were also freed after being arrested by Russia during an Arctic protest.
Load more updates