Pakistani cricket star-turned-politician Imran Khan has been sworn in as prime minister.
Read the full story ›
Advertisement
In his first speech to lawmakers as premier, he vowed to enforce 'ruthless accountability' to combat corruption.
Read the full story ›
His Tehrik-e-Insaf party won the most seats in July 25 elections but fell short of securing a majority in the 342-seat house.
Read the full story ›
Millions voted to decide whether former cricketer Imran Khan or the brother of disgraced prime minister Nawaz Sharif will be prime minister.
Read the full story ›
Advertisement
The arrests come after a weekend of violent clashes between riot police and anti-Nawaz Sherif protesters in Pakistan's capital Islamabad.
Read the full story ›
Imran Khan has addressed crowds in the Pakistani city of Gujranwala after shots were allegedly fired at his vehicle during a march earlier.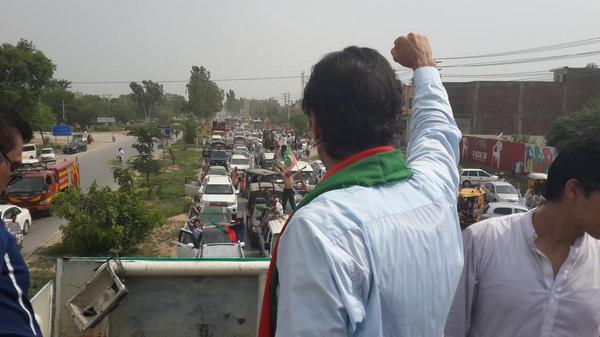 The Deputy Leader of Imran Khan's Tehreek-e-Insaf opposition party has appeared to criticise Pakistani police for failing to protect marchers in Gujranwala.
The party claims leader Imran Khan was shot at during protests in the city, and says police did not intervene when his convoy was attacked by a stone-throwing mob.
It is the responsibility of Punjab Police, DPO and Administration to provide safety to our Marchers

We call our workers to remain peaceful. Do not respond Stones with Stones. PTI workers Respond with Peace
– Shah Mehmood Qureshi
Pakistan opposition leader Imran Khan claims 300-to-400 people threw stones and fired on a protest march in the city of Gujranwala.
Four were injured during the clashes, which took place at a protest against Prime Minister Nawaz Sharif.
300-400 ppl threw stones & fired on our Azadi March in Gujranwala with police aiding & abetting them. 4 workers injured.
I want 2 make it clear 2 Sharif govt that they can do what they want,we will not stop r Azadi March. I will deal with them when we reach Isl
Mr Khan urged the immediate resignation of Mr Sharif following the alleged attacks.
PM Sharif should have his resignation ready His Badshahat & Gullu Butt style governance is over.Nation has spoken.
Load more updates