Nims Obunge told ITV News: "It's right that the IPCC go through the family solicitors and await a response from the family.
"It's very early, the family feel very raw about the verdict and I think that we've just got to wait for the right time and the IPCC need to wait for the right time."
The Independent Police Complaints Commission (IPCC) has renewed its appeal for witnesses of the Hillsborough disaster on 15th April, 1989:
The IPCC said: "We want to deliver the most comprehensive account of what happened at Hillsborough and its aftermath. To do that we need your help".
Advertisement
The Independent Police Complaints Commission (IPCC) said it has identified 240 amended Hillsborough police accounts.
The IPCC's latest Hillsborough investigation update revealed 101 police officers have been interviewed so far and 10 more are arranged.
"Given that we have so far established that 22 of the officers are now deceased that leaves us with 218 officers to interview", it said in a statement.
"Contact with seven former officers has led us to taking the view that they are not fit for interview on health grounds, while nine other former officers have declined to be interviewed", the IPCC added.
The IPCC's renewed Hillsborough Witness Appeal has received more than 1,500 responses to date, the investigation's lead commissioner announced.
IPCC deputy chair Rachel Cerfontyne said, "From the responses to the appeal so far the major incident room has identified more that 750 matters for investigators to follow up on and speak to witnesses further".
"The witness appeal has also prompted more than 200 requests from witnesses to see their original accounts", she said, adding, "Work is ongoing to facilitate these requests".
The Independent Police Complaints Commission (IPCC) said it has asked the family of a Hillsborough victim if they would like it to investigate recent allegations made against the UK's most senior officer, Sir Bernard Hogan-Howe.
The IPCC wrote on Twitter: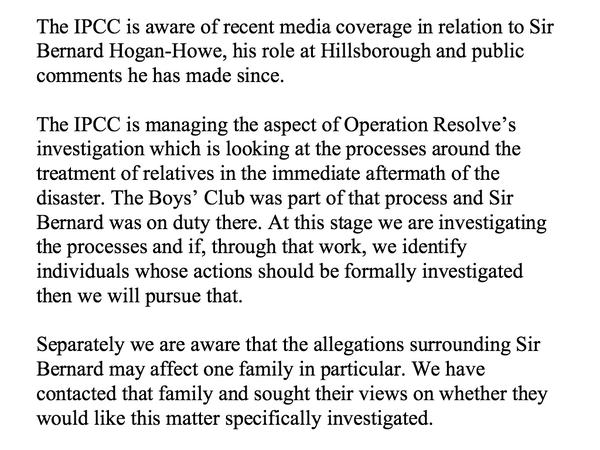 Earlier this year, the CPS admitted this was a missed chance to charge Savile while he was alive, because victims were not taken seriously enough.
Alison Levitt QC found that "had the police and prosecutors taken a different approach" prosecutions could have been possible in relation to three victims.
Advertisement
Two Sussex Police detectives who dealt with a sex crime claim against Jimmy Savile in 2008 have been referred to the IPCC police watchdog.
A woman came forward in March 2008 to claim that disgraced television presenter Savile assaulted her in a caravan in around 1970 when she was in her early 20s.
This was referred to prosecutors with three other allegations against the performer received by Surrey Police, but in 2009 the Crown Prosecution Service decided no action could be taken.
Some 90 police pocket notebooks that could provide vital information about the Hillsborough disaster have been recovered by investigators.
Read the full story ›
Director of Public Prosecutions Keir Starmer QC has told ITV News he will meet with the families of Hillsborough victims on Friday after they voiced concerns over the slow progress of the inquiry into the 1989 disaster.
He added that he was "well aware" of the families concerns.
The police watchdog is appealing for witnesses as part of its investigation into how West Midlands Police conducted its inquiries into the Hillsborough disaster.
Deborah Glass, deputy chair of the Independent Police Complaints Commission, said: "We have already had a number of people contact us with concerns that their statements were amended and we have no doubt there are others who have not contacted us.
"We want to be able to present as full as possible a picture of witness evidence both for the inquests and the criminal investigations."
Load more updates