Judy Murray has hailed her son's "incredible" year after the double-Olympic champion was crowned world number one for the first time.
Read the full story ›
Judy Murray has tipped Ivan Lendl to restore the "poker face" that can guide Andy Murray to another Wimbledon title.
Read the full story ›
Advertisement
Judy Murray has resigned as captain of Great Britain's Fed Cup team, the Lawn Tennis Association says.
Read the full story ›
Men need a rule to allow them to take extra breaks during especially hot weather at Wimbledon, according to Andy Murray's mother Judy.
Currently, women are allowed to take 10-minute breaks if the heat reaches 30.1C - and Ms Murray is calling for the same privileges for men.
"Especially because they have to play best of five sets and a slam is such a tough thing to play," she said.
"I know you get a day between the matches but if you're going to win a slam you need to win seven matches in 13 days."
Judy Murray has praised her son's decision to hire a female coach as she warned there were not enough young girls playing tennis.
On Andy Murray's decision to appoint former Wimbledon champion Amelie Mauresmo as his coach, Judy said: "It certainly raised awareness and became a huge talking point.
"It definitely shows that if you have the skills, the knowledge and there is a personality fit, there is absolutely no reason why women can't coach at the top end of any sport."
The captain of Britain's Fed Cup side - the international team competition for women tennis stars - also revealed her fears about the lack of young girls playing tennis.
She said: "The things that are trendy for kids to play with nowadays tend to be sedentary things, you sit and twiddle your thumbs or you watch something on a wide screen and that is just a fact of life."
Andy Murray's mother, Judy, has tweeted a picture of the Wimbledon winner and his elder brother Jamie from when they were kids, dressed in championship t-shirts: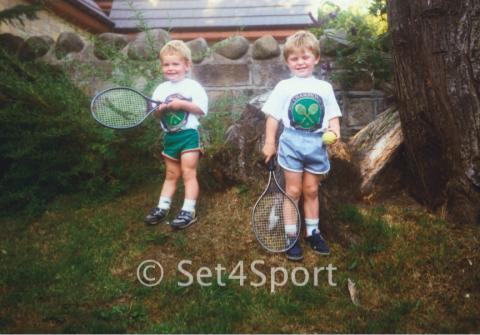 Advertisement
Chocolate mousse, black cherries and blackcurrant sorbet. Second dessert of the evening. Yep, I'm celebrating. http://t.co/XwcRCpt1