The man had been pulled over for a seat belt violation, and was taken to hospital for treatment after the shooting.
Read the full story ›
Advertisement
North Kansas City officer Jason Smith's bodycamera captured the rescue while he was out of patrol in the lead up to Christmas.
Read the full story ›
A man who was jailed for 17 years for a crime he insisted he never committed has been freed after his doppelganger was discovered.
Read the full story ›
Police were surprised to find fake animals and Father Christmas prowling a park at night, after setting up cameras to detect mountain lions.
Read the full story ›
A gunman who shot three people dead after going on a shooting spree in Texas has been killed by police.
Read the full story ›
Advertisement
A gunman who opened fire at a work site in Kansas was 'driving and shooting from his car' before he was shot by police, according to officials
Speaking at a press conference Harvey County Sheriff T. Walton said that the gunman has been shot and killed by authorities after he opened fire at the Excel Industries site in Hesston.
Describing the incident as "horrible" Walton confirmed the shooter had killed "three or four people, and wounded as many as 20 others".
At least two people have reportedly died after a man opened fire at a Kansas workplace.
According to Wichita television station KWCH the shooter targeted lawn care business Excel Industries in Hesston shortly after 5pm on Thursday,
An 'active shooter' has reportedly opened fire at a business park in Kansas.
According to local reports there are believed to be 'multiple injuries'.
The shooter opened fire at the offices of lawn care company Excel Industries in Hesston, shortly after 5 pm local time.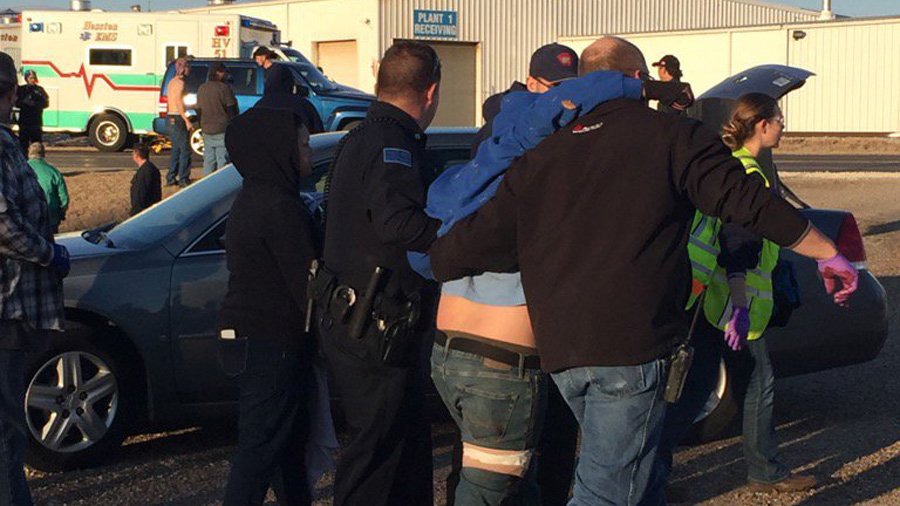 FlightSafety International, whose building was hit by a small plane at Wichita Mid-Continental Airport today, has released this statement:
Load more updates