In the past few months, Chuka Umunna has been a member of the Labour Party, Change UK, and now the Lib Dems.
Read the full story ›
The 25-year-old Labour candidate who cost Nick Clegg his seat had to run out and buy a suit when he learned he had won.
Jared O'Mara's win was so unexpected he said he had to rush to a nearby supermarket in the middle of the night to make himself look a bit more presentable.
Former deputy Prime Minister Nick Clegg lost the Sheffield Hallam seat he had held since 2005.
His defeat has been dubbed one of the first "Michael Portillo" moments of the General Election.
Advertisement
Theresa May is putting children's health at risk by axing free school lunches for infant pupils, Nick Clegg has argued.
Read the full story ›
Former deputy prime minister is set to return to the Lib Dem's front bench, the Party's leader has confirmed.
Read the full story ›
A new, dedicated NHS tax should be introduced to help meet the spiralling costs of healthcare, the Lib Dems have announced.
Read the full story ›
Leaving the EU could tear the UK apart and create an isolated "little England", former deputy prime minister Nick Clegg will warn today.
Read the full story ›
Advertisement
A new leader for the Liberal Democrats as expected to be announced later, drawn from two candidates.
By 2pm yesterday, voting closed in the contest between two of the party's eight MPs, Tim Farron and Norman Lamb.
Around 60,000 party members had a vote in the election to choose between the MPs, with ex-party president Mr Farron the bookmakers' favourite to take the helm.
With just four days to go until the election, Nick Clegg has been speaking at a "passionate" rally in Bermondsey, south London.
ITV News Political Correspondent Emily Morgan reports:
This is the most passionate rally I've heard Nick Clegg speak at. Sleeves rolled up, very forthright #GE2015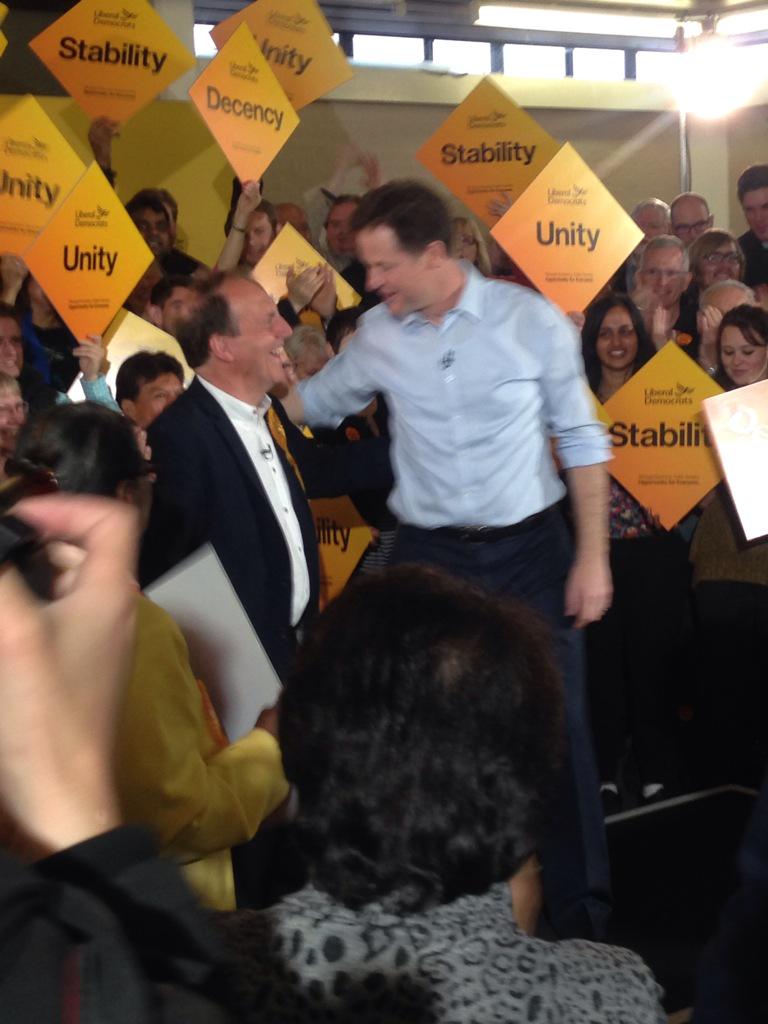 Nick Clegg has mocked Michael Gove over his "absurd" behaviour as education secretary as he condemned Tory plans for England's schools.
Read the full story ›
Scottish Liberal Democrat president Sir Malcolm Bruce has called on Nicola Sturgeon to make clear whether she still supports the reversal of welfare changes made since 2010.
"The SNP need to come clean," Sir Malcolm said. "Are they planning to reverse welfare changes since 2010?"
"This is what they have spent five years telling people. If so, where are they going to find the money that they have said would be £2.5 billion for Scotland alone?" he asked.
"If they are not, people will expect them to admit that they are not going back to 2010. SNP voters will believe they've been led up the garden path.
"Only Liberal Democrats have set out costed and credible plans to balance the books by 2018, building a stronger economy and a fairer society. The SNP are all over the place when it comes to balancing the books."
Load more updates