A plan is in action to disburse £545 million of emergency humanitarian aid to help tackle the migrant crisis, the European Commission has announced.
It comes after new figures indicate last year's total of one million seaborne migrants to Europe could be matched well before the end of the year.
The International Organization for Migration (IOM) estimates nearly 129,500 migrants had arrived by sea so far in 2016, plus another 1,545 by land.
Now over £540 million of emergency humanitarian funding between over the next two years has been pledged by the European Commission to help alleviate the crisis.
Humanitarian aid commissioner Christos Stylianides confirmed the news over Twitter, saying it would go be distributed to "overwhelmed member states."
We proposed: EUR 700 ml for 3 yrs to cover basic necessities-food, shelter, clean water & emergency health care in overwhelmed Member States
Austria's tightening of its border controls has promoted knock-on restrictions further down the migration trail, causing a huge backlog in refugees attempting to reach Northern Europe.
The country has reintroduced border controls and imposed a migrant cap which means just 80 refugees a day are able to claim asylum.
Defending his decision, Austrian chancellor Werner Faymann has said the country "is not a waiting room for Germany."
Slovenia, Croatia, Hungary and Macedonia have put up barbed wire fences and are also limiting the number of refugees they let through, leaving Greece to host thousands of refugees.
So far more than 120,000 have arrived in Greece since the start of the year, with more expected as winter comes to an end.
Advertisement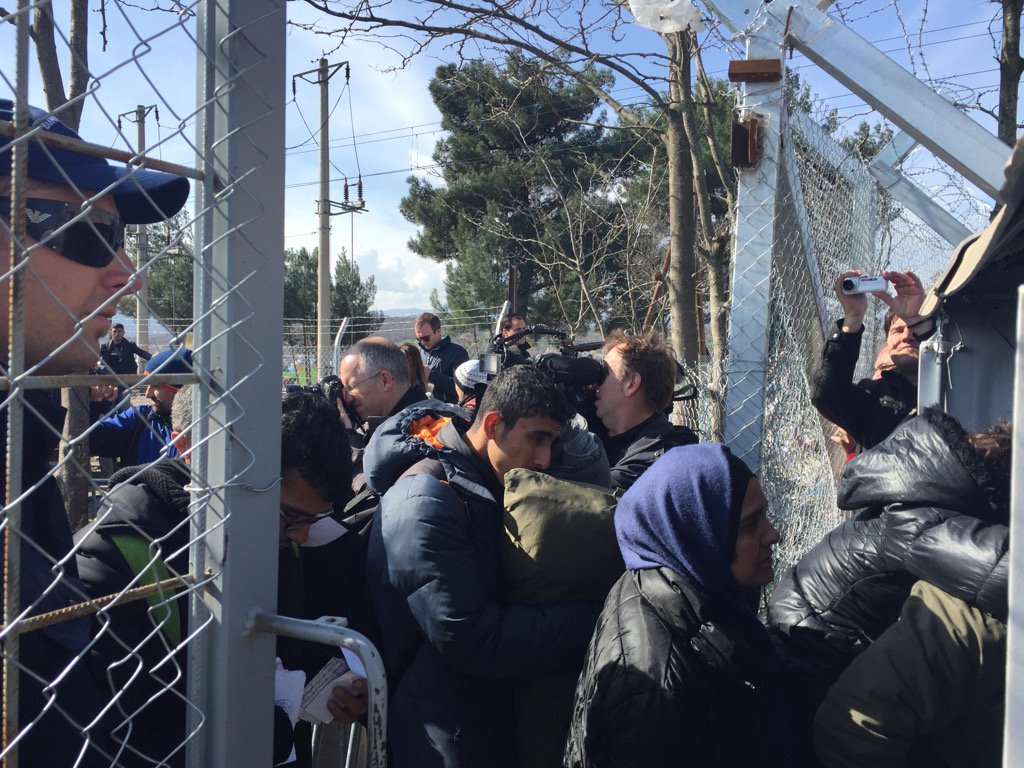 A trickle of refugees have been allowed to cross the border from Greece into Macedonia - the first for two days.
Greek police said 170 people were allowed through at the Idomeni crossing when the Macedonian authorities briefly opened the border overnight.
However some 10,000 people remain camped at the crossing, awaiting their turn.
Iraqi refugee Barsan allowed to carry sick daughter Nisa thru border. She was immediately taken away by Red Cross https://t.co/bFJ0MXrMJW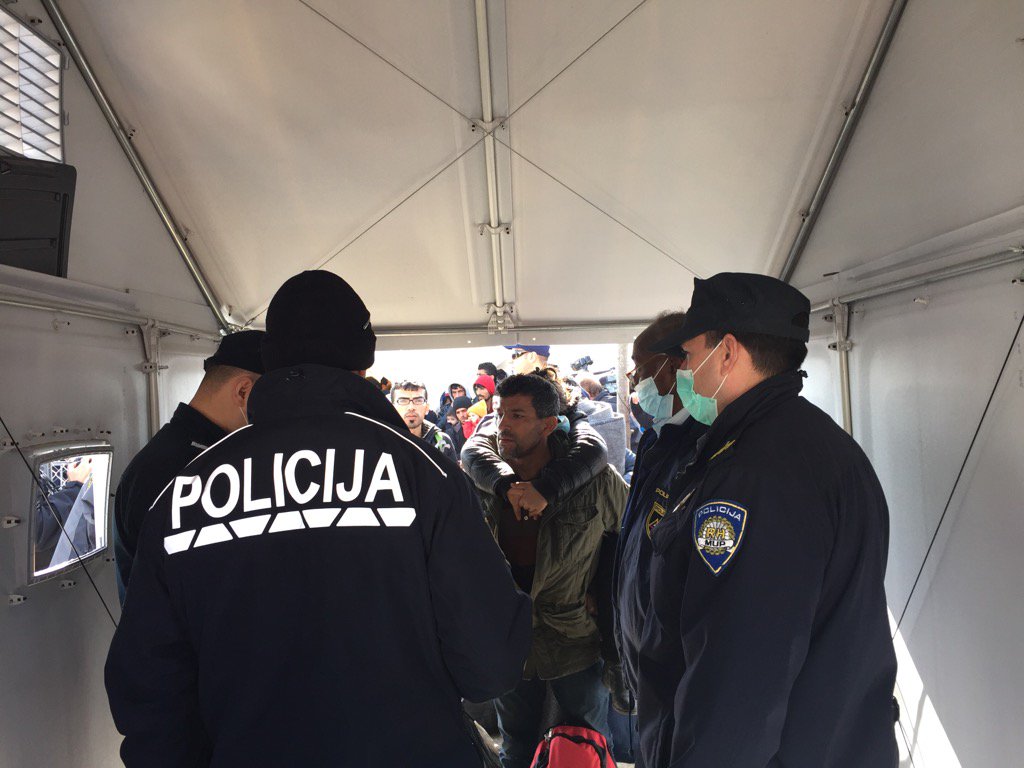 Hundreds, including many families with small children, arrive daily at the crossing in northern Greece, where two official camps are so full that thousands have set up tents in fields all around.
Macedonia has said it will only allow in as many refugees as Serbia, its northern neighbour, takes each day.
The tiny trickle has caused a huge backlog in Greece, where most refugees and other migrants reach Europe.
A United Nations migration expert has told ITV News everybody must share responsibility for Europe's migrant crisis.
Peter Sutherland said: "Sending back refugees who, by definition, are escaping persecution is not an option, nor is it an option to turn Greece into a massive camp.
"There is only one other alternative, and that is sharing responsibility.
"That is not to say that nobody has taken responsibility. Germany has took between 800,000 and 1 million migrants in the last year.
"Sweden and many other countries have also been good in this, but not everybody. Everybody needs to share."
Video report by ITV News News At Ten presenter Tom Bradby
Most experts thought the migrant crisis would ease up over the winter when the weather made the Mediterranean crossing more treacherous.
But that appears to have acted as only a modest deterrent.
More than 120,000 people have made the crossing in just the first two months of this year.
But with barbed wire fences going up and thousands stuck at the Greek-Macedonia border, do Europe's leaders have a plan?
The refugee crisis is in danger of turning into a humanitarian disaster, the UN has warned.
Many migrants are living in crowded camps in poor conditions as wire fencing prevents them from crossing from Greece into Macedonia.
The border camp is only designed to house 1,500 people but is currently home to 9,500.
Gemma Gillie, from aid agency Medecins Sans Frontieres told ITV News: "We don't have enough [supplies] for 9,500 people.
"These people are not having their basic humanitarian needs met, or it is very close to the line, and that's why, for us, this is a crisis."
Advertisement
Frustrated migrants can be heard shouting "open the border" as they protest at the Greek-Macedonia border.
More than 8,000 refugees are waiting at the border, with some having been there for up to 15 days. Hundreds more are arriving every day.
The rapid build-up of migrants stuck at Greece's northern borders risks leading to a humanitarian disaster, the United Nations High Commissioner for Refugees has warned.
"Europe is on the cusp of a largely self-induced humanitarian crisis", the UN refugee agency warned in a statement.
It urged better planning and accommodation for all those stuck in Greece.
The UNHCR also urged all EU member states to reinforce their capacity to register and process asylum seekers through their national procedures, as well as through the European relocation scheme.
More refugees have crossed the Mediterranean since the start of the year than the total for the first six months of 2015, the United Nations High Commissioner for Refugees has said.
It said some 131,724 refugees have crossed the Mediterranean already this year, slightly less than in the first half of 2015, the UNHCR said.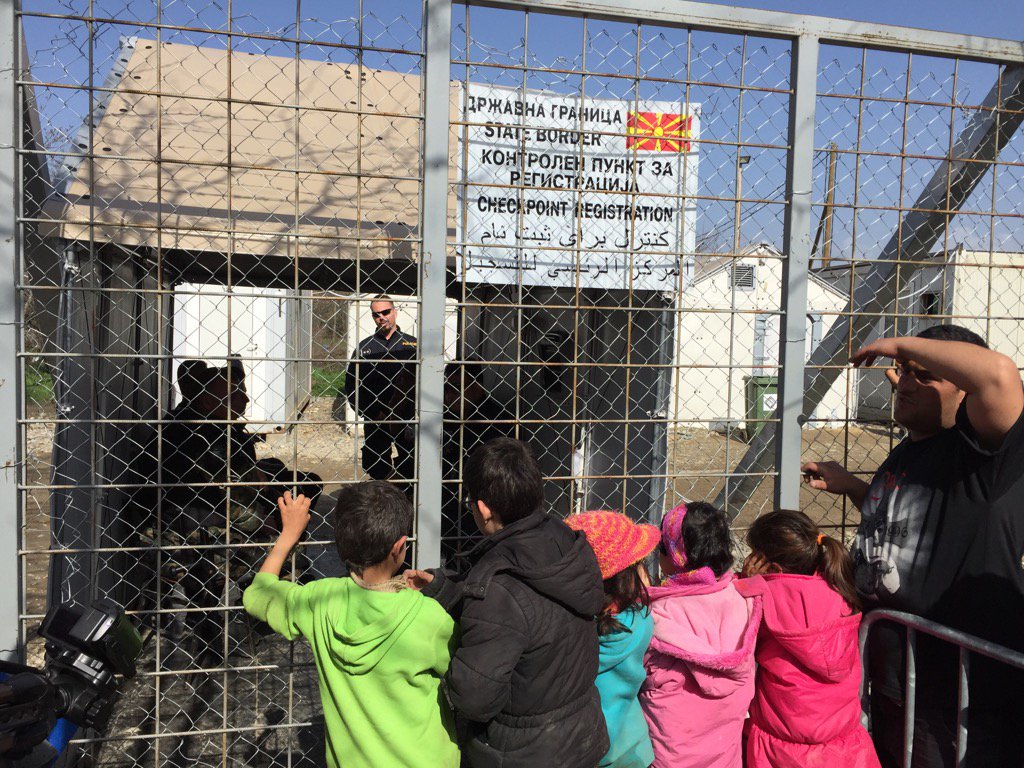 Thousands of migrants and refugees, including children, are waiting to cross from Greece into Macedonia.
This little Syrian girl and her family has been waiting for the past four days to cross the border.
Fellow Syrians told ITV News her mother is on a hunger strike and has not eaten in two days.
At least 8,000 people are waiting to cross into Macedonia and continue their journey to Northern Europe. Just 30 were allowed through yesterday. Only Syrians and Iraqis are allowed to cross.
Around 30,000 migrants are currently in Greece and over 2,000 arrive daily.
Europe's waiting room. Families, many with young children, wait to cross into Macedonia. Barely a trickle today https://t.co/uxpu5DQWyd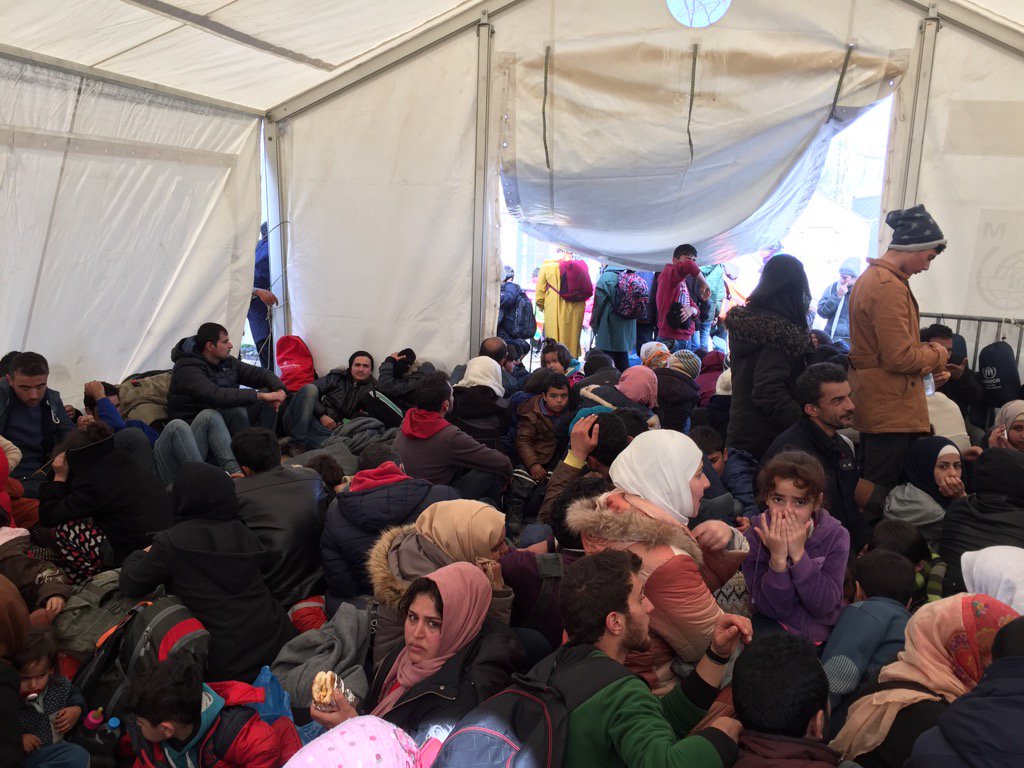 Load more updates