Television presenter and former page 3 model Melinda Messenger has issued a statement saying it is a "good decision" to end page 3 in the Sun newspaper.
I personally think it's a good decision to end page 3. It's had a long life but we all have to change for the better. That is what society is all about.

We live in a time now, where we are one click away from seeing thousands of naked images of both men and women.

Our kids have full access to a whole gamut of images, a lot of which are potentially damaging to the development of their sense of self, and I think this is the bigger issue we should be concerned about.
– Melinda Messenger
The Daily Star newspaper has issued a statement saying it is 'proud to continue the Great British page 3 tradition", saying it is as "British as roast beef and Yorkshire pud".
The Daily Star is proud to continue the great British page 3 tradition. It brightens the day for our readers during tough times and has launched many successful careers.

We will continue to listen to what our readers want and put a smile on their faces with our lovely, bright, talented and independent young ladies. Page 3 is as British as roast beef and Yorkshire pud, fish and chips and seaside postcards. The Daily Star is about fun and cheering people up. And that will definitely continue!
– Daily Star statement
Advertisement
Topless models have been absent from The Sun in recent days, sparking rumours that it has decided to drop Page 3 - but do you think they should grace the pages of the newspaper?
Sorry, this content isn't available on your device.
While the Education Secretary Nicky Morgan today welcomed the demise of the Sun's page 3 topless women, it's not clear where the Prime Minister stands on the newspaper's apparent policy shift.
His spokesman told lobby journalists that David Cameron 'thinks that what newspapers publish is a matter for newspapers'.
He refused to say whether the Prime Minister believed it was a good thing or not that the newspaper had dropped images of topless women. He also wouldn't be drawn on whether Mr Cameron was happy to have the newspaper open on page three at his breakfast table.
Earlier, Nicky Morgan called the decision of The Sun to show women with their breasts covered by bikini tops as 'a long overdue decision'.
A former Page 3 model has defended her ex-employers' publication of topless pictures - saying: "You don't buy The Sun if you really want to read hard-hitting news".
Nicola McLean told ITV's Good Morning Britain that she agreed with No More Page 3 campaigners that "boobs aren't news" - but said she believed they have a place in a tabloid paper.
Presenter Susanna Reid jumped to the defence of the red top, pointing out that the paper's editor "might take issue" with the statement.
But McLean replied: "Well I take issue with him getting rid of Page 3, so bring it on."
During the interview, she also denied that the feature was outdated, and said she did not feel it was a "sexual equality" issue.
Girlguiding UK has welcomed news that The Sun is covering up its topless Page 3 models.
The organisation, which has more than 500,000 young members, lent its support to the No More Page 3 campaign in protest at the impression it gives girls of what is expected of them, calling the controversial feature "disrespectful and embarrassing".
We are thrilled to hear that the Sun has decided to stop printing images of topless women on Page 3. This is a hugely positive step for girls and women and shows the difference we can all make when we speak out together.

It is impossible for girls to nurture their ambitions if they are constantly told that they are not the same as their male equivalents. This is what Page 3 did. It was disrespectful and embarrassing.
– Girlguiding UK
Advertisement
Members of the No More Page 3 campaign have celebrated an apparent decision by The Sun to cover up its models in recent days - having them pose in their underwear rather than topless.
While The Sun has yet to officially confirm or deny the reports, campaigners have called it a "great day for people power" - and said while there is more to be done, it was a "very important" first step.
We hoped to bring about a change by raising awareness of the sexism of Page 3; awareness of the way having women presented in this way [in] the news serves to reduce the importance of all women to their appearance and sexual allure; awareness of the fact that whilst sexy pictures may have a place, the accessibility of the Page 3 picture, in the front of the paper, makes access to sexualised women's bodies as much of a given as the TV listings or the crossword puzzle.

Through the shared voices of some fantastic women and men we have succeeded in keeping a discussion going about the way that this feature permeates and affects the society we all live in.
– No More Page 3
The statement added that while models appearing in their underwear was "still not equality", it indicated a shift in societal attitudes.
A former Page 3 model has come to the defence of The Sun's controversial feature, after the newspaper appeared to have quietly started covering up their girls.
Nicola McLean told ITV's Good Morning Britain she was "so sad" that Page 3 had apparently come to an end after so many years.
She said she did not feel it was a "sexual equality" issue.
I don't think it's outdated - I think the girls still look fantastic on the page, they still clearly enjoy doing what they're doing, people still want to see it.

Everybody still wants Page 3 to stay apart from the feminists that are fighting an argument I just don't agree with.
– Nicola McLean, former Page 3 girl
Campaigners who called for a four-decade tradition of topless women appearing on Page 3 of The Sun are celebrating success after an apparent change in policy by newspaper chiefs.
The campaign, supported by a number of MPs as well as Girl Guiding UK, Mumsnet, and teaching unions, argued that the "sexist" images amounted to "soft porn".
The usually-topless models featured on the page have been wearing underwear for the past few days, sparking rumours of the campaign's success.
Congratulations to the fantastic campaigners at @nomorepage3. Result!!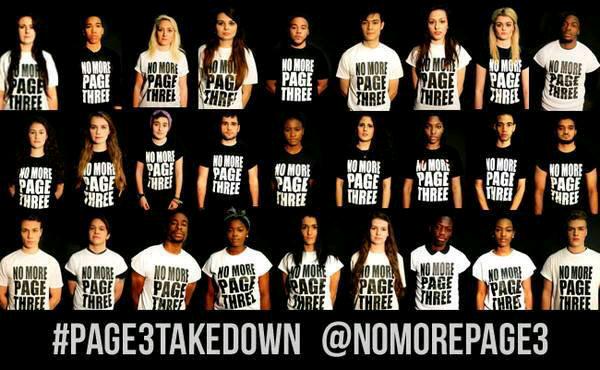 The Sun has yet to confirm or deny the reports.
Load more updates