9 prison guards grab Woolwich murderers and drag them out of court as the shout and fight. tissues being passed to Rigby family
Scuffles in court. Both defendants fighting with guards shouting. Rigby family crying.
Advertisement
Supporters of the far-right British National Party and English Defence League have erected gallows outside the Old Bailey as part of a protest demanding capital punishment for the men who murdered Fusilier Lee Rigby.
Far-right British National Party protesters outside the Old Bailey are holding gallows and nooses and banners demanding capital punishment for the two men who murdered Lee Rigby.
Break in court proceedings. Judge says he will sentence at 430 #woolwich
Channel 5 News correspondent Julian Druker took this photograph of protests outside the sentencing of Lee Rigby's killers at the Old Bailey.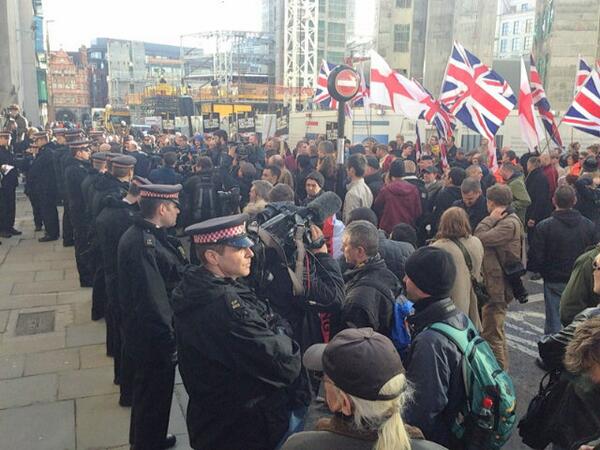 Advertisement
Adebowale's barrister says a whole life sentence would be inhuman for a young 22 yr old man, extinguishing all hope of release.
Adebolajo's barrister says he remains of view should be put to death. Says has never apologised to Rigby family & given views not likely to.
Adebolajo's barristers arguments: no 1 else hurt, didn't threaten public like 21/7 or 7/7 attacks, not part of wider terror network.
Barrister for Adebolajo says full life sentence not justified as offender not so depraved that theres no possibility of atonement in future.
Barrister for Adebolajo tells judge a whole life term is likely to create a martyr.
Load more updates