Former Trump critic, Mitt Romney said he had a "wonderful evening" with the President-elect at a French restaurant in a Trump hotel.
Read the full story ›
The pair met for one hour and 20 minutes and discussed a range of "far-reaching" foreign policy issues, according to Mr Romney.
Read the full story ›
Advertisement
The pair have clashed in the past, but NBC News has reported they will meet this weekend to discuss the high-profile role.
Read the full story ›
Mitt Romney is sending his "best wishes" to Trump after his election victory.
Romney, who came up short in his own campaign in 2012, was a fierce critic of Trump.
The former Massachusetts governor even gave a speech denouncing his vision for America.
Best wishes for our duly elected president: May his victory speech be his guide and preserving the Republic his aim.
Former US Republican presidential nominee Mitt Romney will not run for president in 2016.
Romney's announcement comes just three weeks after he unexpectedly revealed he was considering a third shot at the White House. The former Massachusetts governor had told a small group of former donors in New York he was thinking about running again.
However, he then discovered that a number of his previous supporters had jumped ship to former Florida governor Jeb Bush.
Romney's exit from the campaign benefits the other favourites of the party's establishment wing including Bush, New Jersey Gov Chris Christie, Florida Sen Marco Rubio and Wisconsin Gov Scott Walker.
US comedian Zach Braff had a random celebrity encounter after he spotted former Governor Mitt Romney while waiting to board his flight back for the Sundance Film Festival in Park City, Utah.
Braff excitedly tweeted about the sighting, halfheartedly musing that they might be on the same flight to Utah. According to the Scrubs actor, the Republican politician was coming to see his film Wish I Was Here at Eccles in Park City.
Mitt Romney just walked by me at JFK after I randomly tweeted him. Let's try this again: @paulmccartney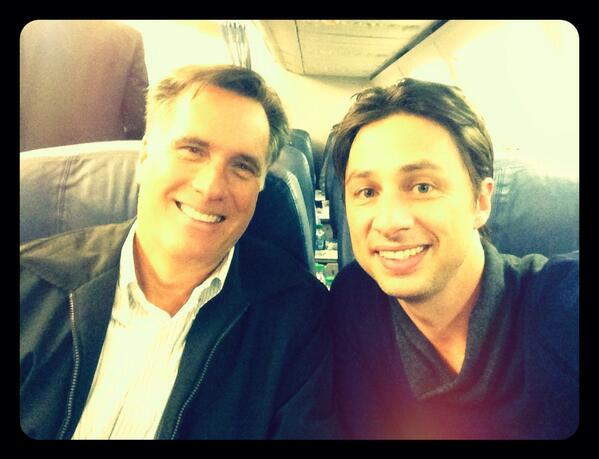 Posting on Twitter, he added: "Our politics are quite different, but Mitt Romney and I are having the best conversation ever. Very cool dude."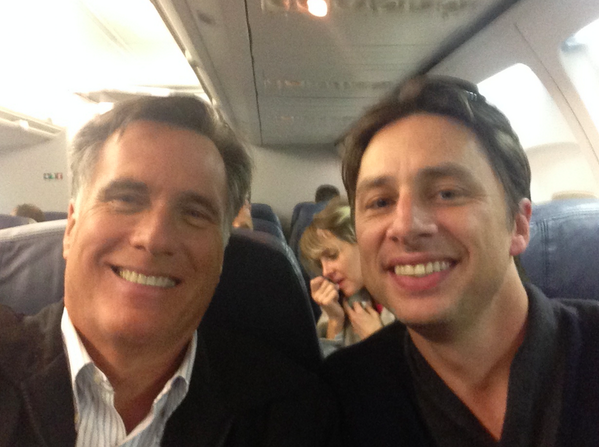 Advertisement
The man who was, until recently, President Obama's greatest political rival dropped by at the White House for lunch today. Mitt Romney congratulated the President on his successful election campaign, and they pledged to stay in touch.
On the menu was turkey chili and southwestern grilled chicken salad.
Mitt and his wife and were without bodyguards and even managed to find time for a slice of pizza across the street, the website said.
President Barack Obama said he has not met his Republican opponent Governor Mitt Romney since last week's election, but that he hopes to do so by the end of the year.
We haven't scheduled something yet. I hope it's before the end of the year, though, that we have a chance to sit down and talk
President Obama is back in Washington and back to work. Wall Street had its worse day this year as markets reacted to fears that the ongoing political deadlock between Republicans and Democrats will push America over a 'fiscal cliff' and back into recession.
Load more updates