An estimated 5.1 million incidents of fraud and 2.5 million incidents of cyber crime were recorded by police in the past year - the first time they have been compiled.
Some 4.3 million additional crimes were recorded by officers in the year ending June 2015, a rise of 5%, the Crime Survey for England and Wales have revealed.
The ONS said a "large part of this rise is thought to be due to improved compliance with national recording standards by police forces in the last year".
But incidents in crime against households over the same period dropped by 8% on the previous year, with 6.5 million incidents recorded.
6.5m incidents of crime against households in YE June 2015 according to CSEW, down 8% on prev. yr http://t.co/P1z1Qj9Ei6
Britain's economy is still growing, but it grew much slower in the first quarter of 2015 than it did at the end of last year.
Official figures show that GDP grew by 0.3% between January and March this year - half as much as it grew between October and December 2014, at 0.6%.
This is the weakest quarterly growth since the end of 2012 - and with the General election just nine days away, this will be seen as a major setback for the government.
The ONS puts the blame on a slower service sector, a shrinking construction industry, and a slight squeeze on industrial production caused by lower oil and gas prices.
ONS chief economist Joe Grice said: "As always, we warn against reading too much into one quarter's figures."
Advertisement
Around 1.5 million children are living in workless households, figures released by the Office for National Statistics show.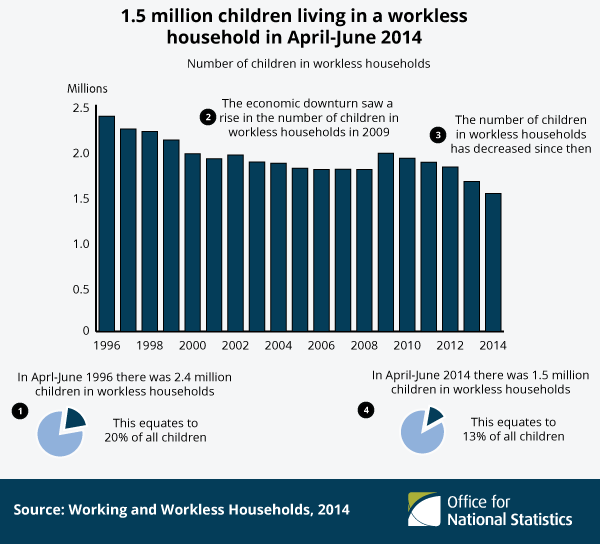 Workless households are defined as households where no-one aged 16 or over is in employment.
House prices rose by 8.0% in the 12 months to March to reach £252,000 on average but are 0.5% lower than they were in February, Office for National Statistics figures show.
Crime in England and Wales dropped 15% last year, ONS figures show. See which crimes are down and the offences that saw a rise in 2013.
Read the full story ›
Crime in England and Wales is down 15% on last year, according to figures released today by the Office for National Statistics.
There were 7.5 million crimes against households and adults - the lowest figures since thesurvey began in 1981.
Advertisement
New figures show a sharp rise in UK households' energy spending over the past decade, with an increase of 55% from 2012 compared to 2002.
The Office for National Statistics said the average spending on electricity, gas and other household fuels rose from £69-a-month in 2002 to £106-a-month in 2012 after adjusting for inflation.
ONS statistician Richard Tonkin said the increase came despite households cutting back their energy consumption in recent years, explaining: "This reduction has been more than offset by rises in energy prices."
The poorest fifth of households spent 11% of their disposable income on household energy in 2012, up from 8% in 2002, while the richest fifth spent just 3% in 2012, up from 2% in 2002, the ONS said.
The number of families living in a household with another family rose by 70% between 2001 and 2011.
"Concealed families", as they are known, increased from 170,000 to 289,000 in that decade, according to figures from the Office of National Statistics - ten times the rate of unconcealed families.
Concealed families include couples, parents or single parents that live in the household of another family - the "primary family".
The two families are often from the same extended family: for example, two parents, their daughter and her husband all living in the same house.
The ONS says the statistics are a useful indicator of housing demand for house building and planning in the future.
A quarter of all babies born in England and Wales in 2011 were born to women from overseas, with Polish women having more children than any other non-UK group, new figures show.
In 2011, there were 724,000 births, an increase of 22% from 2001, with 539,000 of these born to UK women compared with 185,000 births to women from outside the UK, according to the latest figures from the Office of National Statistics.
Polish women gave birth more than any other non-UK group, with 20,500 births
Births to women from EU accounted for 55,000 births
German women had the second largest number of births in, with 5,100 babies
Women from Luxembourg had less children than any other group, with just 21 births
The number of babies being born in England and Wales has been increasing for the past 10 years since hitting a 25-year low of 595,000 in 2001.
Load more updates