The judge in Oscar Pistorius' sentencing hearing has said that public opinion must play no role in the court's sentencing decision.
Judge Thokozile Masipa said the court should not take account of public opinion in determining sentence, no matter how "loud and persistent" it might be.
Pistorius' case has received widespread media attention.
Judge Thokozile Masipa has begun outlining the events of the murder of Reeva Steenkamp, preceding her comments by saying the circumstances did not make the crime any less serious.
Pistorius killed Steenkamp when he fired a gun four times at a closed bathroom door, which she was behind.
He has always denied deliberately shooting Steenkamp, maintaining during his trial that he opened fire because he believed an intruder had broken into his home.
"The fact that the accused thought it was an intruder does not make it any less serious," Judge Masipa said.
#OscarPistorius Judge Masipa; can't ignore perception that OP and Reeva had row, but there's 'not a shred of evidence' to support that.
Advertisement
Oscar Pistorius' sentencing hearing has begun.
Judge Thokozile Masipa began by reviewing the evidence she had to consider, and will consider Pistorius' mitigation submissions.
#OscarPistorius Judge Masipa says sentence must serve interests of retribution and Justice. Now reviewing in brief the evidence
Oscar Pistorius has arrived at court for his sentencing hearing over the murder of his girlfriend Reeva Steenkamp.
Dressed in a dark suit, the South African paralympic gold medalist arrived at the South African court room flanked by police.
ITV News Africa correspondent John Ray tweeted an image of Pistorius' arrival: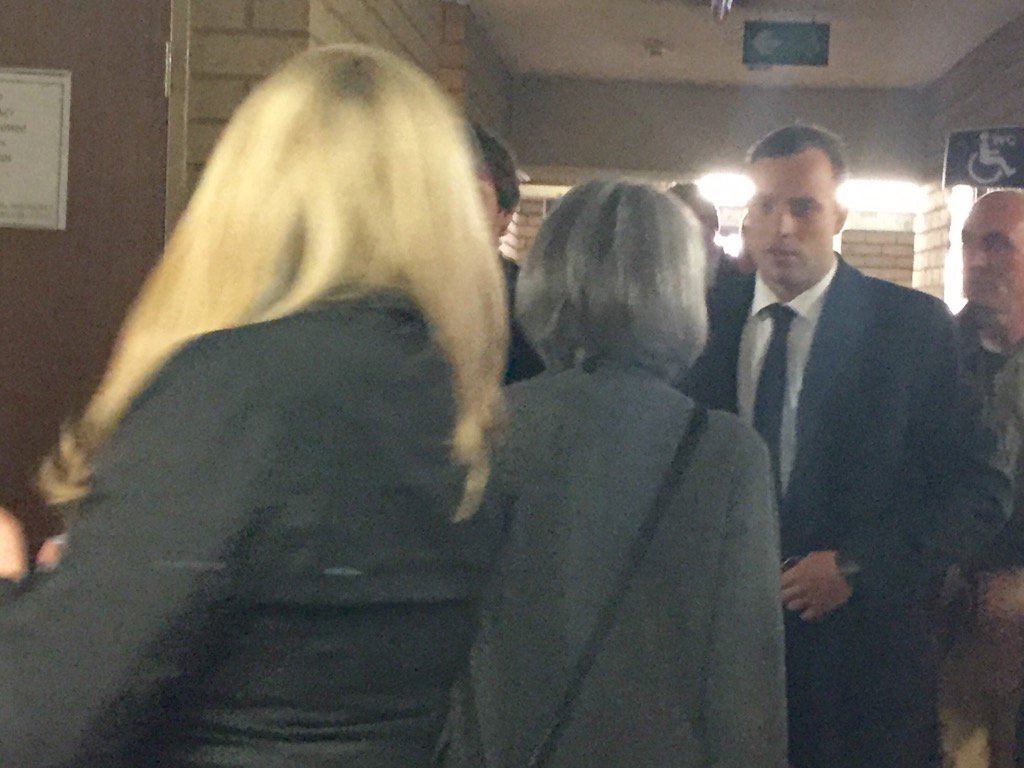 South African paralympic gold medallist Oscar Pistorius will be sentenced on Wednesday for the murder of his girlfriend Reeva Steenkamp.
Read the full story ›
Pistorius has given his first television interview to ITV about the night he killed his girlfriend as he prepares to return to jail.
Read the full story ›
Advertisement
The date for Oscar Pistorius' sentencing for the murder of former girlfriend Reeva Steenkamp has been set for July 6.
It comes as the Paralympian appeared in court with his lawyer today to argue that he deserves leniency when he is sentenced.
The double-amputee was initially handed a manslaughter conviction over Reeva's 2013 death but this was overturned last year by an appeals court, which convicted Pistorius of the more serious charge of murder.
The state prosecutor, talking at Oscar Pistorius' sentencing hearing has said that it does not matter whether he thought that Reeva or an intruder was in the bathroom.
Pistorius went to the bathroom and fired four shots, he said.
Not knowing who was behind the door when firing those shots cannot be a mitigating factor in the case, unless the life of an intruder is less important than Reeva's life, he argued.
#OscarPistorius Nel: it doesn't matter that OP thought Reeva was an intruder. she has lost everything. She will never walk or talk again.
#OscarPistorius Nel says life of intruder and life of Reeva equal worth. That's a big claim in country where 'home invasions' so common
Gerrie Nel, state prosecutor, said that in legislation the 15 year sentence for murder is the minimum acceptable sentence for murder and therefore the starting point for any sentencing considerations.
Yet, he added, courts had moved away from this starting point "for the flimsiest of reasons".
#OscarPistorius Nel: only explanation is he took his gun, fired 4 shots and killed poor defenseless Reeva
#OscarPistorius Nel: if the benchmark for murder is 15 years, correctional supervision (ie. Non custodial sentence) would not even be close.
The athlete was asked to take off his prosthetic legs by his defence lawyer to show that his disability makes him vulnerable.
Load more updates