A 33-year-old man from Nottingham has been arrested on suspicion of assault after Ukip leader Nigel Farage was hit by an egg during a visit to the city.
Nottinghamshire Police say the man remains in police custody at this stage.
Nigel Farage has been hit by an egg during a visit to Nottingham today.
The incident happened when the Ukip leader got out of a car in the city centre, and comes as Mr Farage continues his nationwide tour ahead of the European elections.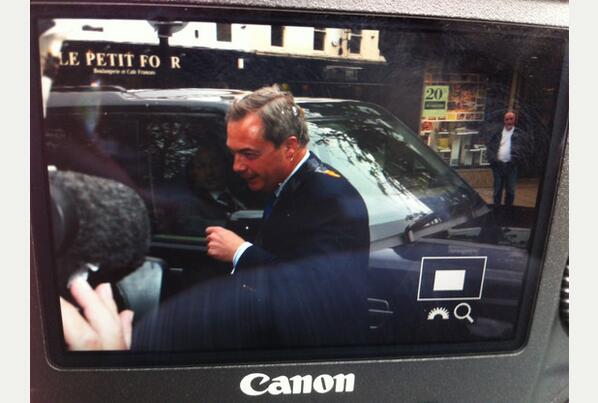 The protester that threw the egg told reporters his name was Fred from Nottingham and was carrying a placard reading "UKIP … sad, scared, old men".
He was put into a patrol car by police shortly after.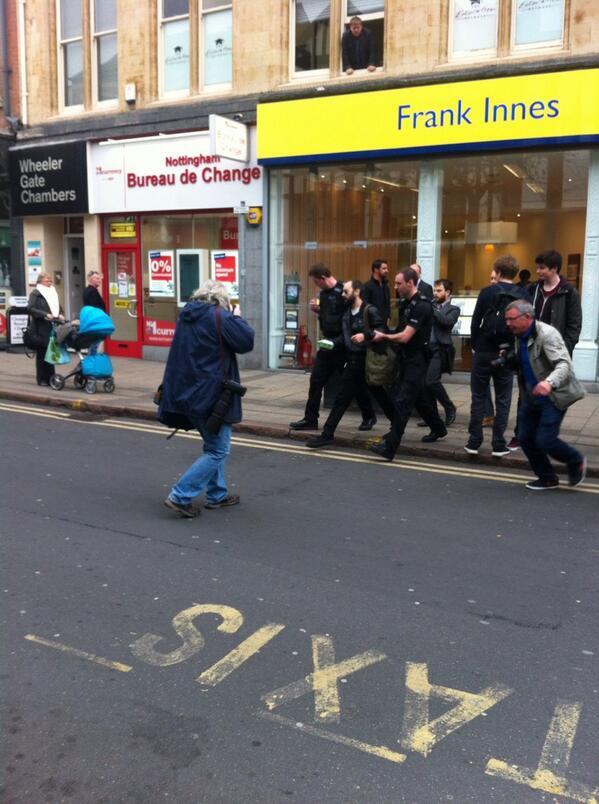 Advertisement
Nigel Farage has responded to questions over the suitability of donor Demetri Marchessini by arguing "I don't run everything".
Speaking to Channel 4 News following the broadcaster's claim that Mr Marchessini had donated to the party just months ago, the Ukip leader said: "You'll have to ask the treasurer won't you? I'm sure he gave the money in good faith, the money was taken in good faith."
Asked whether the party should accept donations from a man criticised for his stances on rape and homosexuality, Mr Farage said: "Possibly not, no. Ask the treasurer. I don't run everything."
Ukip has come under scrutiny for reportedly accepting donations from a controversial businessman it had previously distanced itself from due to his "unpalatable" views.
Channel 4 News claims that the party accepted a donation as recently as December 2013 from Demetri Marchessini - who is seen below telling the broadcaster that women should not be allowed to wear trousers.
In other comments from the interview, the Greek businessman added that homosexuals were capable of "only lust" and not love, and claimed that a man can never rape his wife - as "once a woman accepts, she accepts".
"I think it's the wrong seat for me," Nigel Farage told ITV News Political Editor Tom Bradby today after shooting down speculation that he would stand as an MP in the upcoming by-election in for Newark, Nottinghamshire.
"I think I would have been seen as being an interloper, an outsider, an opportunist - I think for those reasons I wouldn't have won anyway," he added.
Nigel Farage believes efforts to discredit him and his party are failing - and the polls suggest he may well be right.
Read the full story ›
Advertisement
A number of protesters holding placards such as "hatred not welcome here" have been been caught on camera clashing with a Ukip supporter in Swansea on the day of Nigel Farage's scheduled visit.
The demonstrators appeared to shout "we're all Lenny Henry" as they approached a man who said he was not a member of Ukip but did intend to vote for the party.
Nigel Farage's planned walkabout in the city was cancelled today due to what the Ukip leader described as "scuffles" between supporters and protesters.
One demonstrator said the party were "racist pigs" - a claim strongly denied by the man and the party.
Nigel Farage has explained that his planned walkabout in Swansea was cancelled due to security reasons relating to protesters gathered in the city.
"When I heard there were scuffles breaking out it was not the right place to be and not the right image for UKIP," the party leader told press.
Protesters have been pictured gathering in Swansea city centre ahead of Nigel Farage's planned walkaround - which has now been cancelled amid reports of scuffles.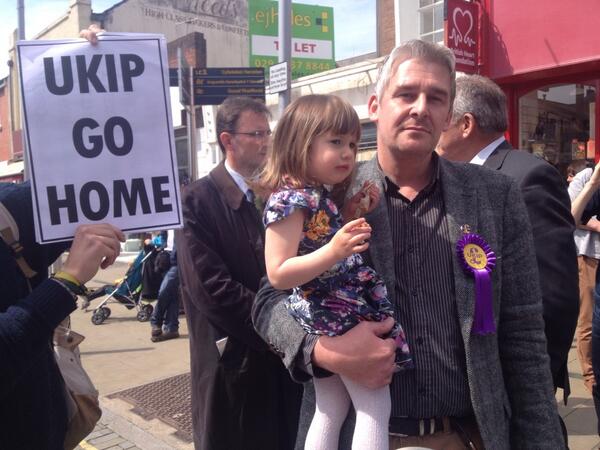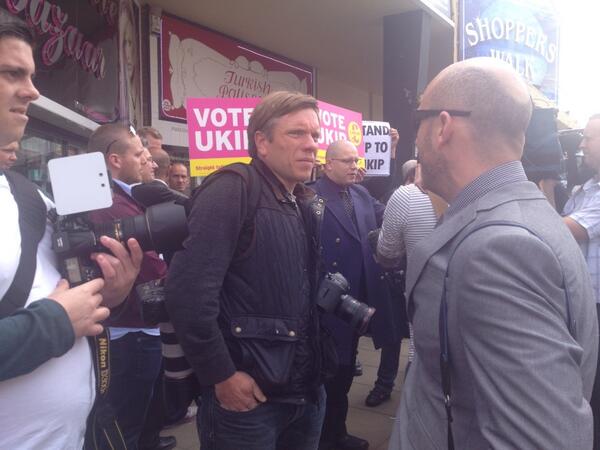 Channel 4 News correspondent Andy Davies reports that Nigel Farage is now heading straight to the Liberty's Stadium to avoid the scenes.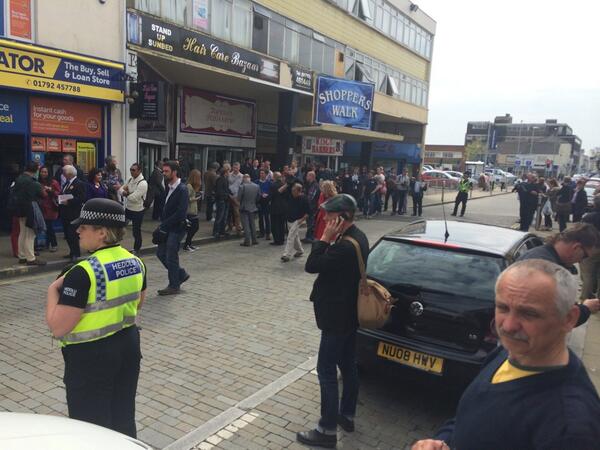 ITV News' political editor Tom Bradby is travelling with Nigel Farage and has tweeted the Ukip leader's visit to Swansea has been cancelled due to reports of scuffles in the city centre:
Am in Swansea on N Farage battle bus. He has just been abandoned a visit to the city centre due to reports scuffles had already broken out.
Load more updates