Ed Miliband declined to say whether he had persuaded comedian Russell Brand to vote in this year's General Election during their meeting late last night.
When asked whether the comedian would vote on May 7 by 5 News political editor Andy Bell, the Labour leader said: "You'll have to wait and see."
I think Russell Brand and anyone who thinks they shouldn't vote was wrong, and I'll engage with him and anyone else who doesn't think we should vote.
– Ed Miliband
Miliband said that meeting with Brand, who in 2013 said that he had never voted, made the election campaign "more interesting" despite Conservative leader David Cameron criticising the move as a "joke".
The Prime Minister's jibe appeared to prompt Brand to tweet "Don't be jealous, Dave. I'll run into you at West Ham - when you're not busy with ordinary people" alongside a picture of Cameron in his Bullingdon Club days.
Don't be jealous Dave - I'll run into you at West Ham - when you're not busy with "ordinary people" http://t.co/wB1Paq9xHV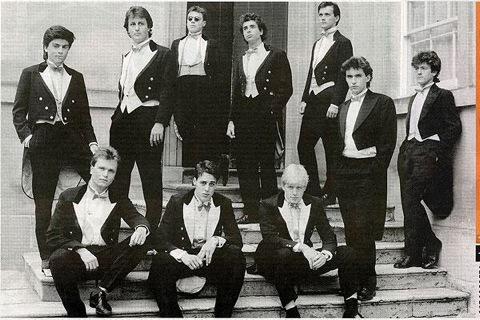 A fuzzy picture of Miliband leaving Brand's east London home emerged on Twitter at around 10pm yesterday.
Ed Miliband has said he is "proud to be engaging" with Russell Brand in this election.
Speaking at a campaign event in Cardiff, the Labour leader said that "politics is being played in an increasingly empty stadium", adding: "if we don't engage in different ways with people that aren't engaging in this election, then we will have fewer and fewer people engaging".
Mr Miliband met with Mr Brand last night, when he recorded an interview at the comedian's house for his YouTube channel "The Trews".
Advertisement
The Prime Minister has labelled Russell Brand "a joke" - and taunted Ed Miliband after a photo of the Labour leader outside the comedian's house surfaced on social media last night.
A spokesperson for Mr Miliband said that he had been there to film an interview with Mr Brand.
But the PM teased both men on the stump today, saying that "his whole view" is "don't vote - it only encourages them".
He added: "That's funny, but politics and elections... that's not a joke. Russell Brand's a joke".
A picture of the Labour leader at Brand's house started speculation that he might have been seeking an endorsement
Read the full story ›
David Cameron is Britain's most politically influential person on social media, beating Russell Brand into second, new research suggests.
Read the full story ›
Nigel Farage has hit back at Russell Brand, saying the comedian and activist was "lighter weight than expected" and has a "personal make-up artist to straighten his chest hair".
Everyone fancied that Mr Brand and I might butt heads, but actually, as we entered the studio, and his personal make-up artist straightened his chest hair for him, I kid you not, I realised that perhaps he might be a bit lighter weight than expected.

For all Mr Brand's posturing, he was really quite limp. Maybe it was the chapstick that his make-up artist applied to his lips at the last moment, but he didn't seem to utter a word of sense.
– Nigel Farage writing for the Independent
Advertisement
Brand said 'we have to watch him' as he compared Farage to the Conservative politician best known for his 1968 "rivers of blood" speech.
Read the full story ›
Russell Brand has criticised Newsnight presenter Evan Davis as "insidious" and "rude" following vilification of the star's recent appearance
Read the full story ›
A Hungarian-born masseuse has been ordered by the High Court not to harass comedian Russell Brand and his partner Jemima Khan.
Szilvia Berki, 31, had claimed that she was treated "like a prostitute" after Khan arranged for her to give Brand a massage as a birthday present in June.
Comedian Russell Brand and girlfriend Jemima Khan are continuing to seek an injunction against a masseuse who claims the couple treated her "like a prostitute."
Representing the couple, Aidan Eardley told the High Court that the matter has arisen from a £500 birthday massage Khan had arranged with the masseuse for Brand at their home in June.
The masseuse contacted newspapers and Unicef where Khan is an ambassador alleging Brand had assaulted her during the massage.
She also posted the allegations on Twitter, emailed MPs and the Prime Minister and set up an online petition, despite a police investigation clearing Brand of any wrongdoing.
The judge is expected to give her ruling on Thursday.
Load more updates