The Duchess of York has told ITV News she wants to stop anymore deaths from allergic reactions following the death of her uncle.
Read the full story ›
The couple were joined by their daughter Princess Beatrice and her long-term boyfriend Edoardo Mapelli Mozzi.
Read the full story ›
Advertisement
Sarah, Duchess of York also expressed thanks to Harry and Meghan for inviting her to their wedding, but admitted to nerves on the day.
Read the full story ›
The Duchess of York has defended her former husband Prince Andrew in the wake of underage sex claims, describing him as "the greatest man there is".
Asked during a ski trip if she was standing by him, Sarah Ferguson told the Daily Mail: "The York family is a tight unit. We've always been a tight unit.
"He is the greatest man there is. It was the finest moment of my life in 1986 when I married him. He is a great man, the best man in the world."
Ms Ferguson reportedly made the comments as she left the luxury ski chalet in Verbier, Switzerland, where she had been holidaying with the Duke of York and their younger daughter, Eugenie.
Prince Andrew and former wife Sarah Ferguson arrive together at memorial for Sir David Frost at Westminster Abbey http://t.co/Hlq1A4Vc3X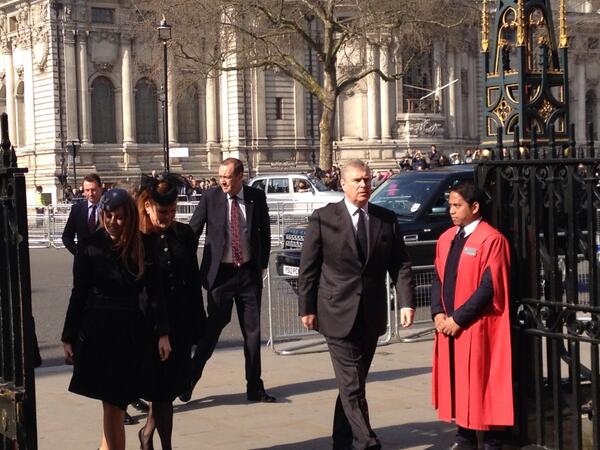 The couple have remained close since they divorced in 1996 and both live at Royal Lodge, the former country home of Queen Elizabeth the Queen Mother, in Berkshire.
The newspaper reported that they joined Beatrice, 25, and her sister, Princess Eugenie, 23, for the weekend at Balmoral, the Queen's Scottish retreat, earlier this month.
Advertisement
The Duchess of York has reportedly been asked to attend court in Turkey, where she is accused of taking part in the secret filming of two orphanages.
Sarah Ferguson faces charges of going "against the law in acquiring footage and violating privacy" of five children at one of the orphanages, the country's state-run news agency said.
If convicted, she could receive a maximum sentence of 22 years and six months in prison.The trial began in her absence with a procedural hearing but has been adjourned so the plaintiffs can consider a proposed out-of-court settlement. The court said she should attend the next hearing.