Sir Paul McCartney has spoken about the moment he learned of John Lennon's murder in a frank interview with ITV's The Jonathan Ross Show.
Read the full story ›
Johnny Depp has joined Sir Paul McCartney in the video for his new single - but his fans could be forgiven for not spotting the actor.
Read the full story ›
Advertisement
Sir Paul McCartney has been forced to postpone US dates on his world tour as he continues to recover from a virus.
The former Beatle, who turns 72 later this month, cancelled a string of gigs in Japan and South Korea last month.
He has now said that he will be following doctors' orders to recover fully before he takes to the stage again.
Sir Paul McCartney said he was "extremely moved" by the messages of support he has received after he was struck down by an illness that forced him to cancel a string of gigs.
The 71-year-old former Beatle pulled out of tour dates in Japan and South Korea after contracting a virus.
He has been treated for the illness at a Tokyo hospital and is expected to make a full recovery.
A statement released on behalf of Sir Paul said: "Since contracting a virus last week that led to the postponement of tour dates, Paul received successful medical treatment at a hospital in Tokyo.
"He will make a complete recovery and has been ordered to take a few days rest. Paul has been extremely moved by all the messages and well wishes he has received from fans all over the world."
Former Beatle wins "songwriter's songwriter" at the NME Awards, but said "the great thing" about music is "you don't know how you do it".
Read the full story ›
Daft Punk, Macklemore & Ryan Lewis and Lorde were the big winners at the Grammy Awards.
Read the full story ›
Advertisement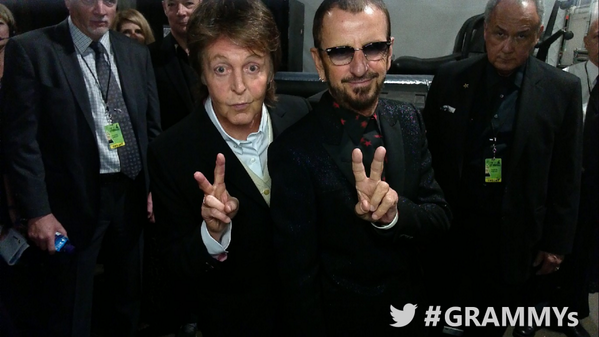 Sir Paul McCartney and Ringo Starr have appeared together for a rare performance at the Grammy Awards.
Sir Paul McCartney has said Nelson Mandela "was one of the great men of all time" and he wished they had met.
Sir Paul said: "I particularly admired his lack of bitterness towards his jailers, which I think set the tone for South Africa's transition to democracy.
"I never actually got to meet him although I wished I could have done and, in fact, I would say he is the greatest man I never met ".
Pictures of The Beatles having fun during a visit to the studio where animated film Yellow Submarine was made go on sale on Friday.
Read the full story ›
Sir Paul McCartney surprised passers-by with an unannounced free gig in central London today - echoing his famous rooftop gig with The Beatles 44 years ago.
Thousands of people gathered in the cobbled Covent Garden piazza and got a grandstand view from the balcony of the market building opposite.
Onlookers started gathering at around 11am after they twigged the musician may be playing after spotting one of his flight cases. The truck - forming his makeshift stage - pulled into the square at about 6am, with stacks of speakers set up in front.
Load more updates