Noel Neill, who played Lois Lane in the Adventures of Superman television series, has died aged 95.
Read the full story ›
Advertisement
Tony Dyson's special effects were enjoyed in the Superman and James Bond series, but the 68-year-old was best known for his beeping droid.
Read the full story ›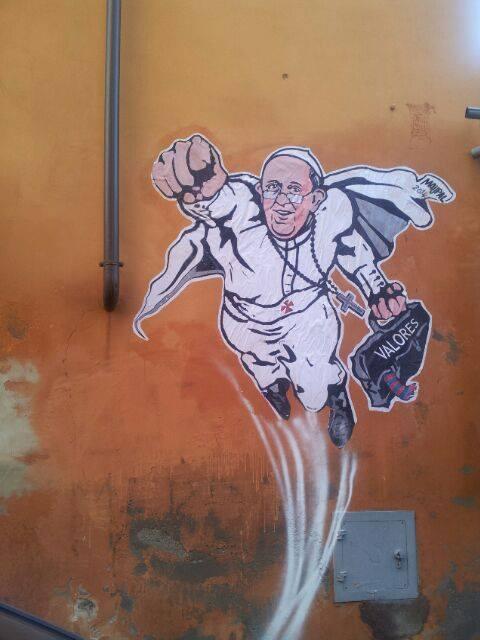 Graffiti painted on a building near the Vatican depicts the Pope flying through the air with his briefcase of values (valores in Spanish) in his hand.
Although the artwork shows the Pope flying Superman-style, unlike the Man of Steel the head of the Catholic Church keeps his glasses on to save the day.
A sequel to the film Man of Steel will see Superman and Batman facing off against each other, director Zack Snyder said on Saturday.
Snyder, who directed British actor Henry Cavill as Superman/Clark Kent, was a surprise addition to the end of the Warner Bros. film panel at San Diego's Comic-Con, an annual comics convention, and received thunderous applause from the 6,000-plus in attendance.
After announcing the plan to bring the two superheroes together, Snyder issued a statement via Warner Bros. saying the two would be fighting each other, and conceded this might surprise some.
"Let's face it, it's beyond mythological to have Superman and our new Batman facing off, since they are the greatest superheroes in the world," said Snyder, who has been confirmed as director of the as-yet unnamed sequel.
While both Superman and Batman are superheros in the DC universe, they have been portrayed as nemeses in DC's "Dark Knight" comics, from which Christopher Nolan adapted his "Dark Knight" Batman franchise. Nolan will serve as executive producer to the sequel, Warner Bros. said.
Snyder then invited actor Harry Lennix on-stage to read a statement hinting at the story line.
"I want you to remember Clark, in all the years to come. In all your private moments. In all the years to come, my hand at your throat. I want you to remember, the one man who beat you," Lennix read.
An image of Superman's shield backed with the familiar Batman symbol then flashed on the screen behind him.
The film, which has an anticipated release date of Summer 2015, will mark the first time the Man of Steel and the Caped Crusader have appeared together on the big screen.
Is it a bird? Is it a plane? No, it's a life-sized, radio-controlled model of Superman soaring through the skies of southern California.
Read the full story ›
Advertisement
Superman actor Henry Cavill explains how childhood bullying helped toughen him up in preparation for Hollywood.
Read the full story ›
A trailer for the latest Superman film 'Man of Steel', which sees British actor Henry Cavill don the famous red cape for the first time, has been released.
Superman is flying high as the greatest ever sci-fi screen character, beating Doctor Who and a host of Star Wars creations.
Read the full story ›