An emotional Tiger Woods struggled to comprehend how he had pulled off one of the greatest comebacks in sport with victory in Atlanta.
Read the full story ›
Tiger Woods has pleaded guilty to reckless driving and been sentenced to a year's probation.
Read the full story ›
Advertisement
Tiger Woods' latest injury comeback appears to be on track after the 14-time major champion released a video of him driving the ball.
The American, who only last month admitted it was possible he may never play competitive golf again as he continues his rehabilitation from back surgery, tweeted a nine-second clip in which he hits a drive while wearing his trademark Sunday red shirt, captioned "Making Progress".
Woods has not played since an abortive return ended in February this year after a birdie-less first round in the Dubai Desert Classic and underwent back surgery for a fourth time in April.
Speaking at a press conference ahead of the Presidents Cup in September, Woods was asked if his career could be over.
He responded: "Yes, definitely. I don't know what the future holds for me.
"Overall, I'm very optimistic how I'm progressing. The pain's gone, but I don't know what my golfing body is going to be like because I haven't hit a golf shot yet.
"So that's going to take time to figure that out and figure out what my capabilities are going forward. And there's no rush.''
Woods has also had problems away from the course, having been arrested on a drink-driving charge in May.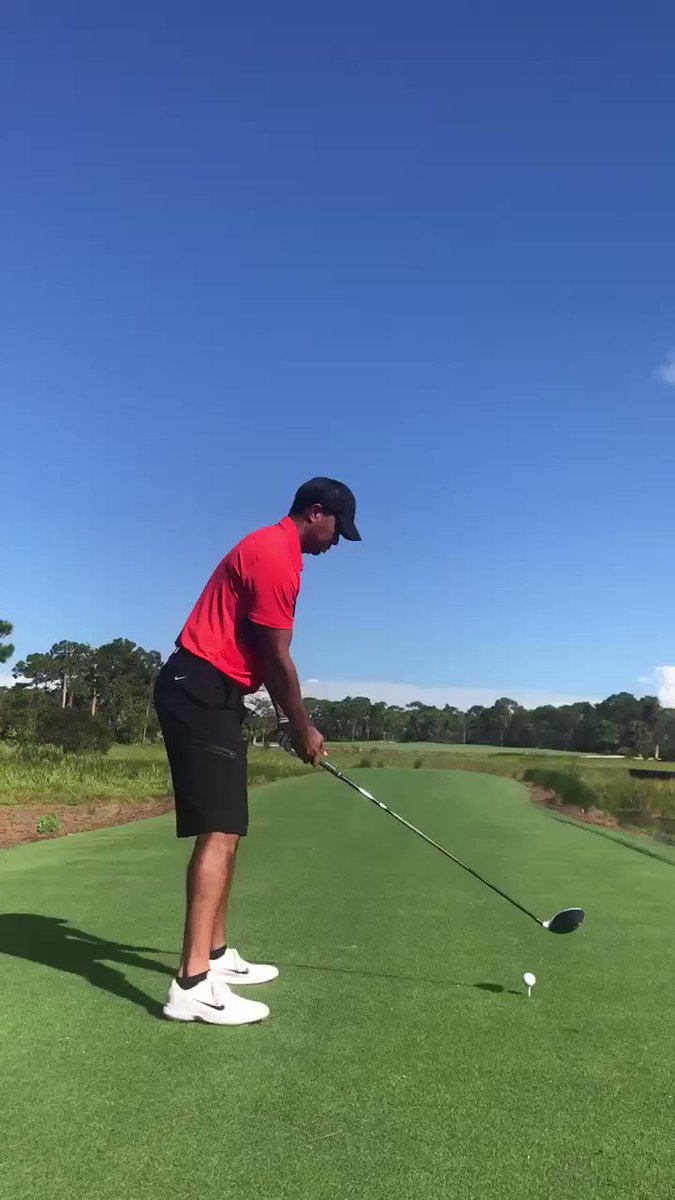 Police footage has emerged of Tiger Woods' arrest on suspicion of driving under the influence, in which he appears dazed and stumbles.
Read the full story ›
The golfer has been charged with driving under the influence - but breath tests showed he had no alcohol in his system.
Read the full story ›
Tiger Woods has said alcohol was "not involved" in his arrest on suspicion of driving under the influence.
Read the full story ›
Advertisement
Former world number one Tiger Woods has announced he will return to competitive golf in October.
The former world number one has been out of action since August last year due to serious back problems which have required surgery.
The 40-year-old has now stated his intention to compete at the PGA Tour's Safeway Open in Napa, California.
My rehabilitation is to the point where I'm comfortable making plans, but I still have work to do. Whether I can play depends on my continued progress and recovery. My hope is to have my game ready to go.

I'm looking forward to going to California for my foundation event and Safeway. I'm also excited to return to Turkey and Albany. It could be a fun fall.

It was difficult missing tournaments that are important to me, but this time I was smart about my recovery and didn't rush it. It was great spending time with my children Sam and Charlie, and also working on a lot of projects including golf-course design, the upcoming 20th anniversary of my foundation and my book about the 1997 Masters. But I missed competing. I want to thank all the fans for their kindness and concern. I've been a pro about 20 years, and their support has never waned.
– Tiger Woods
Tiger Woods and a crowd of golf fans went wild when an 11-year-old boy hit a hole-in-one with the first shot on a new course.
Read the full story ›
The former world number one Tiger Woods has announced that he will not play golf again this year due to a back injury.
The 39-year-old, who has won 14 majors, said he hopes to be fit enough to compete again early next year.
It is the second time he had undergone back surgery in 18 months.
This is certainly disappointing, but I'm a fighter. I've been told I can make a full recovery, and I have no doubt that I will. This is unfortunate, but these things happen. I've been injured before and played again. It won't be any different this time.
– Tiger Woods
Former world number one Tiger Woods refused to confirm whether his season was over after missing the cut for the third straight major in the US PGA Championship.
Woods added a 73 to his opening 75 when the delayed second round was completed at Whistling Straits on Saturday, finishing two shots outside the cut on four over par.
"I hit it good enough to be where I needed to be, but I putted awful,'' said Woods, who was 17th in the Masters in April but is a combined 22 over par for this year's major championships.
"I finally figured something out today on the putting green, but the damage had already been done. Finally rolled the ball coming in and unfortunately it was too little, too late.''
Asked how much it hurt to make early exits from the US Open, Open Championship and US PGA, Woods said: "It's frustrating to miss any cuts because any time you miss a cut, you don't have a chance to win the event.
Load more updates