The Glasgow-based artist has claimed the £25,000 award in a year of politically charged nominations.
Read the full story ›
ITV News asked a winner, curators, critics and even the organisers of the annual parody Turnip Prize how they rate the award in 2018.
Read the full story ›
Advertisement
African-born Himid was praise for her "uncompromising tackling of issues including colonial history and how racism persists today."
Read the full story ›
Artist Helen Marten's work which 'invited viewers to become archaeologists of our own times' has won her the Turner Prize 2016.
Read the full story ›
The four artworks shortlisted for this year's Turner Prize include a huge golden sculpture of buttocks, and more than £20,000 in pennies.
Read the full story ›
After Assemble was announced as the 2015 prizewinner on Monday, here are the top 10 most notable - and notorious - Turner-winning artists.
Read the full story ›
Advertisement
Artist Duncan Campbell has won the 2014 Turner Prize for his films focusing on African art and images from the Troubles in Northern Ireland.
Read the full story ›
After winning the 2013 Turner Prize, Laure Prouvost, said: "Thank you for adopting me, for having a French one, I feel adopted by the UK".
The French artist's art work Wantee is set in a mock tea party setting and opens with the question: "Would you like some tea?"
It is a response to the artist Kurt Schwitters and its title stems from the fact that Schwitters' girlfriend was nicknamed Wantee as she repeatedly asks "want tea".
2013 Turner Prize winner Laure Prouvost talks about her video installation Wantee which is set in a mocked up tea party and her unique approach to film-making.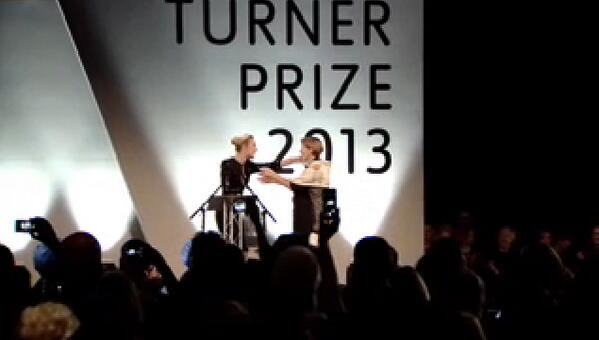 Load more updates