Channel 5 News correspondent Julian Druker took this photograph of protests outside the sentencing of Lee Rigby's killers at the Old Bailey.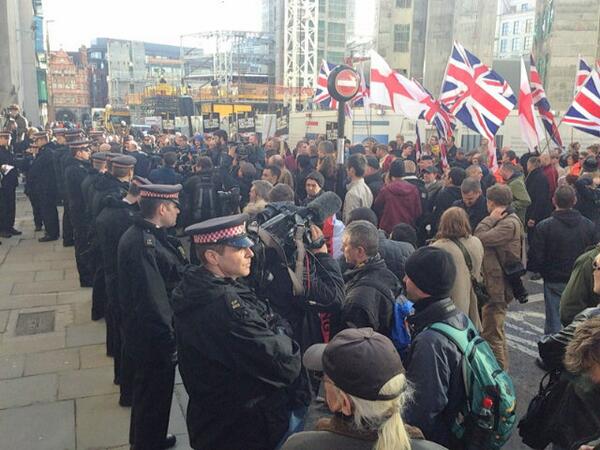 Adebowale's barrister says a whole life sentence would be inhuman for a young 22 yr old man, extinguishing all hope of release.
Advertisement
Adebolajo's barrister says he remains of view should be put to death. Says has never apologised to Rigby family & given views not likely to.
Adebolajo's barristers arguments: no 1 else hurt, didn't threaten public like 21/7 or 7/7 attacks, not part of wider terror network.
Barrister for Adebolajo says full life sentence not justified as offender not so depraved that theres no possibility of atonement in future.
Barrister for Adebolajo tells judge a whole life term is likely to create a martyr.
Lee Rigby's wife says her son will grow up to see images of his dad that no son should endure.
Advertisement
Court hears about impact of Lee Rigby's family. All their lives changed for the worst. Spoke of the anguish of seeing footage on television.
Lee Rigby's wife says when you wave someone off to Afghanistan know a chance might not see them again. Don't expect to see it on UK streets.
Prosecution tells the judge in sentencing of Woolwich murderers a whole life term could apply in this case.
In court for sentencing of Lee Rigby's murderers, both in the dock dressed in black, Michael Adebolajo doesn't stand when asked.
Members of Lee Rigby's family arrived at court wearing clothing emblazoned with his photograph and the slogan 'Justice for Lee Rigby'.
Load more updates