A North East import business tells ITV News Tyne Tees it is stockpiling goods to prepare for a 'No Deal' Brexit.
Read the full story ›
Gateshead firm De La Rue has said it will not appeal against the Government's controversial decision to choose a Franco-Dutch company to make the new blue UK passports after Brexit.
De La Rue, the current passport provider, said that it had "considered all the options", but would not challenge the move, which will see the £490 million contract handed to Gemalto, which has its headquarters in Amsterdam and is listed on the French and Dutch stock exchanges.
De La Rue also confirmed that its full-year earnings would be hit by a write-off of about £4 million related to the bid costs for the passport tender.
It said underlying operating profits were now forecast in the "low to mid £60s million range", against previous expectations for between £71 million to £73 million.
The firm added: "De La Rue will continue to fulfil its existing contract and assist with transition to the new supplier and is therefore expecting no impact on the group's performance in the next 18 months."
The Government has come under heavy fire for its decision to choose a European firm for the contract, but has claimed it will save £120 million during the lifetime of the 11-and-a-half-year contract.
Advertisement
The Labour Leader, Jeremy Corbyn, has told ITV News Tyne Tees that Nissan's investment in the North East must be continued.
Speaking on a visit to the region to mark 80 years since the Jarrow March, he said he wanted to speak to the company to find out exactly what it wants to maintain its investment in the area after Britain leaves the European Union.
"The key has to be this huge investment that's gone in here must be continued. Nissan are saying at the moment they are pausing that. I want investment to continue so I would rather talk to Nissan about it, even in opposition we'll talk to Nissan about it, and find out exactly what they want."
– Jeremy Corbyn MP, Labour Leader
Nissan is concerned that tariffs could be placed on British goods, making them more expensive for buyers overseas.
Watch @krisjepson's report here:
The Japanese car manufacture which builds 500,000 cars a year on Wearside wants the UK to pledge compensation for any tax barriers that may be raised as a result of leaving the European Union.
"If I need to make an investment in the next few months and I can't wait until the end of Brexit, then I have to make a deal with the UK Government. If there are tax barriers being established on cars, you have to have a commitment for carmakers who export to Europe that there is some kind of compensation."
– Carlos Ghosn, CEO, Nissan
Mr. Corbyn stopped short of promising financial aid but said he did want to make sure Britain negotiates a good working relationship with Europe.
Local Councillor, John McCabe, said Mr Corbyn's approach is wise. He said, "we don't know exactly what's going to happen with tariffs so it's a bit premature for him to give a sensible comment on that decision, because we don't know what the facts are and we don't know what the exit deal is at the moment".
The grandson of the Jarrow March organiser, Peter Tarrack, said Mr Corbyn should not have to negotiate with Nissan over jobs if he becomes Prime Minister.
"He's got to watch what he's saying, but I haven't got to watch what I'm saying. As far as I'm concerned I think I would call their bluff, because if the profit margins are still there they will still make cars. If the profit margin is not there like they proved in Jarrow in the 1930s, they will shut down the factory. If Nissan want more money, they are just trying their hand as far as I'm concerned, like all multinationals do."
– Peter Tarrack, Grandson of Jarrow Marcher
Think-tank IPPR North has suggested a so-called Northern Brexit Negotiating Committee to advise the Government on Brexit
Read the full story ›
The North East of England Chamber of Commerce says it would be 'a real concern' if Nissan decides NOT to manufacture its next Qashqai vehicle in Sunderland.
NECC Chief Executive, James Ramsbotham has been speaking to ITV News Tyne Tees after Nissan CEO Carlos Ghosn demanded UK Government support post Brexit. His comments have caused fresh concerns over the future of the the Sunderland plant and a question mark over where the new Qashqai model will be built.
I think it would be a real concern because the Qashqai after all was designed here in Britain and has been built totally in Sunderland. It has been a phenomenal success, much more than people outside the industry appreciate and to lose that kind of support would be really really damaging.
– James Ramsbotham, NECC Chief Executive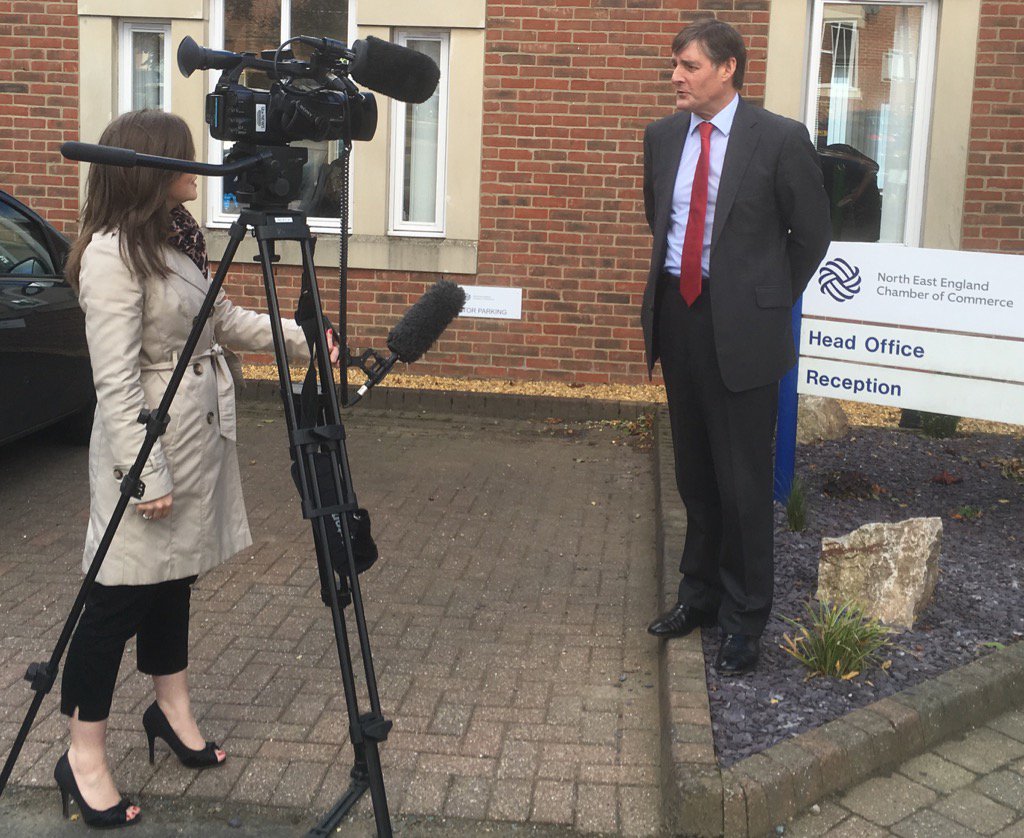 The Japanses car manufacture which builds 500,000 cars a year on Wearside wants the UK to pledge compensation for any tax barriers that may be raised as a result of leaving the European Union.
We are determined to make sure that the UK remains the best place in Europe to run and grow a business, whether it's one operating at home or abroad. "We are not going to provide a running commentary on every twist and turn of these negotiations. You don't start a negotiation by telling the people you are negotiating with exactly what you plan to do. That approach won't help us get the best deal for Britain.
– Government Spokesperson
Sunderland voted overwhelmingly to leave the EU, with 61% of people voting out in this year's referendum.
On June 23 the country went to the polls to take part in the EU Referendum.
By the morning the political landscape had completely changed with 51.9% of voters opting for Brexit.
Three months on, how do you feel about Brexit? If you could vote again would you still be leave or still remain?
Take part in our poll and let us know.
Advertisement
There are fears Nissan and Hitachi, who operate in the North East could move out of the UK if Brexit makes it less profitable
Read the full story ›
Carlos Ghosn said future decisions about the car giant's Sunderland plant will depend on the outcome of Brexit negotiations
Read the full story ›
The Berwick-upon-Tweed MP Anne-Marie Trevelyan has called the move to appoint Boris Johnson as foreign secretary 'smart'.
She has been speaking to ITV's Around The House.
Ms. Trevelyan was a LEAVE campaigner during the EU Referendum and says Boris Johnson will now be at the 'heart' of Brexit discussions, once the new cabinet has settled in.
Northern Powerhouse Minister James Wharton has expressed his disappointment at Boris Johnson's decision to pull out of the race for the Conservative Party leadership.
The Stockton South MP said yesterday's announcement was disappointing as Mr Johnson had given him assurances regarding the future of the party and Britain after its exit from the European Union.
Mr Wharton said he would be speaking to all the party's leadership candidates before deciding who to back.
Load more updates