Paul Gascoigne will defend himself against a sex assault charge by saying he has a propensity to kiss people "in a non-sexual manner".
Read the full story ›
Paul Gascoigne is hoping turning 50 will see the start of a "happy and sober" future, having just got through the "worst year ever".
Read the full story ›
Advertisement
Paul Gascoigne's management company has confirmed that the former Newcastle, Middlesbrough and England football star is in rehab once again.
The troubled star was recently in hospital where he was treated for multiple injuries, following a disturbance at a hotel in London, in which he plunged down a flight of stairs.
Witnesses said that he was drunk at the time and had been shouting abuse at people.
Last year the former Tottenham star was said to be devastated at the death of his 22-year-old nephew Jay Kerrigan-Gascoigne, who was suffering from a long-running battle with mental health illness.
He was found dead in his girlfriend's apartment in Gateshead.
Today, A1 Sporting Speakers posted the following message on Facebook:
"Paul wants to let everyone know that he has gone into rehab. We have spent nearly every day helping him through his annus horribulus since Jay [Paul Gascoigne's nephew] passed away. He is making a serious effort to get free of his demons and trying to become alcohol free for 2017. I'm not religious at all but if any of you are, say a prayer for him."
Troubled ex-footballer Paul Gascoigne has used social media to update his followers of his condition, following an incident at a hotel in London last week, which left him injured.
Sorry, this content isn't available on your device.
Former Newcastle United and England star Paul Gascoigne was treated in hospital for a head injury following a disturbance, in which he was reportedly pushed down a flight of stairs on Tuesday, December 27th.
Former Newcastle United star Paul Gascoigne was treated in hospital for a head injury.
Read the full story ›
Former Newcastle United and England star Paul Gascoigne has revealed he receives text messages asking if he's dead, because of his well-publicised battle with alcoholism.
The 48-year-old was recently pictured battered and bruised after suffering a relapse.
Gascoigne told Good Morning Britain that seeing the front-page images were a stark reminder of "how bad" he is when he suffers what he calls "a blip" in his fight with drink.
Watch: Kris Jepson's full report:
Advertisement
A close friend of Paul Gascoigne said he was concerned it may have been too soon for the former Newcastle footballer to give interviews on his 'blip' with his recovery from alcoholism.
The football Newcastle United and England legend, who has had a drink problem for more than twenty years, gave an exclusive interview to Good Morning Britain about the support he has dealing with the illness.
Gascoigne said he is back to his best after he was recently pictured looking battered and bruised while suffering a relapse.
But his friend Steve Wraith, who is managing director of sporting promotion company Newcastle Legends, said although Gazza looked well he is worried that mentally he is still very raw.
Watch his interview:
Speaking exclusively to ITV's Good Morning Britain, former Newcastle and England star Paul Gascoigne admitted recent pictures of him with cuts to his face were the result of him having suffered a 'blip' in his battle against alcoholism.
He said other that that he was 'really good' and the public has been 'brilliant' with him.
He joked that some people can't believe he is still alive, and he even gets text messages asking him if he's dead.
The former Newcastle and England footballer Paul Gascoigne has been speaking to Good Morning Britain live this morning, and says he is "doing alright".
He appeared on the sofa just after 8.10am (WED).
Talking about recent photos of him in the papers, which showed him clutching a bottle of alcohol with cuts to his face, he admitted they were the result of a recent "blip" in his battle against alcoholism.
He went on to admit he found it hard to come to terms with the fact that he is "never allowed to get on with his illness" due to attention from the press.
He said he really wanted to stop drinking, and no longer blamed other people for his relapses as he tries to beat his addiction.
Talking to presenters Susanna Reid and Piers Morgan on the sofa, he said sometimes the temptation to drink was so overwhelming he just had to have "a drink" and "get it over with".
The 48-year-old went on to say that it was sometimes helpful to see pictures of him in the press after a relapse, as it "helps him realise how bad he is".
Speaking about the public's support he said they were 'brilliant' with him, and he even feels 'embarrassed' as a result of the all the support he has received.
He said there are "lots of people out there facing this battle on the streets that don't get the help and support that I do".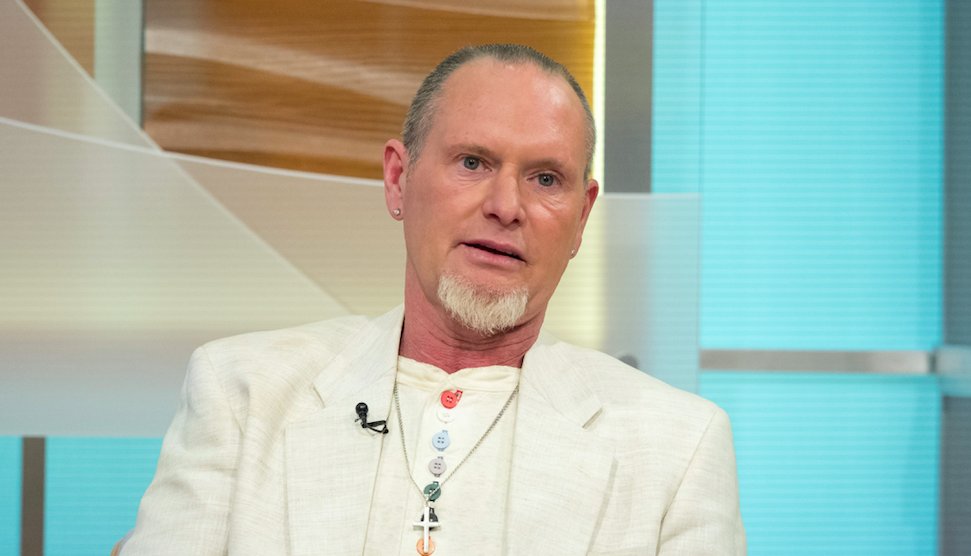 Load more updates