Teesside MPs are meeting the official receiver for Redcar's steel works to discuss how the SSI site will be cleared.
They want more detail about plans to wind it down and questions answered about what will happen to the site which used to employ over 2 thousand people
It's believed potential buyers are still contacting local politicians, but there's thought to be very little hope of a deal.
Watch our interview with Anna Turley MP about her work to get more information about how the site will be cleared if a buyer is not found.
Read the full story ›
Advertisement
The MP for Redcar has asked David Cameron, "how much more injustice can the people of Teesside endure?", during a string of questions to the Prime Minister about the struggling steel industry.
Speaking at Prime Minister's Questions, Anna Turley revealed that part of the Government support package, intended for the retraining of SSI workers, will also be used to pay for the final salaries of those who lost their jobs in the last month.
Just asked PM how much more injustice he expects Teessiders to endure after salary is also coming out of 'support' https://t.co/DFkvp3gxPN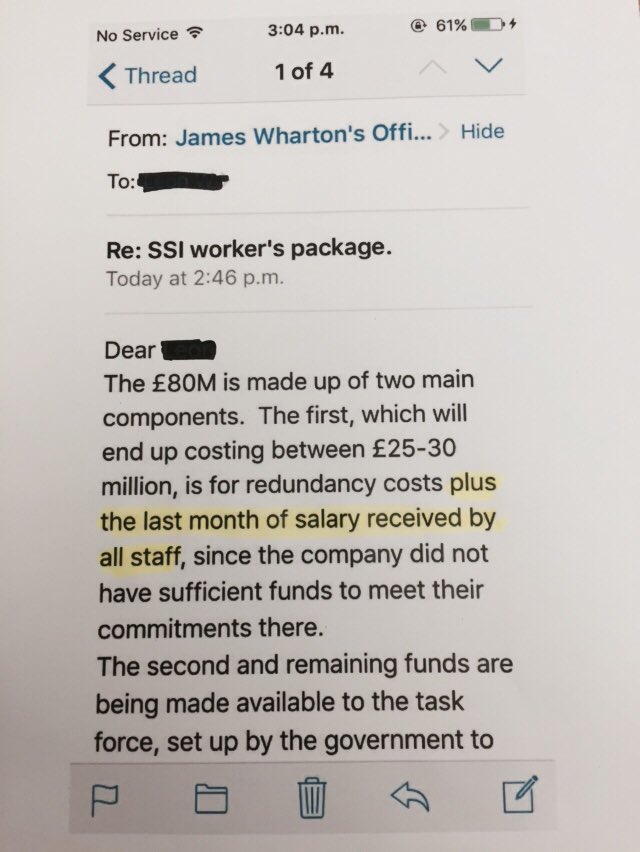 Mr Cameron responded by saying that the Government is doing everything it can to help, including the financial package to help people with retraining and bring new opportunities and industries to the area.
Jeremy Corbyn has accused the Government of having no industrial strategy as redundancies mount in the crisis-stricken steel sector.
Read the full story ›
China should not be made a "scapegoat" for the collapse of the UK's steel industry, Sir Vince Cable has said, accusing the Treasury of holding back with financial assistance that could help relieve pressures.
The Liberal Democrat former business secretary said David Cameron should urge action from Beijing to curb production and noted there was a technical question to be examined over whether China was guilty of illegal "dumping".
But he insisted there had been "endless problems with steel" unrelated to China while he was in government that ministers had some power to alleviate.
There is a technical issue about dumping which is a legal question that you have to prove they are selling below cost.

But the bigger issue is that they have massive excess capacity because they are trying to rebalance their economy.

What we should be saying to the president - and I hope Mr Cameron makes this point - is: if you want to be world economic citizens - and they clearly do as a superpower - you really have to take account of the rest of the world and you've got to restructure your own steel industry and lay off some of your own capacity.

That would take some of the pressure off us. But you can't make the Chinese the scapegoat."
– Sir Vince Cable
Sir Vince added he had endless problems with steel when he was in the government, before this China problem erupted, because energy costs were too high.
He says got the European Commission gave permission to compensate, but he understands The Treasury is sitting on the money.
The commission last year cleared a UK plan to compensate certain energy-intensive industries - including steel - for higher costs resulting from its carbon price floor under state aid rules.
Sir Vince said Chinese investment was welcome - so long as it helped British suppliers.
I would welcome Chinese investment in the nuclear power industry - you have got to have safeguards. But you'd insist that the Chinese develop a supply chain here of British producers.

If they want to invest in these new railways, well great, providing they give an undertaking they'll get a lot of their stuff from the rail factories in Derby and Durham.

That's why you have the industrial strategy we had under the coalition. I don't know what's happened to it since."
– Sir Vince Cable
Middlesbrough Council is creating a temporary advice centre in the town to help residents who have been affected by the closure of the SSI plant at Redcar.
It will open Middlesbrough House on Corporation Road from 8.30am today (October 21) and Wednesday October 28 for steel workers and contractors.
They will receive help and advice on making welfare claims as well as guidance on how to apply for other support and benefits.
Middlesbrough House is usually closed on Wednesday mornings so the extra opening hours are aimed solely at helping those affected either directly or indirectly by the steelworks closure.
Advertisement
A schoolboy has taken it upon himself to arrange a special Christmas Party for the children of the now redundant SSI steelworkers from Redcar.
9-year-old Ben Hebden goes to Westgarth Primary School in Marske.
He's had more than 500 likes on the facebook page he's set up and is fundraising to host the party for the steelworkers and their families.
Nine year old Ben Hebden heard about the job losses at the SSI steel plant and felt he had to do something about it.
It made me feel a bit devastated for them because usually they might have been thinking we're going to get you this, we're going to get you that - that'll be nice for everyone and hopefully I'l get this.

But now they've lost all their money they probably wont be able to afford all they wanted.
– Ben Hebden
With the help of other pupils he's set up a Kids Committee to arrange the event - raising more than £500 already the food, entertainment and venue already booked.
They have enlisted the help of a local party planner called Silly Steve who will DJ and organise other activities.
His teachers are very proud of Ben's achievements.
I think it's absolutely fantastic really on what's a sad circumstance and that a boy in year five has taken it upon himself to see the sadness in that and try to do something good for it.

It's a wonderful thing - we're very proud of him.
– Matthew Carlton, Westgate Primary School
Britain must "make adjustments" to keep up with the rapidly changing global economy, China's ambassador to the UK has told ITV News.
Read the full story ›
Steve Gibson, chairman and owner of Middlesbrough FC, condemned the lack of action from the Government over the closure of SSI.
Read the full story ›
The former head of SSI in Redcar has admitted that there was a lack of communication from the company's Thai owners when the plant was in trouble.
Cornelius Louwrens, who no longer works for the company, spoke of his sadness at the closure and said the communication issues had been "utterly frustrating."
Load more updates