The DUP say talks with the Conservative Party over supporting a minority government will continue next week.
An announcement by Downing Street on Saturday suggested an agreement had already been reached, but both parties released subsequent statements that said talks would continue.
"The DUP today (Saturday) held discussions with representatives of the Conservative Party in line with Arlene Foster's commitment to explore how we might bring stability to the nation at this time of great challenge. The talks so far have been positive," a DUP statement issued on Sunday morning read.
"Discussions will continue next week to work on the details and to reach agreement on arrangements for the new Parliament."
Earlier it was reported that Conservative Party chief whip Gavin Williamson would hold talks with the DUP in Belfast.
It was expected the parties would enter into an arrangement on a 'confidence and supply' basis.
However, ITV political editor Robert Peston had earlier said Theresa May preferred a more formal coalition, in the interests of stability.
A Downing Street spokesman said: "The Chief Whip is in Belfast holding talks with the DUP on how best they can provide support to the Government.
"We will not be providing a running commentary."
It is understood that Mr Williamson was meeting the DUP's chief whip Sir Jeffrey Donaldson.
North Belfast is a constituency with a rich, but often troubled history. Here sectarian fault-lines literally mark out the landscape. Most of the city's peace walls are found here and while some have been scaled back, divisions still loom. When it comes to elections, this one is as tense as it gets.
Nigel Dodds has been North Belfast's MP for 16 years. Last time around he claimed the win by over 5000 votes, but this time many predict a close encounter.
"North Belfast is always a close-run constituency. It always has been in past elections and it will be this time as well, of course it will be.
"But I'm very confident when people are faced with the stark choice of someone who wants to go to Westminster, take their seat, stand up and speak up for north Belfast at a time of great challenge, they will support that rather than someone who's negative, who wants to follow a radical republican agenda dictated by Gerry Adams," Mr Dodds said.
Sinn Féin's choice of candidate this time came as a surprise.
John Finucane is no stranger to the spotlight. His family has fought for decades for a public enquiry into his father's murder by loyalists. It has become a high-profile legacy case, but he insists here Brexit is the major focus.
"I'm pitching myself as an MP who will represent everyone in this constituency and I'm the only credible anti-Brexit candidate who can actually unseat the current MP, Nigel Dodds," he added.
"We are using our influence in Stormont, in Dublin, in London and Brussels to bring about real change and to secure the special designated status which Sinn Féin is calling for and which is ignored by the Tory government and political unionism".
North Belfast is a real eye-catching feature of this election. With the UUP opting not to stand and some of the parties running less high-profile candidates, the two larger parties are going all-out to win. Much will be read into the result.
While some walls have come down here, changing attitudes is still a challenge. Attempts to build a pro-remain pact did not work out, much to the SDLP's disappointment. Their candidate, the party's press officer Martin McAuley, is determined to make his mark and he insists he's not just there to make up the numbers.
"The SDLP doesn't do paper candidates and I don't do paper campaigns. I'm in this race to win it, to return a pro-Europe MP for North Belfast because our MP at the moment has betrayed the people here. This is a pro-Europe constituency, we voted to remain and he is a hard Brexiteer." he said.
"The only way to get a pro-European MP on the floor of the House of Commons, tackling Theresa May and taking on the Tories is to elect the SDLP's choice".
Alliance are passionate about breaking down barriers and it claims with some success here.
It rejected a pact outright.
"We've been very clear from the star, we were standing on our own platform. We want to give the voters the choice to vote for Alliance and the only way we can do that is by running as Alliance," said the party's candidate Sam Nelson.
"I think North Belfast has a very difficult history in terms of divided politics and that's something I want to offer a way through.
"We're here in Alexandra Park today. It's a very good example of the kind of work Alliance can do - it was an Alliance justice minister that opened the gate here.
Ultimately this constituency will be a street battle between the DUP and Sinn Féin with few willing to call the outcome.
Advertisement
Alliance leader Naomi Long said the party could take two seats in next week's election.
Read the full story ›
The DUP has launched its General Election manifesto with the party leader stressing this election is about the Union and not devolution.
Read the full story ›
DUP leader Arlene Foster will attack Jeremy Corbyn over his past support for Irish republicans at a pro-Brexit meeting in London.
Read the full story ›
The Prime Minister has urged politicians in Northern Ireland to come together to reach an agreement over a return to power-sharing.
Read the full story ›
Advertisement
The full list of candidates for the upcoming election has been published with 109 people contesting 18 Westminster seats on 8 June.
Read the full story ›
The DUP and the Ulster Unionists have ruled out a formal pact ahead of June's General Election.
Read the full story ›
Teachers in Northern Ireland have warned jobs could be lost after the secretary of state proposed cuts to education spending.
Read the full story ›
The Green Party says it will not be entering into a "pro-remain" pact ahead of the June Westminster election.
Leader Steven Agnew said his party had reached the decision following internal meetings and discussions with representatives of other parties.
The North Down MLA said they have engaged with the SDLP, Sinn Féin and the UUP but decided that individual members within those parties had "fallen short" of the Green Party's "clear vision for a progressive society based on stability and sustainability".
Mr Agnew emphasised that his party had explored the possibility of a pro-remain pact but added "it became clear that there was too much distance between the parties and too little time to bridge the gap".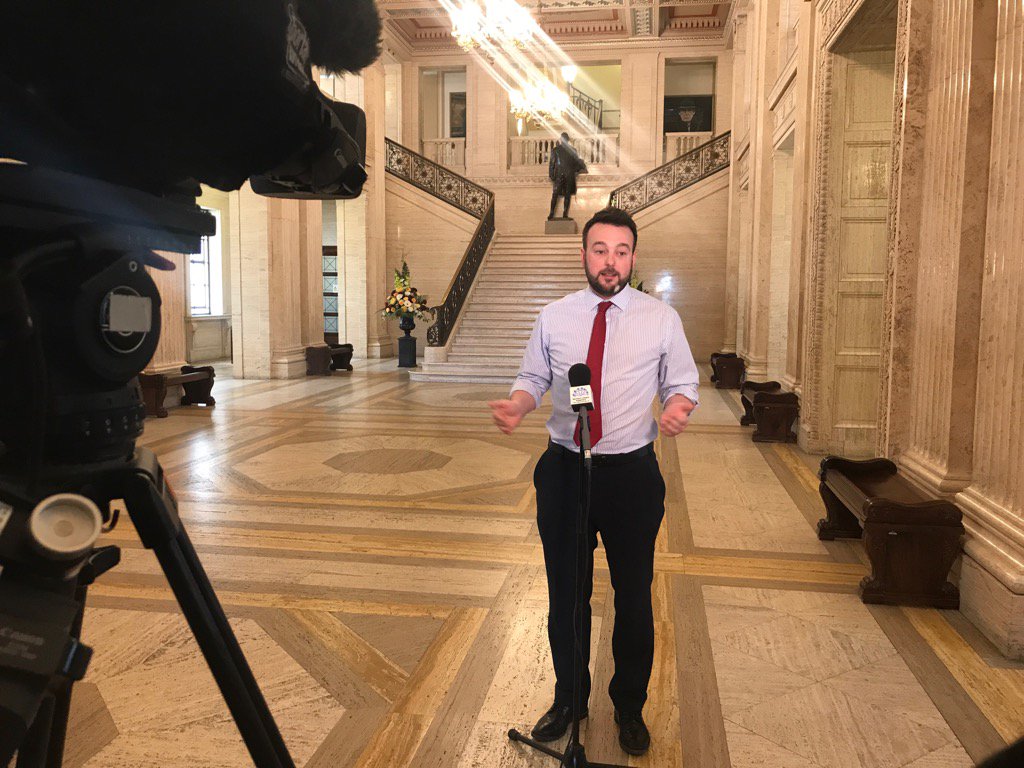 SDLP leader Colum Eastwood said he recognised there is now "little prospect" of an alliance, "despite our best efforts".
He added: "The SDLP will continue to explore how we can maximise the mandate delivered by the referendum and return the strongest possible team of pro-Europe MPs."
Alliance leader Naomi Long said her party has been clear from the outset in rejecting pacts.
She added: "The Green Party is now tainted from chasing a nationalist pact and their seeming desire to turn several constituencies into a sectarian headcount."
Meanwhile Sinn Féin's Stormont leader Michelle O'Neill said she was disappointed with the lack of an agreement.
"This will almost certainly gift seats to some of the most pro Brexit hardliners," she added. "I would urge those parties to reconsider."
Load more updates