46-year-old Terence Fox died after being struck by a car in the Moy Road area of Armagh shortly before 5.15am on Thursday 27 December.
Read the full story ›
The Civil Aviation Authority (CAA) is launching "enforcement action" against Ryanair.
Read the full story ›
Advertisement
Belfast International will be among the airports hit by Ryanair's decision to cancel an extra 18,000 flights this winter.
Read the full story ›
Ryanair's chief executive has said he is planning to make pilots delay a week's holiday to prevent any further flight cancellations.
Read the full story ›
Both runways at Belfast International Airport are now back in full service after a broken down cargo plane was removed.
The aircraft was moved off the runway at 5.45pm after having caused delays to flights on Tuesday.
A spokesperson for Belfast International thanked passengers for their patience.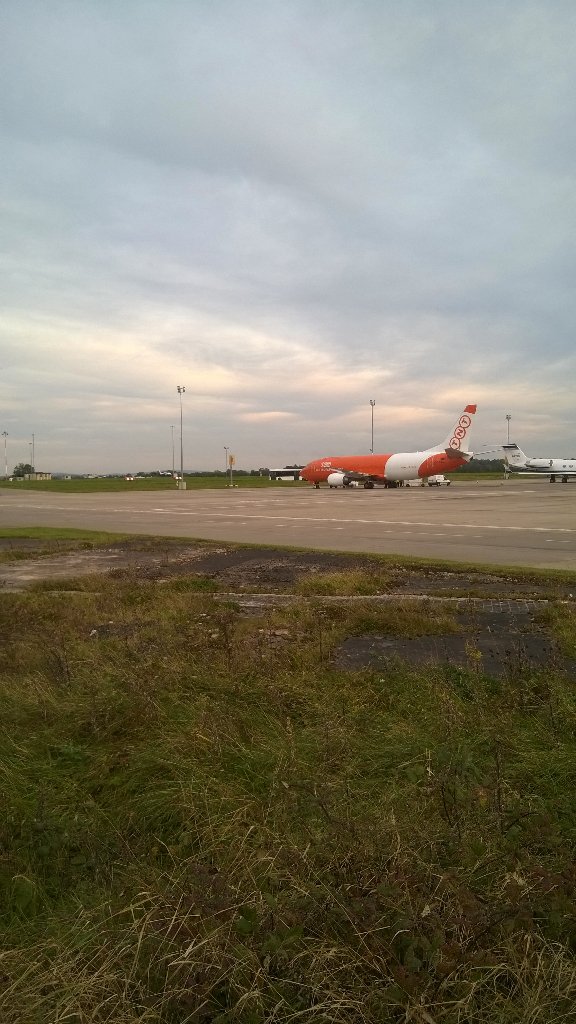 A team from the Air Accidents Investigation Branch have arrived at Belfast International Airport after a freighter broke down on the runway on Tuesday morning.
They will begin to determine what exactly happened to the aircraft, which was damaged after its tyres burst.
An AAIB spokesperson: "This morning the Air Accidents Investigation Branch was notified of a Boeing 737-400 freighter aircraft that encountered difficulties with its landing gear at Belfast International Airport.
"A team of AAIB inspectors arrived at Belfast at lunchtime today to begin an investigation. The flight data recorders have been recovered and are being brought back to our laboratory in Farnborough for analysis, while our investigation continues in Belfast."
The cargo plane was yet to be moved from the runway on Tuesday lunchtime.
The airport said there are still some delays to flights and urged passengers to check with their airline before travelling.
The AAIB is sending a team to investigate an occurrence at Belfast International Airport
Advertisement
Some passengers queuing at customer service.. broken down cargo plane still causing disruption to runways at Belfas… https://t.co/vYMRW1ZUOc
Arrivals are due to resume at Belfast International Airport from 9am after a temporary closure on Tuesday, with delays expected throughout the day.
There have been a number of flights cancelled on Tuesday morning due to a broken down cargo plane blocking the runway.
The airport's operations director said earlier they were reviewing the possibility of facilitating arrivals with reduced distance landings.
A spokesperson for the airport said arrivals should resume shortly but significant delays are expected throughout the day.
Flights are now beginning to depart from Belfast International Airport following a temporary closure due to a broken down cargo plane.
All flights were suspended for a period on Tuesday morning after an aircraft became stuck on the runway.
Graham Keddie, Managing Director of Belfast International Airport, told UTV: "We had a freighter landing just after 6am - he had a number of burst tyres which have damaged his undercarriage and he had to halt on the main runway.
"The aircraft is still in situ. However, we've been able to do some calculations so that now aircraft can take off, so we now have aircraft departing off our main runway.
"There will be delays until we can get the situation back in line with normal traffic, so I would suggest passengers contact their airline but still come to the airport to make sure they catch their flights."
Aircraft starting to take off @belfastairport after incident with a freighter aircraft.
Alan Whiteside, Operations Director, said it was hard to say when the airport would be back to running normally.
"At around 7.45am, we managed to start getting some departures away on a reduced distance away from the disabled aircraft," he explained.
"The first wave arrivals would have been due in and they are all cancelled, the corresponding departures are obviously cancelled because the aircraft are not here.
"We are looking at the possibility of doing shortened distance for landing and if we get that sorted, hopefully we'll be able to get some aircraft in even before we get the disabled aircraft removed - but, at the moment, I've no update on when it will be removed from the runway."
Belfast International Airport has been closed after a plane has broken down on the runway.
All departures and arrivals have been suspended on Tuesday morning while work is carried out to recover the aircraft.
All arrivals and departures suspended due disabled aircraft on runway. Freight being unloaded to prep for recovery.
The Northern Ireland Executive is to provide up to £7million to help the struggling City of Derry Airport.
Read the full story ›
Load more updates