Fire fighters were called out to Cowbridge town centre on Thursday morning after a bus caught fire.
The New Adventure Travel bus caught alight at the back of the Horse and Groom Pub.
No one is believed to have been injured.
Sorry, this content isn't available on your device.
An action group set up to save a 200-year-old livestock market site in Cowbridge has unveiled its plans to regenerate the area.
The site plans, called the Cowbridge Market Quarter, also consist of carparks and the development of residential apartments.
The current livestock market, run by Glamorgan Marts will be given a facelift and continue to operate on a weekly basis.
At the heart of the scheme say developers will be a market hall, called The Exchange to be used by the community. It will be used for selling local produce, crafts and space for resident enterprises and a community café.
Developers say the project has been given the green light by the council and it is now starting fundraising so that work can start. It hopes to raise £500,000 in 12 months.
Advertisement
The Army Air Corps officer died alongside four other servicemen in a helicopter crash in Afghanistan last month.
Read the full story ›
Crowds have lined the streets of Cowbridge ahead of the funeral service for Captain Thomas Clarke
Businesses in Cowbridge will close temporarily today ahead of the funeral of Captain Thomas Clarke.
Every shop,cafe and restaurant will shut for 15 mins today as a mark of respect for Welsh soldier, Capt Thomas Clarke http://t.co/OiVn8dG4PU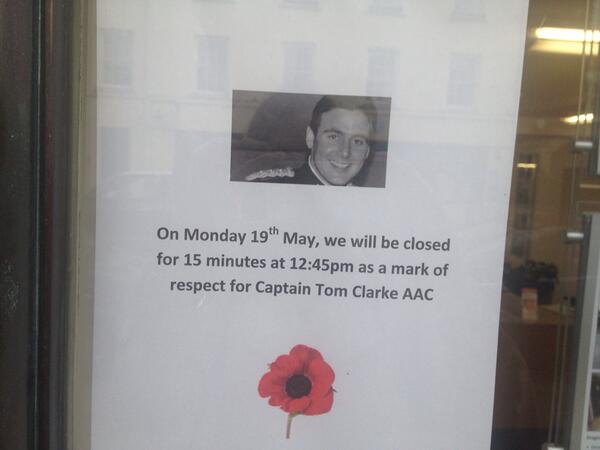 The funeral of a pilot who was killed when his helicopter crashed in Afghanistan is taking place today.
30-year-old Captain Thomas Clarke was one of two pilots on board the Lynx helicopter when it went down, in what has been described as 'a tragic accident' by the Ministry of Defence.
Capt Clarke, from the Vale of Glamorgan, died alongside Lance Corporal Oliver Thomas, Warrant Officer Spencer Faulkner, Corporal James Walters and Flight Lieutenant Rakesh Chauhuan.
He has been described by his Army superiors as a 'rising star' of the Army Air Corps.
Advertisement
The Prime Minister has paid tribute to five soldiers killed last weekend in a helicopter crash in southern Afghanistan.
Captain Thomas Clarke from Cowbridge and Lance Corporal Oliver Thomas from Brecon were in a Lynx helicopter. They were with three colleagues when it came down.
A teacher has paid tribute to Lance Corporal Oliver Thomas, 26 from Brecon.
Nick Dinsdale taught the serviceman at Lady Hawkins School in Hereford and described the soldier as an exceptional student.
"He was academic, sporting and exceptional in every way. He was head boy and a great ambassador for the school".
Cowbridge rugby coach Richard Killock has paid tribute to Captain Thomas Clarke.
Richard Killock coached the serviceman as a junior describing him 'as a very good rugby player, totally tough and committed but off the pitch he was as gentle as they come.'
Captain Clarke, 30, from Cowbridge, enlisted as an army officer in May 2007, undertaking officer training at the Royal Military Academy Sandhurst. He then joined the Army Air Corps as a pilot.
Load more updates