Swansea's defeat was their joint-heaviest of the season and they remain bottom of the Premier League with 12 points from 17 games.
Read the full story ›
There was disappointment for Swansea City after they lost to Manchester City for the second time in a week.
Read the full story ›
Advertisement
Swansea are level with Manchester City at the half way point.
Man City's Aguero opened the scoring within the first ten minutes before Llorente got the equaliser.
New manager Ole Gunnar Solskjaer has backed the Bluebirds to stay in the Barclays Premier League, despite them falling to the bottom of the table following a 4-2 defeat to Manchester City yesterday.
Solskjaer said:
"I knew what I was up against when I came here.
"I didn't come here and think everything was going to be all-singing and all-dancing.
"It is a tough league but it is five points up to number 10, so still as tight as it has been.
"We have just got to make sure we keep performing like we did today."
Cardiff's next league game is against Solskjaer's old club, Manchester United, at Old Trafford.
He said:
"Every single one is a game you can take something from, as that might be the little point that can take you over the line towards the end.
"We will come back to Manchester in 10 days time and give it a go."
Cardiff have 18 points from 22 games but the competition is tight and Solskjaer is fixing targets.
He added:
"We can stay up, no doubt about that.
"You think 36-37 points (is safe) if you look at the history of the last few years.
"But we used to talk about the 40-mark, so let's make sure we get to 40."
The Bluebirds have been beaten by Manchester City at the Etihad Stadium this afternoon.
Edin Dzeko's opening goal for the hosts made it City's 100th goal this season.
Craig Noone equalised for Cardiff in the first half but an in-form Manchester City came back with two goals from Jesus Navas and Sergio Aguero.
Cardiff had been threatening an equaliser in the early part of the second half and that fighting quality will at least have pleased manager Ole Gunnar Solskjaer as his side slipped to bottom of the table.
Frazier Campbell managed a consolation goal for Cardiff in injury-time.
Final score Manchester City 4 - 2 Cardiff City.
Cardiff City trail a goal behind Manchester City half-time at the Etihad Stadium.
Edin Dzeko scored for the hosts in the 13th minute.
It was followed by Cardiff's Craig Noone who equalised in the 28th minute.
Manchester City quickly responded with a second goal from Jesus Navas 5 minutes later.
Advertisement
Cardiff City face Manchester City in the Premier League this afternoon.
Despite having an FA cup win under his belt, new Cardiff boss Ole Gunnar Solskjaer is looking for his first Premier League win as manager - following defeat to West Ham last weekend.
The Bluebirds are hovering in the relegation-zone, although they're only behind West Ham on goal difference.
The Bluebirds beat Manchester City early in the season but repeating that victory will be tough since City have a good home record.
Victory will not only push Solskjaer's side up the table, it could also put them on level points with bitter rivals Swansea, ahead of Sunday's fixtures.
Interviews with managers Michael Laudrup and Manuel Pellegrini after the Swansea City clash with Manchester City
Read the full story ›
A late goal by Wilfried Bony was not enough to deny Manchester City three points at the Liberty Stadium, as the visitors claimed a 3-2 win against Swansea City.
Second-half goals from Yaya Toure and Aleksandar Kolarov saw them beat Swansea 3-2 to record a fifth-straight Premier League win.
Fernandinho had fired City into an early lead, only for Wilfried Bony to head Swansea level in first-half stoppage time.
But Toure put the visitors back in front with his 12th goal of the season and Kolarov got their third with an excellent solo effort.
Bony got his second in time added on to give Swansea hope, but City held on.
City's previous visits to Swansea had ended in a defeat and a draw but, after a difficult period either side of the break, they recovered to claim victory on this occasion.
It's a very wet and windy afternoon at the Liberty. Hopefully today's action will brighten up the occasion! http://t.co/x1icr7QO8f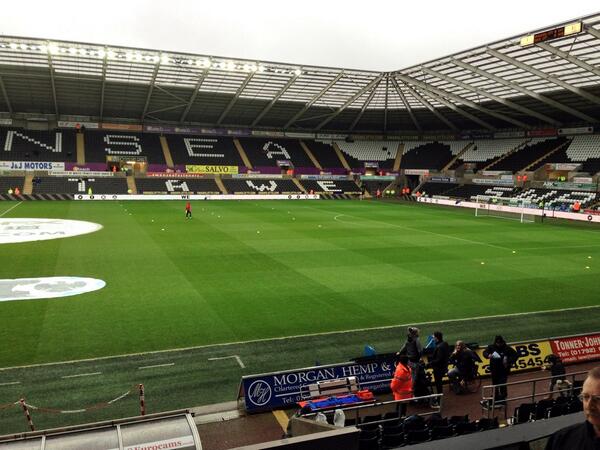 Load more updates