It's been a year since the world's leaders descended on Wales for the Nato summit, but what's been the lasting legacy?
Read the full story ›
Police have confirmed they made a total of 31 arrests during the NATO summit. They include five for aggravated trespass, two for assaulting a police officer, and two for making hoax bomb calls.
During the summit hundreds of peaceful protesters marched through Newport and Cardiff but the number of campaigners was lower than anticipated.
Assistant Chief Constable Chris Armitt was the events gold commander. At a news conference on Saturday he told journalists the operation had been a great success.
Advertisement
Thousands of visitors are expected in Cardiff Bay over the weekend to see the warships which arrived for the Nato Summit. Meet the Forces Day will take place on Sunday between 11am and 6pm. The public will get the chance to go onboard some of the six naval ships from the UK, France, Latvia, Lithuania, The Netherlands and Norway. There will also be tanks and replica RAF planes like the Red Arrow which arrived on Saturday.
More: Jonathan Hill tours HMS Duncan and meets her Welsh crew
Warships from around the world are expected to arrive in Cardiff Bay today ahead of the NATO summit.
Five vessels including the HMS Duncan will dock in the Roath Basin. They are expected to stay in the bay for a week alongside police forces from across the UK.
The ships are coming from France, Lithuania, Norway, Holland and the UK. Yesterday, a Latvian vessel was the first to arrive.
It's the biggest security operation that Wales has ever seen.
After months of preparation, the NATO Summit is almost here, with over 60 world leaders and hundreds of international delegates descending on Newport and Cardiff. But their welcome won't be entirely warm, with an estimated 20,000 protesters expected to make their voices heard.
Saturday saw the first of a number of planned demonstrations, with around 600 protesters gathering in Newport. They included Côr Cochion, Cardiff's Red Choir, who voiced their anti-NATO arguments in song.
The strength of feeling is very passionate against what NATO is doing. We didn't want NATO to come to Wales but now they're in Wales we want to give them a message, that Wales is a peaceful country, Wales wants a peaceful country for our children, Wales wants hospitals and schools. We don't want war.
– Ray Davies, Founder member of Côr Cochion
But for others, NATO represents security at a time of increasing international instability. Lord Heseltine, former UK Defence Secretary, told ITV Wales that NATO was absolutely fundamental to British safety:
It has preserved the peace of Europe in a way quite uncharacteristic with our history… look at the cost of the Second and First World Wars. The cost in human life, the cost in money. This is just why NATO exists. It's to stop Europe's habit of indulging in carnage every generation. And it works.
– Lord Heseltine
So just what is NATO? Why is it here, and what are the arguments for and against? Wales This Week finds out, Tonight at 8pm, ITV Wales
Advertisement
Primary school pupils from Wales are to be given the opportunity to write a personal message to the NATO world leaders about their hopes for the future.
Five classes of nine and 10 year olds from across Wales have been asked to answer the question of what they would like to have changed in the world by the time they have become adults.
The NATO Conference, held on 4 and 5 September, will be one of the biggest gatherings of world leaders, including US President Barack Obama and French President Francois Hollande.
28 of the best letters will be chosen and personally given to world leaders during the Summit.
This year's summit in Wales will be one of the most important summits in NATO's history as world leaders consider how NATO can continue to be at the forefront of building stability in an unpredictable world.
First Minister Carwyn Jones said;
"NATO leaders will hear the hopes of the children growing up in towns and villages right across Wales as they sit in summit talks and we will have given a group of children a once in a lifetime opportunity to send a message to some of the most prominent leaders of the world."
Mr Andrew Rothwell from Mount Pleasant Primary School in Newport who teaches one of the classes taking part said;
"Writing these postcards has lit a flame in these children - we'd already talked a lot in class about this summit that's happening on their doorstep and to now have the chance to be a part of it has really captured their imagination."
The summit held in Newport this September will be the 26th since the organisation was formed.
Read the full story ›
Welsh Secretary David Jones joined the Prime Minister and NATO's Secretary General for today's talks in Downing Street. The meeting comes ahead of the next NATO summit which is being held in Newport in September.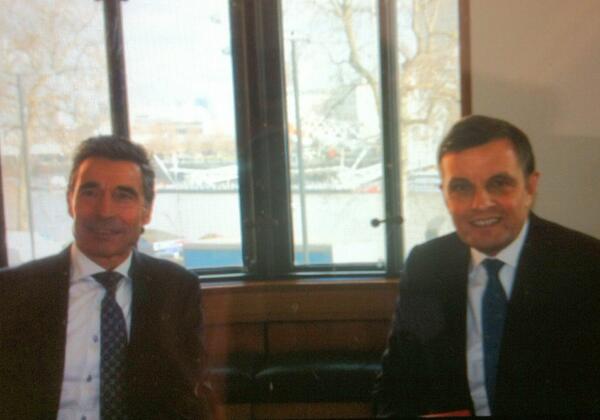 Load more updates