The death of a man whose body was found submerged in water by a dog walker in Avonmouth is no longer being treated as suspicious.
Read the full story ›
Advertisement
Police and paramedics were sent to check on an 89-year-old's wellbeing by his energy supplier after he was mistakenly billed £100,000.
Read the full story ›
George Ferguson has been caught on video calling a protestor "sick" and "a jerk".
An environmental protestor dressed as a fly confronted the Bristol Mayor about pollution at the Avonmouth Make Sunday Special event.
The free community event is one of several held around the city. The protestor, Ian Robinson, is an Avonmouth resident who campaigns on pollution in the area. He confronted the mayor with accusations of closing public services and diverting money into "bread and circuses".
The mayor told him people were enjoying the event and that he should "just go away".
The mayor has yet to comment on the incident, but tweeted about the event being a success.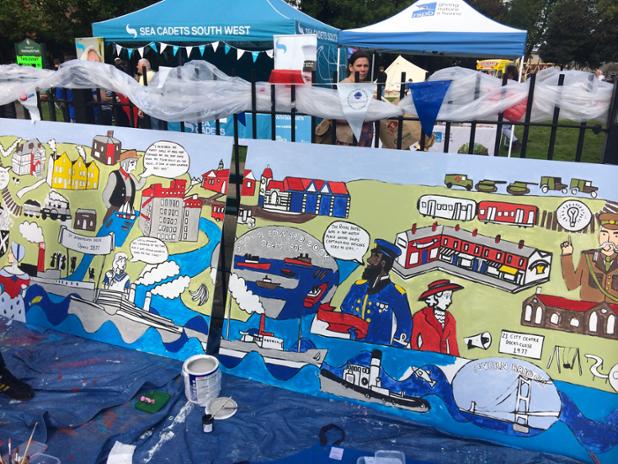 Firefighters are tackling a fire at a recycling centre in Avonmouth. It started in a waste compactor inside a warehouse.
Avon Fire Service says there are eight fire engines and 55 firefighters on the scene dealing with the incident.
People living or working near the area are being asked to close their doors and windows because of the smoke.
Advertisement
The family of a two-year-old girl killed in a car crash in Avonmouth have released an emotional tribute to her.
Natasha May Packman died on Tuesday. The family have chosen not to release a photograph of her. A 46-year-old man has been charged with causing death by dangerous driving.
"On Tuesday morning we had our little girl, Natasha, taken from us, in a moment of awful, life-changing destruction.

"Our broken bones and cuts will heal over time, but our hearts will be broken forever.

"Our only consolation in all of this terrible sadness is that our beautiful daughter did not feel any pain and that she did not suffer during the last few hours of her precious life."

"When she woke up on Tuesday morning, it was a lovely April day, but she will see no more of them and will never collect Spring flowers again, as she so loved to do.

"We want to thank the incredible people who tried so hard to save our little girl on Tuesday and who are continuing to support us through this, as the nightmare continues.

"We will never forget the members of the public who came to help us, the teams of doctors; nurses; liaison specialists; emergency crews; police and the other wonderful professionals at the Bristol Children's Hospital who cared for us on that most terrible of days."

"In all of this there is a heart-breaking sadness for us all, but a knowledge that the world is a good place, full of good people, who show love and kindness. It would have been a wonderful place for Tasha to have grown up in, if only she had been given the chance."

"She was a child who always had a 'hello' and a wave for people that she met, and who brought such smiles and pleasure to those that she encountered. We are left with memories and the knowledge that she felt loved, safe, happy and cherished by all those closest to her. She will never be here again, but she will also never leave us."

"We simply ask that you hold your own families close, that you sleep well in your beds and that you treasure every possible moment with your children; be grateful that you are not in this terrible situation and remember us in your thoughts."
– The family of Natasha May Packman
A three-year-old girl has died following a serious car crash in Avonmouth.
A woman and two children were taken to hospital after their Toyota Yaris collided with a Mercedes minibus in Kings Weston Lane at around 9.15am yesterday.
A three-year-old girl was kept in hospital but sadly died from her injuries last night.
A 46-year-old man was arrested in connection with the collision and he remains in custody for questioning.
Anyone with information is asked to contact police.
Residents in Avonmouth are urging people to write to their local councillor in objection to a proposed biomass power plant.
Campaigners are concerned about the air quality. The plans were turned down in November when the committee was made public following protests. But residents are concerned that an appeal might be held in private.
An inquest has been unable to find out how a man from Swindon died after his remains were found in a recycling plant.
The remains of 34 year old Matthew Symondes were found at the recycling plant at Avonmouth in Bristol in August. An inquest was told that the cause of death was 'unascertained'.
It is thought the body had been transported from a commercial recycling plant in Swindon. The inquest was told he had to be identified by finger print analysis
The inquest was adjourned to a date to be fixed.
Load more updates