Congratulations of a different kind are in order for Cornwall sailing star Sir Ben Ainslie - as he became a father for the first time.
The four-time Olympic gold medallist took to his Twitter to repost a picture of his wife and their new daughter Bellatrix.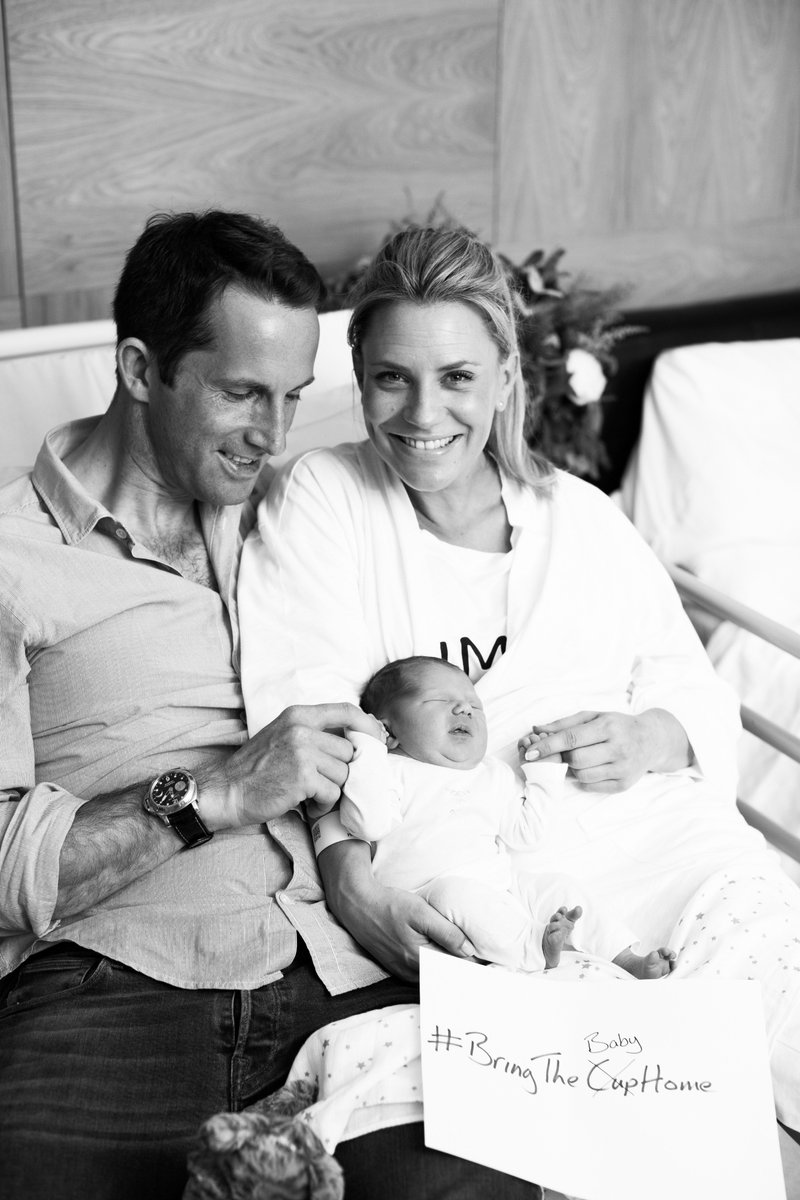 In the picture Ben, and hife wife Georgie, poked fun at the British America's Cup hashtag, #BringtheCupHome - changing cup to baby.
The next leg of the cup takes place on July 23.
Sir Ben Ainslie has announced his plans to bring the America's Cup trophy to Britain.
The four-time Olympic gold medallist, who grew up in Cornwall, helped Team Oracle USA to victory last year. He is now building a British team but admits he is uncertain whether he will be in the crew for the competition in 2017.
Advertisement
Sir Ben Ainslie, who trained in Cornwall has been raising money for a sailing school in Bermuda in the name of his late-team mate Andrew Bart Simpson. Simpson died earlier this year in San Francisco after being trapped under his catarman when it capsized and broke into pieces.
After helping the USA team win the America Cup in a huge turnaround Ben Ainslie and Ian Percy have been setting up a sailing foundation for young people in memory of Simpson.
The man who masterminded one of the greatest sporting comebacks in history, Sir Ben Ainslie has been telling us that he hopes Great Britain will put together a team to compete in the next Americas Cup.
Sir Ben, who learnt to sail near Falmouth, has been speaking to our reporter Francesca Carpenter about his next challenges.
Sir Ben Ainslie has been congratulated for his part in one of the greatest sporting comebacks of all time.
The Olympic hero was drafted in as tactician by the USA Team in the Americas Cup.
He then helped take them from a position no-one thought they could recover from, to victory in a thrilling finale.
Has the time come for a British Americas Cup team - something Sir Ben Ainslie thinks should happen.
The West Country has a strong sailing heritage, and proof of that could be seen in Falmouth on Thursday where an event formerly known as the 'Little Americas Cup' took place.
Advertisement
David Cameron has used Sir Ben Ainslie's America's Cup heroics as an excuse to shoehorn in one of his favourite soundbites, tweeting about the sailor's triumph in "the global race":
Talk about winning the #GlobalRace - Sir Ben Ainslie is responsible for one of the greatest ever sporting comebacks in the America's Cup.
The US sailing team Oracle are celebrating a famous win in the America's Cup, after they came back from 8-1 down to win 9-8 against New Zealand team Emirates.
America's Cup hero Ben Ainslie said it was "about time" Britain made a mark in the competition after helping US team Oracle to a famous victory against New Zealand.
"I'd love to build a British team for the future. We have the talent, it's just about bringing it together and putting a team out that can be successful," the four-time Olympic champion told ITV News.
Load more updates